PERLINDUNGAN HUKUM TERHADAP HAK ATAS TANAH MILIK DESA KOBA SELTIMUR ATAS TANAH DENGAN HAK PAKAI
Hendro Kaidel

Prodi Hukum PSDKU Aru
Abstract
Land in Murai Lama Village which is the object of use rights is land located in Aru Tengah Benjina District, Aru Islands Regency with a land area of ​​about 26,4062 (twenty six thousand four hundred and six square meters). The land used by the people of Murai Lama Village has a usufructuary status granted by the Kaidel clan on August 13, 1946. This paper wants to examine and analyze how the arrangements for granting customary land rights are made and how legal protection is for owners of land that give rights to parties. other.
The type of research used in this legal research is normative legal research. The approach used in a legal research is a law application approach and a conceptual approach. Sources of legal materials come from primary legal materials, secondary legal materials and tertiary legal materials.
The results and discussion show that the arrangement for granting land rights has actually been regulated in the laws and regulations in Indonesia. Arrangements for granting rights to customary land of Koba Seltimur Village to Murai Lama Village with rights based on positive legal provisions in force in Indonesia. The positive legal provisions given to the party exercising the right refer to Article 43 of Law Number 5 of 1960 concerning Basic Agrarian Principles which states that land rights can only be transferred, if this is possible in the relevant agreement. Furthermore, regarding this provision, it is embodied in Article 53 paragraph (3) of Government Regulation Number 18 of 2021, Management Rights, Land Rights, Flat Units, and Land Registration which states that the occurrence of use rights is due to legal ownership. While the law of protection for the owner of the land that gives the right of use to the other party is a guarantee of the fulfillment of human rights so that the rights of every citizen are not violated by anyone. Legal protection for land owners who give rights to other parties is very urgent because it presents good land for the benefit of the people of Murai Lama Village so that the rights of indigenous peoples must be protected by the state and the community so as not to cause conflicts that can harm other parties.
Downloads
Download data is not yet available.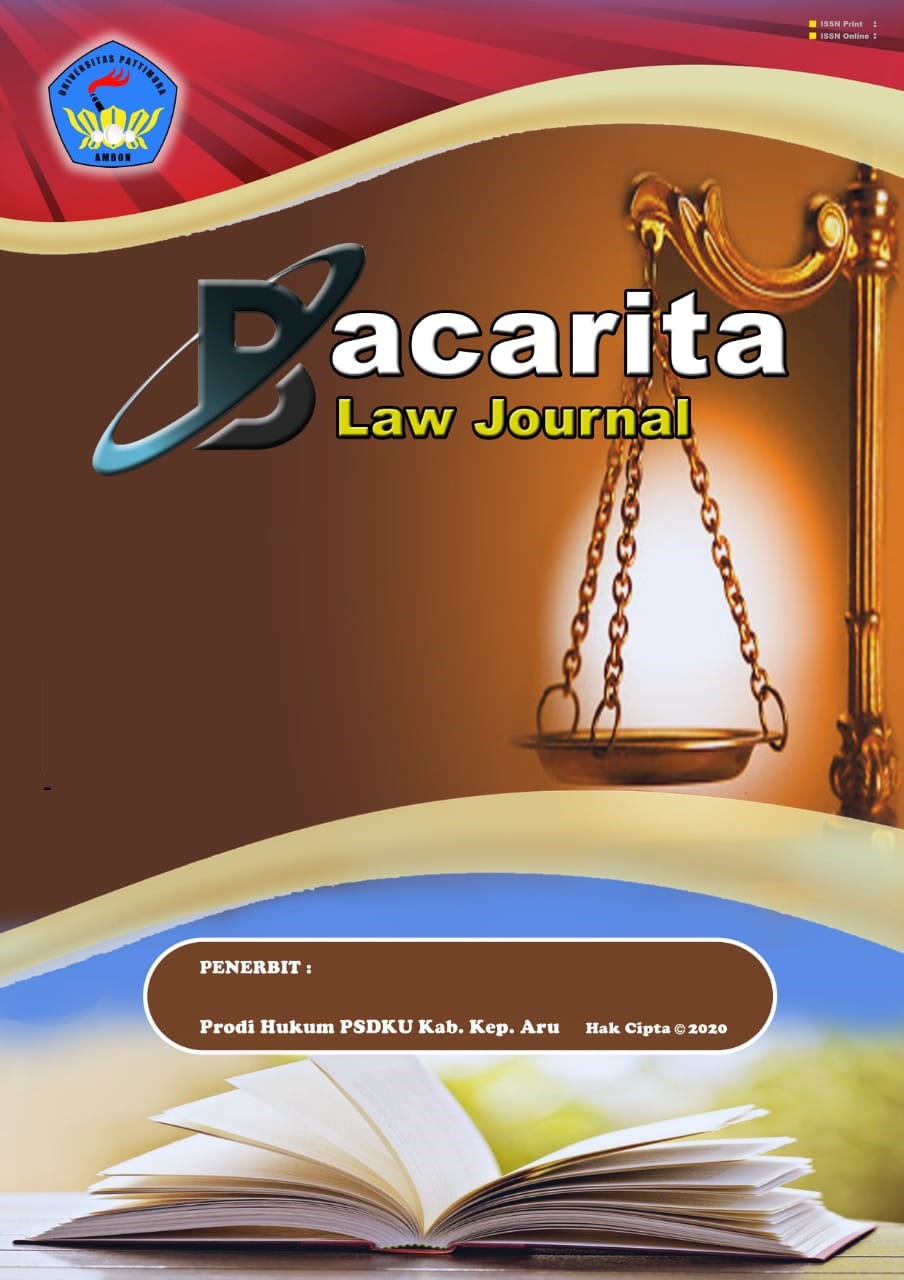 How to Cite
Kaidel, H. (2022). PERLINDUNGAN HUKUM TERHADAP HAK ATAS TANAH MILIK DESA KOBA SELTIMUR ATAS TANAH DENGAN HAK PAKAI. Bacarita Law Journal, 3(1), 35-54. https://doi.org/10.30598/bacarita.v3i1.6809