Perlindungan Hukum Terhadap Anak Korban Tindak Pidana Perdagangan Orang
Adi Purwo Nugroho

Fakultas Hukum Program Studi Diluar Kampus Utama Universitas Pattimura

Juanrico Alfaromona Sumarezs Titahelu

Fakultas Hukum Universitas Pattimura

Julianus Edwin Latupeirissa

Fakultas Hukum Universitas Pattimura
Keywords:
Legal Protection, Criminal act, Human Trafficking
Abstract
The purpose of this writing is to analyze and explain the factors of child trafficking in Aru Regency. The crime of trafficking in persons is generally in the form of violations of human dignity and dignity in the form of cruel treatment, and even slavery-like treatment. This perpetrator is accepted as the helplessness of the victim, who is trapped in a network that is very difficult to identify, so it will be difficult to find a solution. The research method used in this research is normative legal research, namely legal research conducted by analyzing literature materials.
Downloads
Download data is not yet available.
References
Ahmad Ali, 2002, Menguak Tabir Hukum, Jakarta, PT. Toko Gunung Agung.
Dian Kartikasari, 2010.Kerentanan perempuan dalam perdagangan perempuan, migrasi, hiv/aids, Koalisi Perempuan Indonesia Untuk keadilan dan Demokrasi.
Firliana Purwanti. 2001.Penanggulangan Praktek Perdagangan Perempuan Di Indonesia. Jakarta.
Kendar Umi Kulsum, "Data dan Fakta Perdagangan Orang di Indonesia", dapat diakses dari https://kompaspedia.kompas.id/baca/paparan-topik/datadan-fakta-perdagangan -orang-di-indonesia.
Mercy Pratiwi Patty; Deassy Jacomi Anthoneta Hehanussa; and Hadibah Zachra Wadjo. 2022. "Urgensi Laporan Penelitian Kemasyarakatan Dalam Penjatuhan Pidana Bagi Anak Pelaku Tindak Pidana". PATTIMURA Legal Journal 1 (2), 101-23. https://doi.org/10.47268/pela.v1i2.6392.
Moch. Faisal Salam, 2001, Hukum Acara Pidana Dalam Teori dan Praktik, Bandung, CV. Mandar Maju.
Nurhalisa Hehalatu, Deassy Jacomina Anthoneta Hehanussa, and Reimon Supusepa. 2022. "Perlindungan Hukum Terhadap Anak Korban Prostitusi Online Melalui Aplikasi Michat". PATTIMURA Legal Journal 1 (1), 1-14. https://doi.org/10.47268/pela.v1i1.5897.
Peter Mahmud Marzuki, 2014, Penelitian Hukum, Kencana PrenadaMedia Group, Jakarta, cetakan kesembilan.
Ridwan HR, 2011, Hukum Administrasi Negara Edisi Revisi, Jakarta, PT. Raja Grafindo Persada.
Siswanto Sunarso, 2012, Victimologi Dalam Sistem Peradilan Pidana, Jakarta Timur, Sinar Grafika.
Soejono Soekanto, 2016,Faktor-Faktor Yang Mempengaruhi Penegakan Hukum, Jakarta, PT. Raja Grasindo Persada.
Satjipto Rahardjo, Penegakan Hukum, Suatu Tinjauan Sosiologis, Yogyakarta, Genta Publishing, 2009.
Virda Yani, 2009, Penegakan Hukum Indonesia, Rina Cipta, Surabaya.
Yulies Tina Masriani, 2004, Pengantar Hukum Indonesia, Jakarta, Sinar Grafika.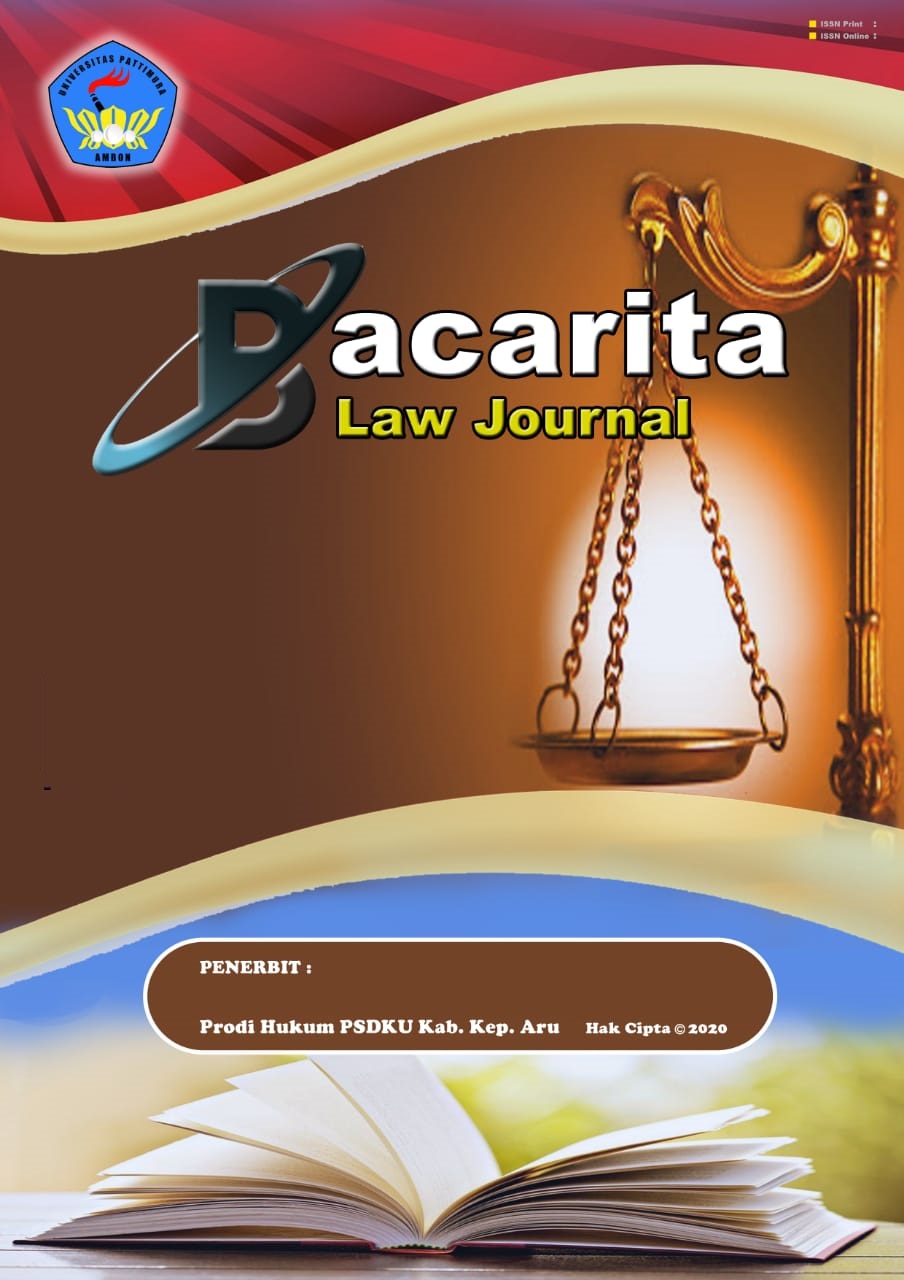 How to Cite
Nugroho, Adi Purwo, Juanrico Titahelu, and Julianus Latupeirissa. 2023. "Perlindungan Hukum Terhadap Anak Korban Tindak Pidana Perdagangan Orang". Bacarita Law Journal 3 (2), 92-102. https://doi.org/10.30598/bacarita.v3i2.8628.
Authors who publish their manuscripts in this Journal agree to the following conditions:
The copyright in each article belongs to the author, as well as the right to patent.
Authors are able to enter into separate, additional contractual arrangements for the non-exclusive distribution of the journal's published version of the work (e.g., post it to an institutional repository or publish it in a book), with an acknowledgment of its initial publication in this journal.
Authors are permitted and encouraged to post their work online (e.g., in institutional repositories or on their website) prior to and during the submission process, as it can lead to productive exchanges, as well as earlier and greater citation of published work.
Authors have the right to self-archiving of the article (Author Self-Archiving Policy)