Language Functions in German Supermarket TV Commercials
Ellia Wamese

Universitas Pattimura

Jolanda Tomasouw

Universitas Pattimura

Kalvin Karuna

Universitas Pattimura
Keywords:
German Supermarket TV Commercials, Language Functions
Abstract
Commercials are unavoidable these days. They accompany us in everyday life. They are intended to motivate people to do something specific in the interests of the advertiser (Janich, 2013). There are plenty of studies conducted to examine the language function in advertisements. However, only few studies have been undertaken to investigate language function in commercials. Supriyono (2015) has conducted a study on language functions found in Mizone Fres'in TV Commercial based on Hymes and Grumperz's (1964) theory of language function. Lestari (2018) has also investigated language functions, based on Jakobson (1960), used in twenty Maybelline commercials published in 2016 and 2018. Particular commercials were further studied in the present research, German supermarket TV Commercials, and which language function was emphasized. The results showed that the referential function was emphasized in the commercials.
Downloads
Download data is not yet available.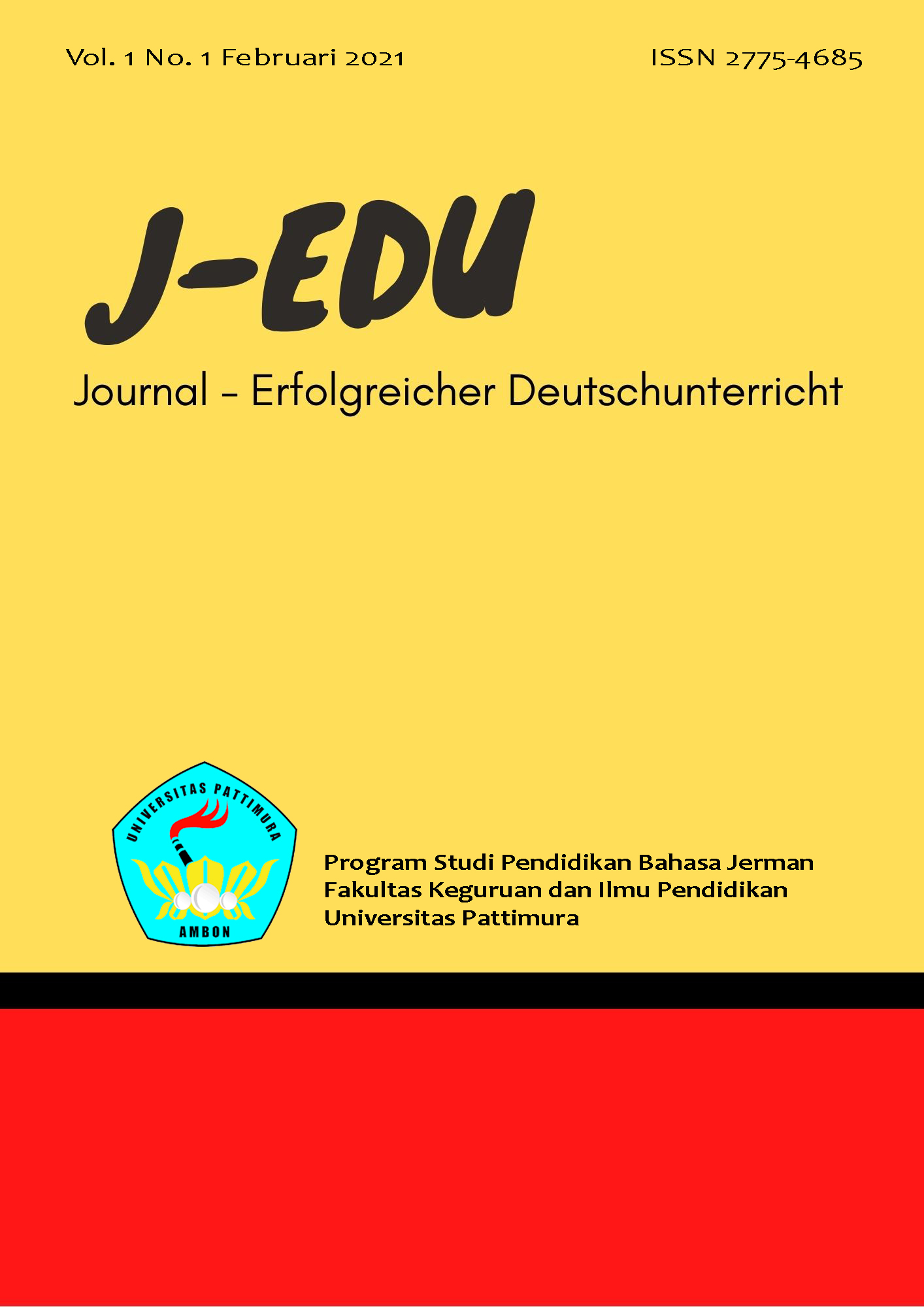 How to Cite
Wamese, E., Tomasouw, J., & Karuna, K. (2021). Language Functions in German Supermarket TV Commercials. J-EDu : Journal Erfolgreicher Deutschunterricht, 1(1), 1-11. https://doi.org/10.30598/J-EDu.1.1.1-11
Copyright (c) 2021 J-EDu : Journal Erfolgreicher Deutschunterricht
This work is licensed under a Creative Commons Attribution-ShareAlike 4.0 International License.