MODEL PEMBELAJARAN PAIR CHECKS DAN HASIL BELAJAR BAHASA JERMAN SISWA SMA NEGERI 1 AMBON
Laurisye S Salamony

Universitas Pattimura

Samuel Jusuf Litualy

Universitas Pattimura

Grietje H Kunu

Universitas Pattimura
Keywords:
Pair Checks learning model, German learning outcomes
Abstract
This study aims to determine the effect of using the pair checks learning model on student learning outcomes in German at SMA Negeri 1 Ambon. The sample consisted of 37 students from the 'Cross -Interests XI MIA 1 and XI MIA 2' classes. This study has two variables, namely the learning mode "Pair Checks" as the independent variable and German learning outcomes as the dependent variable. The research data were obtained through the tests, the first test was a pre-test (before using the "Pair Checks" learning model in class) and then the data were processed using the "Dependent T-Test" technique. The calculation results show that t calculates: 14.09, level α = 5% higher than t table = 1, 68. Thus, the calculation results show that there is a significant effect of using the Pair Checks learning model on German learning outcomes. Therefore, it is recommended to apply the Pair Checks learning model in the classroom to improve German learning outcomes
Downloads
Download data is not yet available.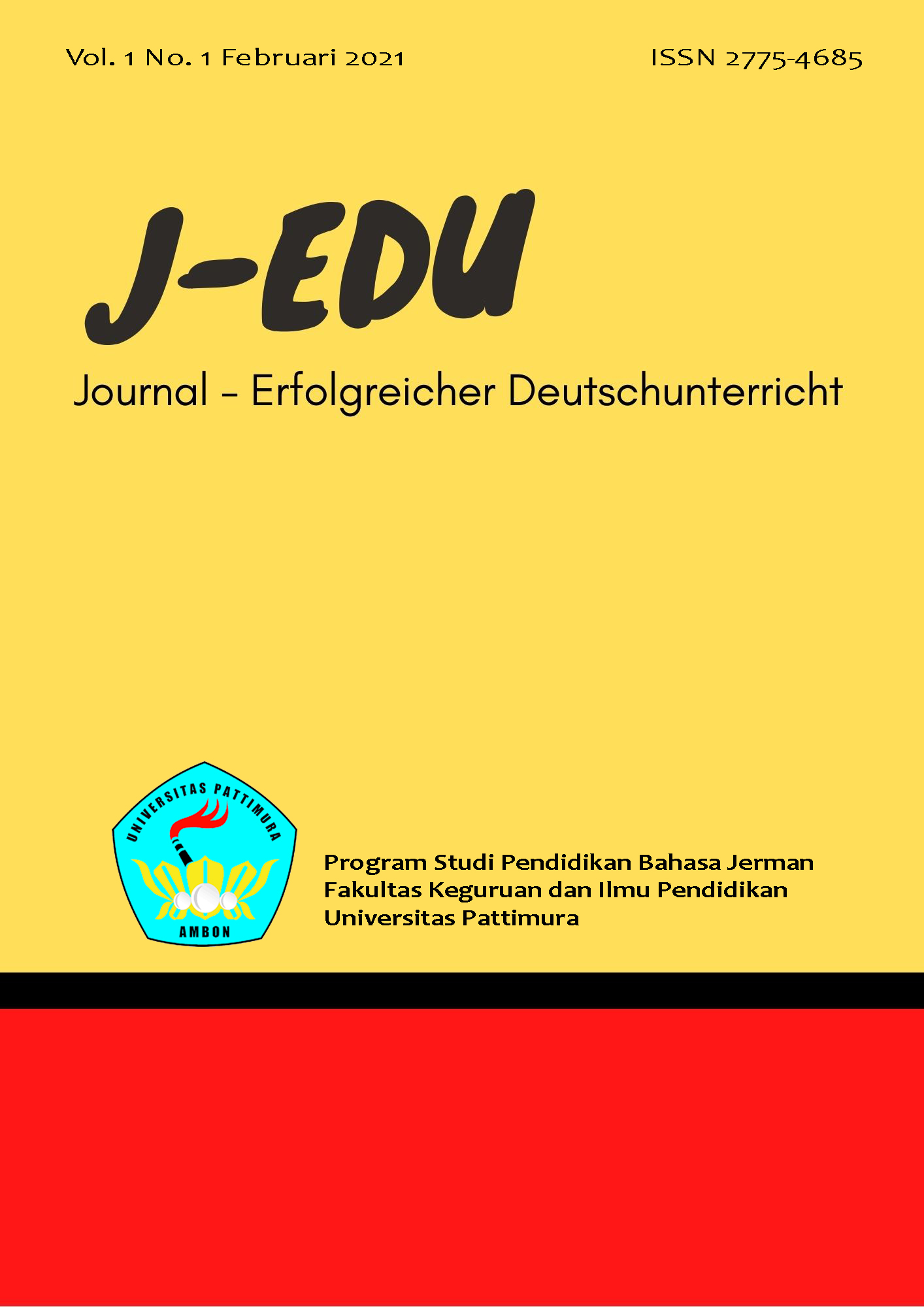 How to Cite
Salamony, L., Litualy, S., & Kunu, G. (2021). MODEL PEMBELAJARAN PAIR CHECKS DAN HASIL BELAJAR BAHASA JERMAN SISWA SMA NEGERI 1 AMBON. J-EDu : Journal Erfolgreicher Deutschunterricht, 1(1), 24-34. https://doi.org/10.30598/J-EDu.1.1.24-34
Copyright (c) 2021 J-EDu : Journal Erfolgreicher Deutschunterricht
This work is licensed under a Creative Commons Attribution-ShareAlike 4.0 International License.