Analisis Penentuan Daerah Pusat Pertumbuhan/Pelayanan di Wilayah Kepulauan Maluku
Muhammad Imam Z Bin Umar

FEBIS Universitas Pattimura

Fahrudin Ramly

FEBIS Universitas Pattimura

Izaac Tony Matitaputty

FEBIS Universitas Pattimura
Keywords:
Growth center, Scalogram, The Marshal Centrality Index
Abstract
Determining an area to be a center of growth or service is very important and is influenced by its hinterland area. The development of an area as a growth/service center is determined by its readiness to become a growth center area. This study aims to determine the regencies/cities that can be considered feasible as growth centers or services in Maluku Province, especially in Ambon, Seram, and Buru islands. The analytical method used is the Scalogram and the Marshal Centrality Index. The results of the study showed that of the six research areas, Ambon City is still the center of growth or service in this area, while Central Maluku Regency can be an alternative area in the development of the Maluku region in the future.
Downloads
Download data is not yet available.
References
Adisasmita, R. (2005). Teori Lokasi Dan Pengembangan Wilayah. Lembaga Penerbit Universitas Hasanuddin.
Endang Sri Utami, M. (2015). Analisis Sistim Pusat Pelayanan Permukiman Di Kota Yogyakarta Tahun 2014. Jurnal Jejak, 8(1)., 8(1).
Hansen, M. . (1972). Criteria For a Growth Centre Policy. Mouton, The Haque.
Juanda, B. (2007). Manfaat dan Biaya Pemekaran Daerah Serta Implikasinya Terhadap APBN. Jurnal Ekonomi, 25.
Lomcolon, A. (2006). Pengantar perencanaan pembangunan ekonomi daerah (Edisi Keti). BPFE.
Mustika, A. (2010). Analisis Tingkat Pengangguran: Faktor-Faktor yang Mempengaruhinya di Semarang. Universitas Indonesia.
Perroux, F. (1970). Economic space: theory and applications. Quarterly Journal of Economics, 64, 89–104.
Posumah, F. (2015). Pengaruh Pembangunan Infrastruktur Terhadap Investasi Di Kabupaten Minahasa Tenggara. Jurnal Berkala Ilmiah Efisien, 15(2).
Richardson, H. . (1991). Dasar-Dasar Ilmu Ekonomi Regional (P. Sitohang (ed.)). Penerbit FE – UI.
Rustiadi, E., Saefulhakim, S., & Panuju, D. (2009). Perencanaan dan Pengembangan Wilayah. Yayasan Obor.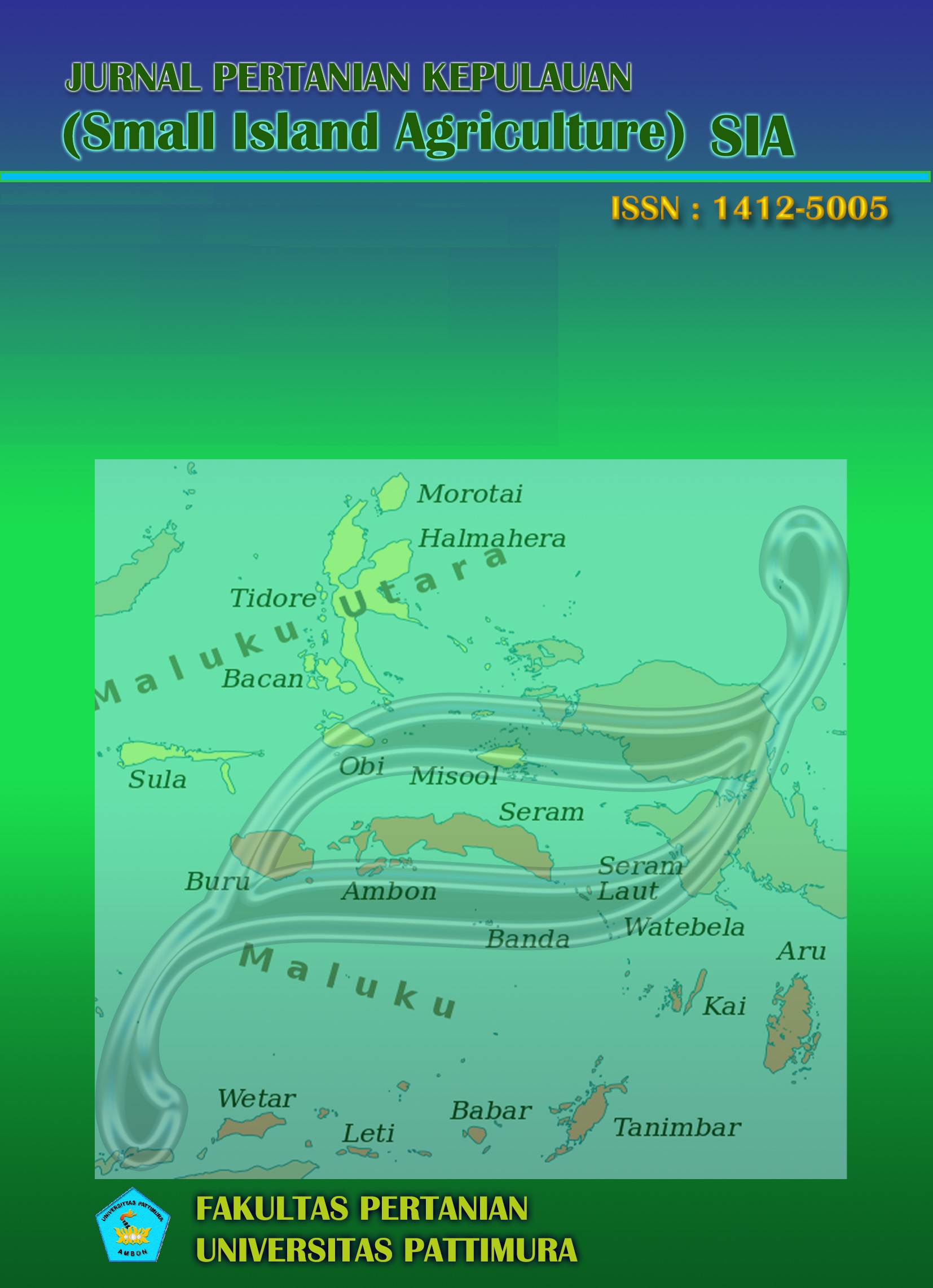 How to Cite
Z Bin Umar, M., Ramly, F., & Matitaputty, I. (2021). Analisis Penentuan Daerah Pusat Pertumbuhan/Pelayanan di Wilayah Kepulauan Maluku. JURNAL PERTANIAN KEPULAUAN, 5(2), 60-69. https://doi.org/10.30598/10.30598/jpk.2021.5.2.60