Analisis Perilaku Usaha Peternak Kerbau di Pulau Moa Kabupaten Maluku Barat Daya
Miiriam Novarina Terlewan

Jurusan Peternakan Faperta Universitas Pattimura

Semuel S.J. Tomatala

Jurusan Peternakan Faperta Universitas Pattimura

Piter M Ririmasse

Jurusan Peternakan Faperta Universitas Pattimura
Keywords:
Behaviour, Farmer Business, Moa Buffalo
Abstract
This study aims to analyze the behavior of farmers in buffalo farming in Moa District, Southwest Maluku Regency. The survey was conducted in three sample villages, namely Tounwawan Village. Klis Village and Werwaru Village. The variable observed were the breeders age, education level occupation,family dependents,buffalo ownership and number of buffalo. The main variables are knowledge, Attitudes and actions towards buffalo farming. The results showed that the behavior of breeders based on the level of knowledge of farmers in the buffalo farming was in the agree (S) category, the proportion of which was 75.8%, meaning that the breeders had good knowledge in the buffalo livestock business, the attitude of the breeders was in the Strongly Agree (SS) category. with a proportion of 80.4%,it means that in running a buffalo catlle business,the breeders show a very good attitude, while the actions of the breeders are in the category of doing (M) the  proportion is 53.33% meaning that the farming in his business implements variour technical measures in business management her.
Downloads
Download data is not yet available.
References
Anggorodi, M. (1990). Ilmu Makanan Ternak Hewan. Jakarta: Gramedia. Gramedia.
Fatati. (2001). Perilaku Petani Peternak dalam Diversifikasi Tanaman Kelapa Sawit dengan Sapi Potong di Daerah Transmigrasi Sungai Bahar Kabupaten Muaro. Jurnal Ilmu-Ilmu Peternakan, 4(2).
Haryanto, B. (2009). Inovasi Teknologi Pakan Ternak dalam Sistem Integrasi Tanaman – Ternak Bebas Limbah Limbah Mendukung Upaya Peningkatan Produksi Daging. Pengembangan Inovasi Pertanian 2 (3), 163 – 176. Jurnal Pengembangan Inovasi Pertanian, 3(2), 163–176.
Hermanto. (2011). Sekilas Agribisnis Peternakan Indonesia. konsep pengembangan peternakan, menuju perbaikan ekonomi rakyat serta meningkatkan gizi generasi mendatang melalui pasokan protein hewani asal peternakan. .
Kartasapoetra, A. G. (1988). Pengantar Ekonomi Produksi Pertanian. Bina Aksara.
Mubyarto. (1988). Sistem Moral Dan Ekonomi Indonesia.
Ridwan, M. (2005). Metode dan Teknik Penyusunan Tesis. Alfabeta.
Sarlito, W. S. (2014). Pengantar Psikologi Umum. PT Rajagrafindo Persada.
Sarwono, S. (2001). Psikologi Sosial. Balai Pustaka.
Slamet, M. (2001). Paradigma Penyuluhan Pertanian dalam Era Otonomi Daerah. Universitas Andalas.
Tomatala, G. S. J. (2004). Pemanfaatan Media Komunikasi Dan Perilaku Usaha Peternak Sapi Potong. Kasus Kecamatan Sukanagara, Kabupaten Cianjur [Thesis]. Institut Pertanian Bogor.
Walgito, B. (2002). Pengantar Psikologi Umum. (1st ed.). Andi Offset.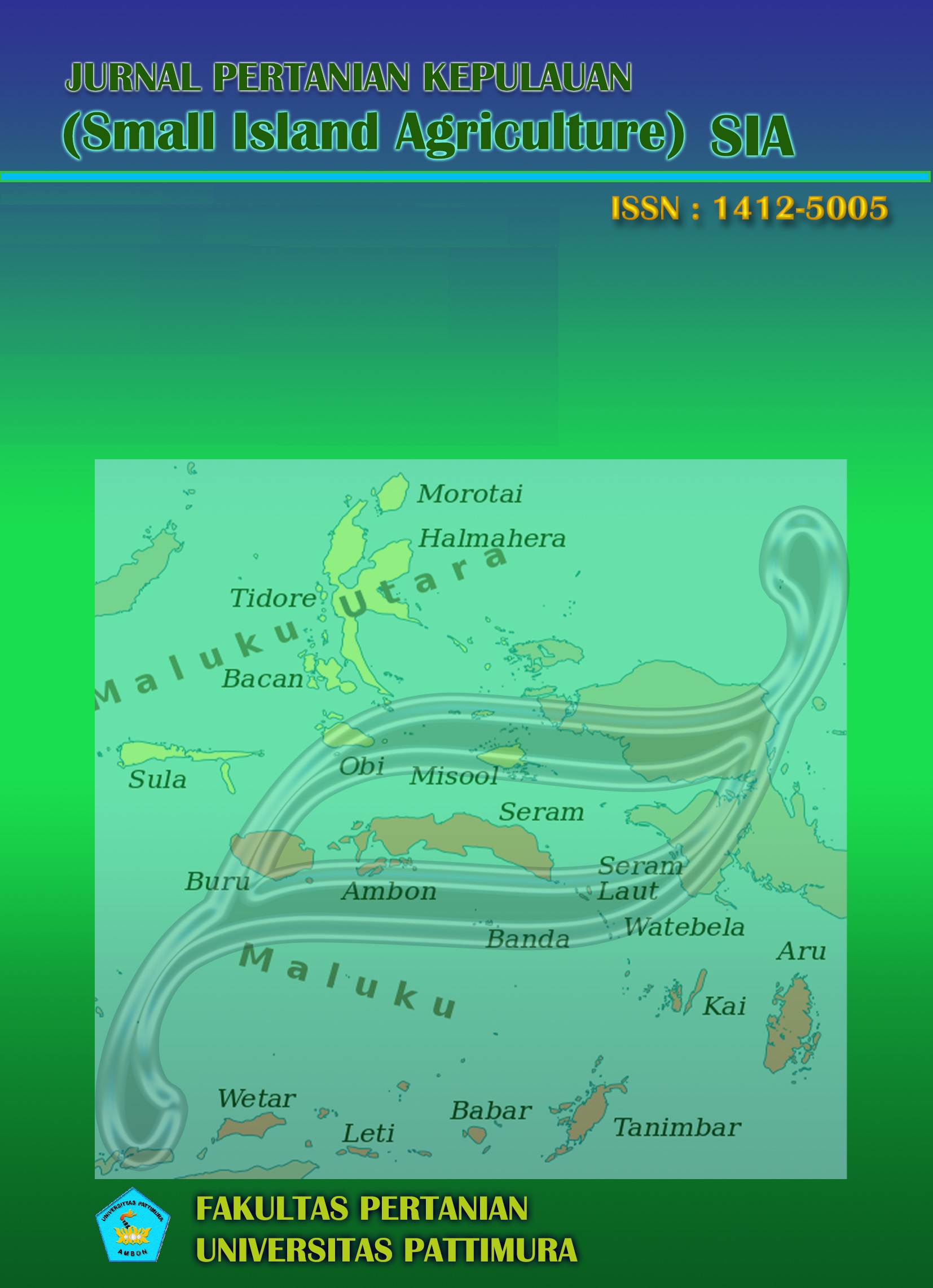 How to Cite
Terlewan, M., Tomatala, S., & Ririmasse, P. (2021). Analisis Perilaku Usaha Peternak Kerbau di Pulau Moa Kabupaten Maluku Barat Daya. JURNAL PERTANIAN KEPULAUAN, 5(2), 70-81. https://doi.org/10.30598/10.30598/jpk.2021.5.2.70