Analisis Daya Dukung Lahan untuk Perencanaan Penggunaan Lahan Pertanian dan Pemukiman di Negeri Tial Kecamatan Salahutu Kabupaten Maluku Tengah
Sri Rahmi

Prodi Ilmu Tanah, Faperta Universitas Pattimura

Husen Salampessy

Prodi Ilmu Tanah, Faperta Universitas Pattimura

Pieter Kunu

Prodi Ilmu Tanah, Faperta Universitas Pattimura
Keywords:
agriculture, land carrying capacity, settlement
Abstract
This study aims to determine the carrying capacity of agricultural land and settlements in Tial Village, Salahutu Subdistrict, as a control over the agricultural sector and settlement development. This research used a survey method of field activities, including observing and measuring the land's carrying capacity in the field. The study results indicated that Tial Village has a high carrying capacity for settlements due to the land area suitable for settlement and the number of residents in each landform. On the other hand, the carrying capacity of agricultural land is low, so the food supply in Tial Village is classified as low to very low. This fact indicates that there is a dominant influence on residential land cover. It is concluded that every known specific land use suitability can be utilized optimally and sustainably.
Downloads
Download data is not yet available.
References
Hardjowigeno, S. (n.d.). lmu Tanah (Edisi Revisi). Akademika Pressindo.
Lestari, l, Sri, D. S., & Djatmiko. (2017). Perkembangan perumahan dan permukiman sebagai penentuan arah dan bentuk kebutuhan permukiman di pinggir kota: Surakarta.
Moniaga, V. R. B. (2011). Analisis Daya Dukung Lahan Pertanian. Agri-Sosioekonomi, 7(2), 61–68. https://doi.org/10.35791/agrsosek.7.2.2011.92
Muta'ali, L. (2015). Teknik analisis regional untuk perencanaan wilayah, tata ruang dan lingkungan.
Putri, B. H., Sutomo, & Shalihati, S. F. (2019). Analisis Daya Dukung Lahan Permukiman Di Kecamatan Padamara Kabupaten Purbalingga. Prosiding Seminar Nasional Geografi Universitas Muhammadiyah Surakarta "Pengembangan Wilayah Berkelanjutan Di Era Revolusi Industri 4.0."
Sitorus, S. R. P. (1988). Evaluasi Sumber Daya Lahan. TARSITO.
Sumbangan, B. (2002). Perencanaan Tata Guna Lahan dalam pengembangan wilayah dan pendekatan spasial dan aplikasinya. Andi. Yogyakarta.
Taringan, R. (2004). Perencanaan Pembangunan Wilayah. PT. Bumi Aksara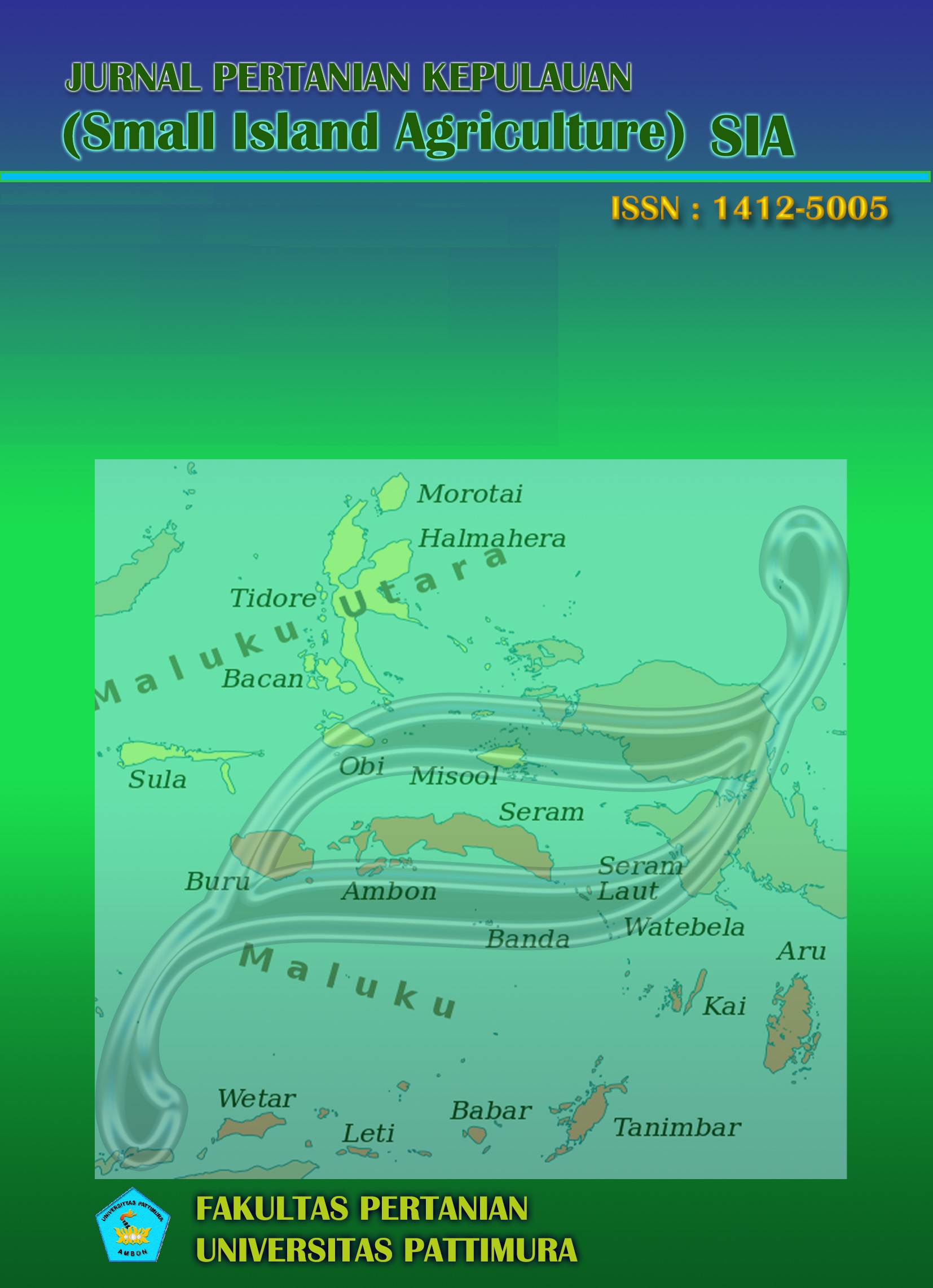 How to Cite
Rahmi, S., Salampessy, H., & Kunu, P. (2021). Analisis Daya Dukung Lahan untuk Perencanaan Penggunaan Lahan Pertanian dan Pemukiman di Negeri Tial Kecamatan Salahutu Kabupaten Maluku Tengah. JURNAL PERTANIAN KEPULAUAN, 5(2), 89-95. https://doi.org/10.30598/10.30598/jpk.2021.5.2.89