Studi Kerusakan Tanaman Sawi (Brassica sp) dan Selada (Lactuca sativa L) Akibat OPT pada Sayuran Hidroponik di Kota Ambon
Misda Alberto Senen

Prodi Agroteknologi, Faperta Universitas Pattimura

Christoffol Leiwakabessy

Prodi Agroteknologi, Faperta Universitas Pattimura

Jacobus S.A. Lamerkabel

Prodi Agroteknologi, Faperta Universitas Pattimura

Costanza Uruilal

Prodi Agroteknologi, Faperta Universitas Pattimura
Keywords:
Hydroponic vegetables, Lettuce, mustard, plant pest organism
Abstract
Hydroponic vegetables are vegetables that grow with the help of liquids containing minerals
necessary for vegetables to grow. This study aims to inventory the many types of pests that attack
mustard and lettuce plants on hydroponic media. This research was conducted in two locations,
namely Lateri village and Rumahtiga villages. The types of data collection are in the form of
surveys, interviews, and also direct observations in the field, which are then processed
descriptively. Observation of pests and diseases can be carried out once a week until the stage of
harvesting. The results of observations from the two research sites obtained the largest number
of individual populations of the order Diptera (Fruit Flies) with 37 heads, followed by the second
highest number, namely the order Lepidoptera (Moths) with 7 heads, while for the orders
Hemiptera and Hymenoptera (Walang sangit and Honey bee) the number was the same, namely
2 each
Downloads
Download data is not yet available.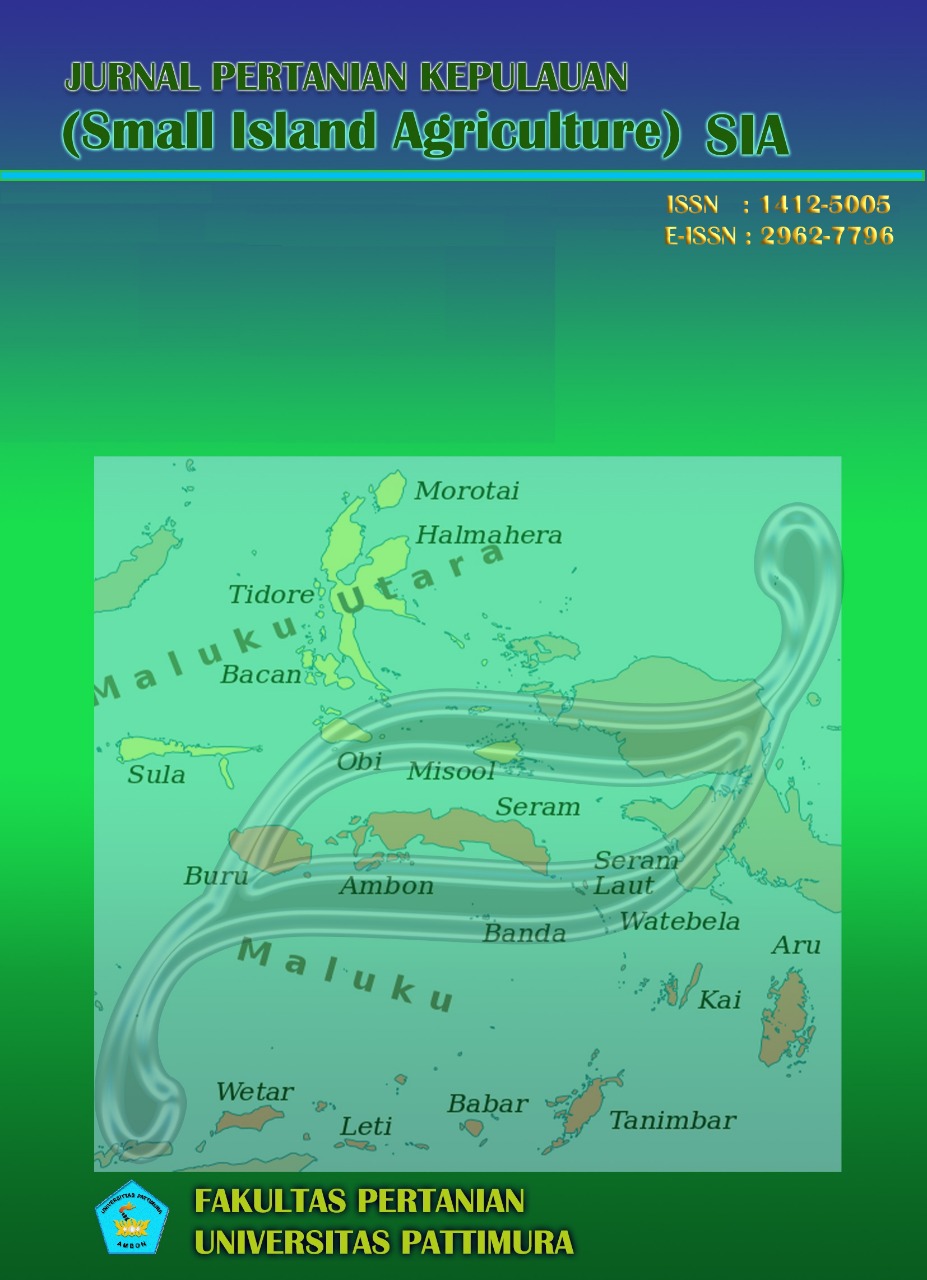 How to Cite
Senen, M., Leiwakabessy, C., Lamerkabel, J., & Uruilal, C. (2022). Studi Kerusakan Tanaman Sawi (Brassica sp) dan Selada (Lactuca sativa L) Akibat OPT pada Sayuran Hidroponik di Kota Ambon. JURNAL PERTANIAN KEPULAUAN, 6(1), 9-22. Retrieved from https://ojs3.unpatti.ac.id/index.php/jpk/article/view/7453