Pemberian Bahan Organic Soil Treatment dan Pupuk Kandang Kotoran Ayam Untuk Perubahan Beberapa sifat Fisik Ultisol
June A Putinella

Prodi Ilmu Tanah, Faperta Universitas Pattimura

Andreas Izaac Latupapua

Prodi Ilmu Tanah, Faperta Universitas Pattimura
Keywords:
aggregate stability, bulk density, porosity, soil pore distribution, Ultisols
Abstract
Research to determine the effect of OST ingredients and manure from chicken manure on the physical properties of Ultisol was carried out with a completely randomized design with factorial patterns. The experimental treatment consisted of giving OST, namely P0 = without OST, P1 = 5 g/pot, P2 = 10 g/pot combined with manure, B0 = without manure, B1 = 40 g/pot and B2 = 80 g/pot repeated 3 times. The results showed that bulk density, porosity, soil pore distribution and aggregate stability were affected by OST material, while manure only affected aerase pores, unavailable pore water and aggregate stability.
Downloads
Download data is not yet available.
References
Beamlaku, A., & Habtemariam, T. (2021). Soil Colloids, Types and their Properties: A review. Open Journal of Bioinformatics and Biostatistics. https://doi.org/10.17352/ojbb.000010
Carter, M. R. (2002). Soil quality for sustainable land management: Organic matter and aggregation interactions that maintain soil functions. Agronomy Journal, 94(1).
Damanik, P. (2007). Perubahan kepadatan tanah dan produksi tanaman kacang tanah akibat intensitas lintasan traktor dan dosis bokasi. Skripsi. Departemen Teknik Pertanian. Fakultas Teknologi Pertanian. Institut Pertanian Bogor.
Goenadi Didik Hajar. (2006). Pupuk & teknologi pemupukan berbasis hayati dari cawan petri ke lahan petani. Yayasan John Hi Tech Idetama.
Gregory, P. J., & Nortcliff, S. (2013). Soil Conditions and Plant Growth. In Soil Conditions and Plant Growth. https://doi.org/10.1002/9781118337295
Guo, X. xia, Wu, S. biao, Wang, X. qing, & Liu, H. tao. (2021). Impact of biochar addition on three-dimensional structural changes in aggregates associated with humus during swine manure composting. Journal of Cleaner Production, 280. https://doi.org/10.1016/j.jclepro.2020.124380
Hao, X., Ball, B. C., Culley, J. L. B., Carter, M. R., & Parkin, G. W. (2019). Chapter 57 Soil density and porosity. In Soil sampling and methods of analysis (Issue June).
Hati, K. M., Mandal, K. G., Misra, A. K., Ghosh, P. K., & Bandyopadhyay, K. K. (2006). Effect of inorganic fertilizer and farmyard manure on soil physical properties, root distribution, and water-use efficiency of soybean in Vertisols of central India. Bioresource Technology, 97(16), 2182–2188. https://doi.org/https://doi.org/10.1016/j.biortech.2005.09.033
Kuś, J. , & Jończyk, K. (2008). Influence of organic and conventional crop production system on some parameters of soil fertility. . J. Res. Appl. Agric. Eng, 53, 161–165.
Sagiman, Meli V.S & Gafur, S. (2018). Identifikasi Sifat Fisika Tanah Ultisols Kecamatan Nanga Tayap Kabupaten Ketapang. Perkebunan Dan Lahan Tropika, 8(2).
Ningsih, W. (2007). Evaluasi senyawa fenolik pada biji, kecambah dan tempe kacang tunggak. [Skripsi]. Institut Pertanian Bogor.
NURIDA, N.L. & UNDANG K. (2009). Perubahan Agregat Tanah pada Ultisols Jasinga Terdegradasi Akibat Pengolahan Tanah dan Pemberian Bahan Organik. Jurnal Tanah Dan Iklim, 30, 37–46.
Pittarello, M., Ferro, N. D., Chiarini, F., Morari, F., & Carletti, P. (2021). Influence of tillage and crop rotations in organic and conventional farming systems on soil organic matter, bulk density and enzymatic activities in a short-term field experiment. Agronomy, 11(4). https://doi.org/10.3390/agronomy11040724
Ramli, Paloloang, A. K., & Rajamuddin, U. A. (2016). PERUBAHAN SIFAT FISIK TANAH AKIBAT PEMBERIAN PUPUK KANDANG DAN MULSA PADA PERTANAMAN TERUNG UNGU (Solanum melongena L), ENTISOL, TONDO PALU. Agrotekbis, 4(2).
Wilson E. (2006). Kepadatan tanah akibat penyaradan oleh forwarder dan pengaruhnya terhadap pertumbuhan semai. [Skripsi]. Institut Pertanian Bogor.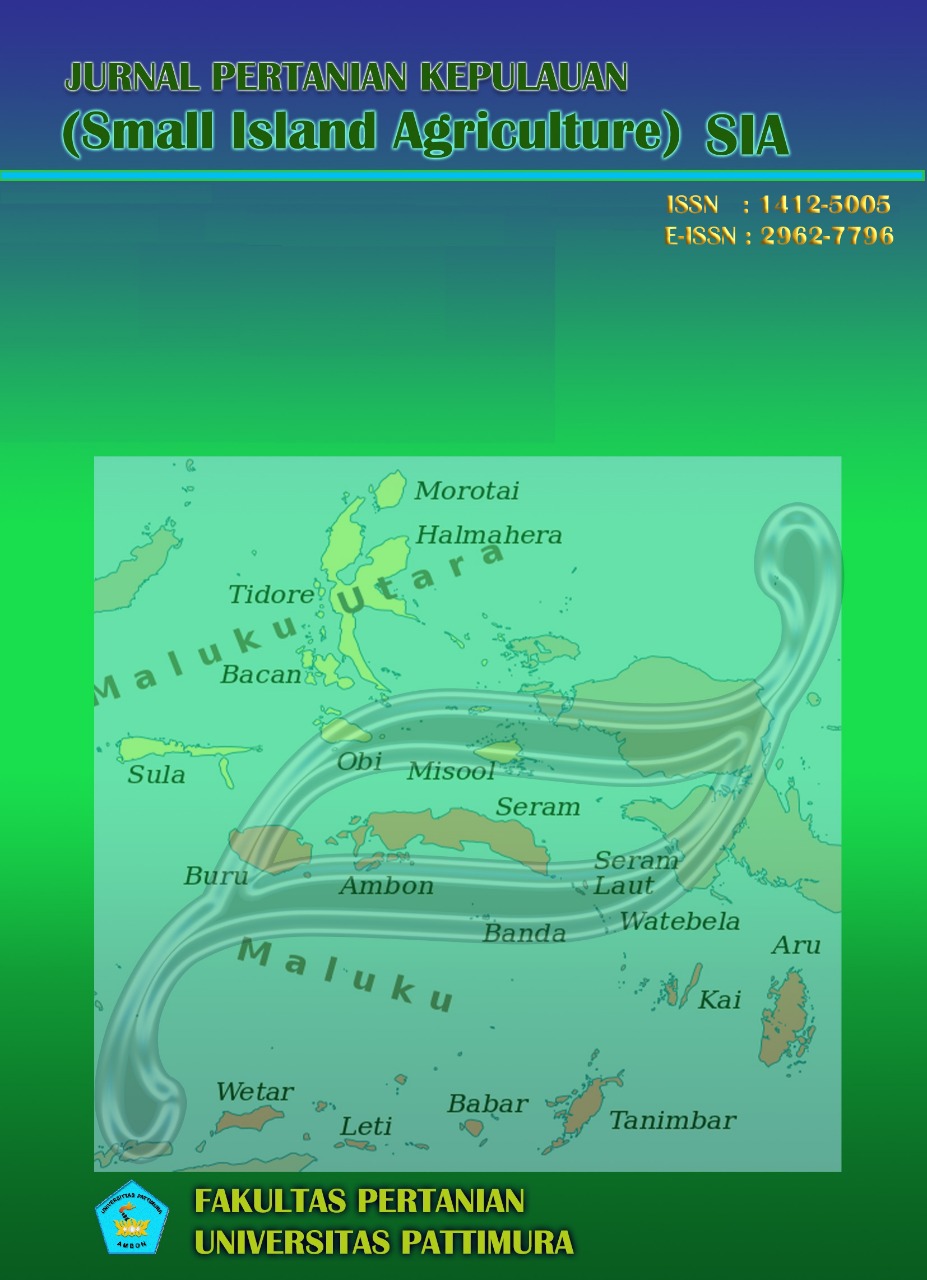 How to Cite
Putinella, J., & Latupapua, A. (2023). Pemberian Bahan Organic Soil Treatment dan Pupuk Kandang Kotoran Ayam Untuk Perubahan Beberapa sifat Fisik Ultisol. JURNAL PERTANIAN KEPULAUAN, 6(2), 101-109. https://doi.org/10.30598/jpk.2022.6.2.101