PENINGKATAN HASIL BELAJAR MATEMATIKA SISWA MELALUI PENGGUNAAN MODEL PEMBELAJARAN KOOPERATIF TIPE THINK TALK WRITE
Felianita Samadara

Universitas Pattimura

Carolina Selfisina Ayal

Universitas Pattimura

Darma Andreas Ngilawajan

Universitas Pattimura
Keywords:
hasil belajar, model pembelajaran kooperatif think talk write, bentuk aljabar
Abstract
Penelitian ini bertujuan untuk mengetahui peningkatan hasil belajar siswa kelas VII SMP Negeri 15 Ambon dengan menggunakan model pembelajaran Think Talk Write (TTW) pada materi Bentuk Aljabar. Subjek dalam penelitian ini adalah siswa kelas VII5 SMP Negeri 15 Ambon Tahun Ajaran 2019/2020. Penelitian ini merupakan penelitian tindakan kelas dengan guru berperan sebagai pengajar dan berlangsung 3 siklus. Pengumpulan data dilakukan dengan menggunakan tes dan lembar observasi. Teknik analisis data yang digunakan adalah teknik analisis data kualitatif. Hasil analisis menunjukan bahwa terjadi peningkatan hasil belajar dari siklus II ke Siklus III yaitu pada siklus II persentase hasil belajar adalah 52% dan persentase hasil belajar siklus III adalah 92%. Dengan demikian model pembelajaran TTW dapat meningkatkan hasil belajar siswa kelas VII SMP Negeri 15 Ambon pada Materi Bentuk Aljabar
Downloads
Download data is not yet available.
References
Andriani, J. (2014). Model Application of Missouri Mathematics project cognitive Ability to Improve Student I Comparative Materials and Scale Primary School. Published Thesis. Bandung: Universitas Pendidikan
Ali, H & Muhlisrarini. 2014. Perencanaan Dan Strategi Pembelajaran Matematika. Jakarta: Rajawali Pers
Choesni, N. (2018). Penggunaan Strategi Think Dalam Pembelajaran Kooperatif Untuk Materi Bangun Ruang di Kelas Xii SMA Negeri Siwalima Ambon. Jurnal Pendidikan Matematika (Jupitek), 1(1), 23-31.
Ratumanan T. G & Laurens, T. (2011). Penilaian Hasil Belajar pada Tingkat Satuan Pendidikan, edisi 2. Surabaya: Unesa University Press
Reny, T. (2016). Efektivitas Model Pembelajaran Think-Talk-Write Dan Time Token Terhadap Hasil Belajar Siswa Kelas VIII Pada Pokok Bahasan Bentuk Aljabar Di SMP Negeri 3 Kediri.
Rusmono, (2012). Pengertian Hasil Belajar. http://eprints.uny.ac.id/9829/2/bab2.pdf, Diakses 23 Juni 2019
Shoimin, A. (2014). 68 Model Pembelajaran Inovatif dalam kurikulum 2013. Yokyakarta: Ar. Ruzz Media
Suprijono, A. (2011). Cooperatife Learning Teori Dan Aplikasi PAIKEM. Yogyakarta: Pustaka Pelajar
Susanto, A. (2013). Teori Belajar dan Pembelajaran di Sekolah Dasar. Jakarta: kencana
Suyono dan Hariyanto. (2011). Belajar Dan Pembelajaran: Teori Dan Konsep Dasar. Bandung: PT Remaja Rosdakarya
Tutuhatunewa, E. & Laurens, Th. (2015). Penelitian Tindakan Kelas. Yogyakarta: Pensil Komunika.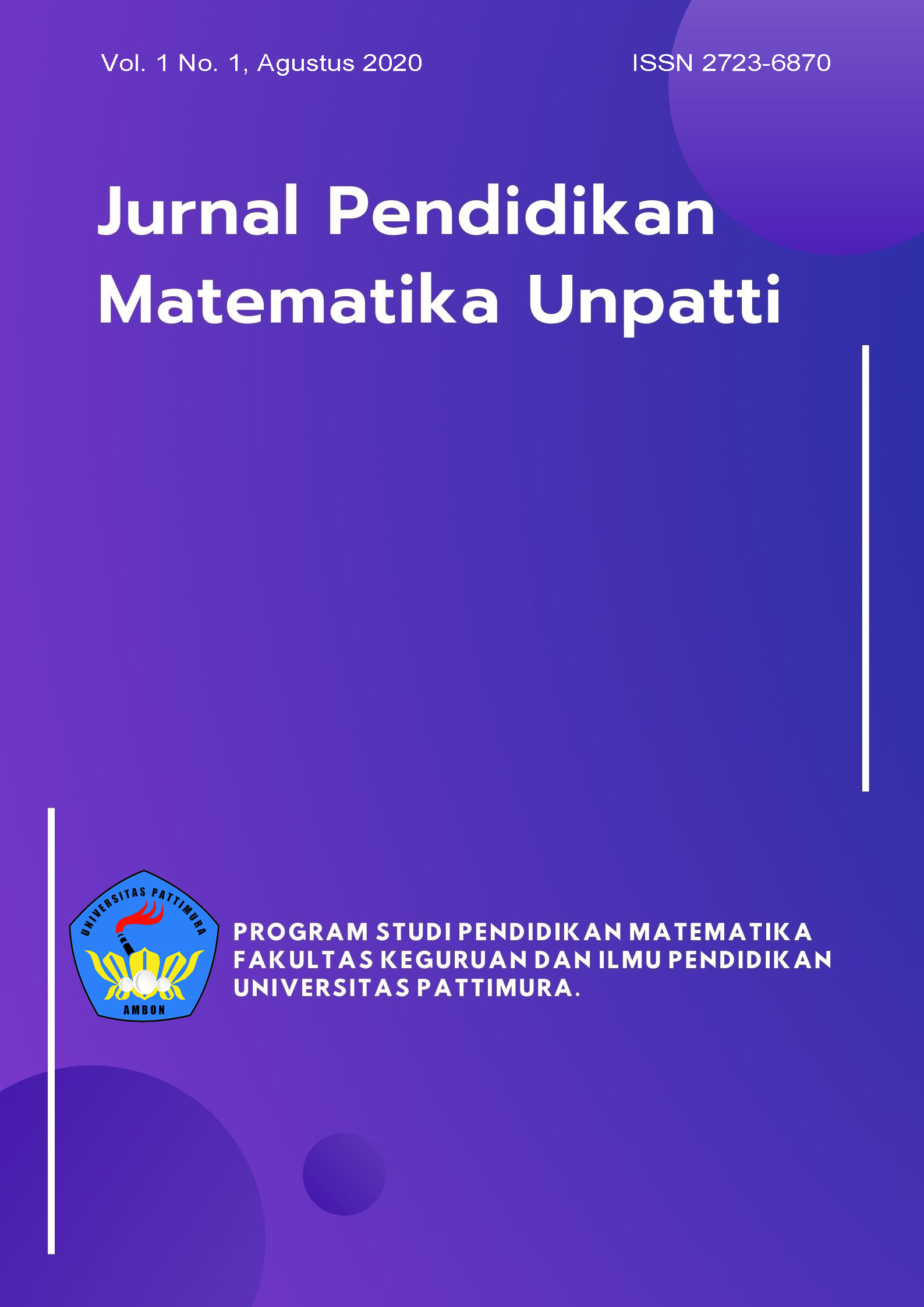 How to Cite
Samadara, F., Ayal, C., & Ngilawajan, D. (2020). PENINGKATAN HASIL BELAJAR MATEMATIKA SISWA MELALUI PENGGUNAAN MODEL PEMBELAJARAN KOOPERATIF TIPE THINK TALK WRITE. Jurnal Pendidikan Matematika Unpatti, 1(1), 1-4. https://doi.org/10.30598/jpmunpatti.v1.i1.p1-4
Copyright (c) 2020 Felianita Samadara, Carolina Selfisina Ayal, Darma Andreas Ngilawajan
This work is licensed under a Creative Commons Attribution 4.0 International License.
Jurnal Pendidikan Matematika Unpatti is an Open Access Journal. The authors who publish the manuscript in Jurnal Pendidikan Matematika Unpatti agree to the following terms:
Jurnal Pendidikan Matematika Unpatti is licensed under a Creative Commons Attribution 4.0 International . This permits anyone to copy, redistribute, remix, transmit and adapt the work provided the original work and source is appropriately cited.
This means:
(1) Under the CC-BY license, authors retain ownership of the copyright for their article, but authors grant others permission to use the content of publications in Jurnal Pendidikan Matematika Unpatti in whole or in part provided that the original work is properly cited. Users (redistributors) of Jurnal Pendidikan Matematika Unpatti are required to cite the original source, including the author's names, Jurnal Pendidikan Matematika Unpatti as the initial source of publication, year of publication, volume number, issue, and Digital Object Identifier (DOI); (2) Authors grant Jurnal Pendidikan Matematika Unpatti the right of first publication. Although authors remain the copyright owner.