ETNOMATEMATIKA DALAM TRANSAKSI JUAL BELI YANG DILAKUKAN PEDAGANG DI PASAR TRADISIONAL KABUPATEN KAIMANA
La Ode Fradi

Universitas Pattimura

Theresia Laurens

Universitas Pattimura

Wilmintjie Mataheru

Universitas Pattimura
Keywords:
ethomathematic , commerce transactions
Abstract
This study aims to describe ethnomatematics of buying and selling transactions conducted by traders in the traditional market of Kaimana district. It is descriptive researches method with a qualitative approach that emphasizes process analysis. The research subject was one person. The research instrument was in the form of guidelines for observation, interviews, and field notes, which were used to find out how the subjects performed mental calculations. The techniques of analysis data are data reduction, data presentation, and conclusion. Based on the results of the study, it can be concluded that there ethnomatematics activity are show by counting activities in buying and selling transactions. For example, calculate the amount of goods purchased by the buyer, determine the amount of change from the buyer, and calculate the profit of the selling price of each item purchased
Downloads
Download data is not yet available.
References
Daftar Pustaka

Bonner, E. P. (2010). Promoting culturally responsive teaching through action researchin a mathematics methods course. Journal of Mathematics and Culture, 5(2), pp.16-30. http://nasgem.rpi.edu/pl/journal-mathematics-culture. diakses 5 Mei 2016
D'Ambrosio, U. (2006). Preface. Prosiding, International Congress of Mathematics Education Copenhagen. Pisa: University of Pisa
Matang, R. (2002). The role of ethnomathematics in mathematics education in Papua New Guinea: Implication for mathematics curriculum. Journal of EducationStudies,24 (1)pp.27-37.
Moleong, Lexy J. 2012. Metodelogi Penelitian Kualitatif. Bandung: PT Remaja Rosdakarya.
Laurens, (2016). Analisis Etnomatematika dan penerapannya dalam meningkatkan kualitas pembelajaran. Universitas patimurra Ambon.
Ngiza.(2015). Identifikasi etnomatematika petani pada masyarakat jawa di desa sukoreno. http://www.ta.skripsi.ac.fj/D7625.dir/doc.pdf.
Powell, A.B and Frankenstein, M. (1997). "Considering Interactions Between Culture And Mathematical Knowledge" dalam Ethnomathematics Challenging Eurocentrism in Mathematics Education. Albany: State University of New York Press.
Sirate, Faminah S. 2012. Implementasi Etnomatematika dalam Pembelajaran Matematika pada Jenjang Pendidikan Sekolah Dasar. Lentera Pendidikan, 2012. Vol. 15, No. 1, hal. 41-54.
Suwarsono. 2004. A/at PeragaMatematika dalam budaya.Yogyakarta: PPPG Matematika Yogyakarta.
Sugiyono. (2010). Metode Penelitian Pendidikan. Bandung: Alfabeta CV.
Wedege, T. (2010). Ethnomathematics and mathematical literacy: People knowingmathematics in society. In Bergsten, C., Joblonka, E., & Wedege, T. (eds.).www.ethnologue.com. Diakses 29 Maret 2016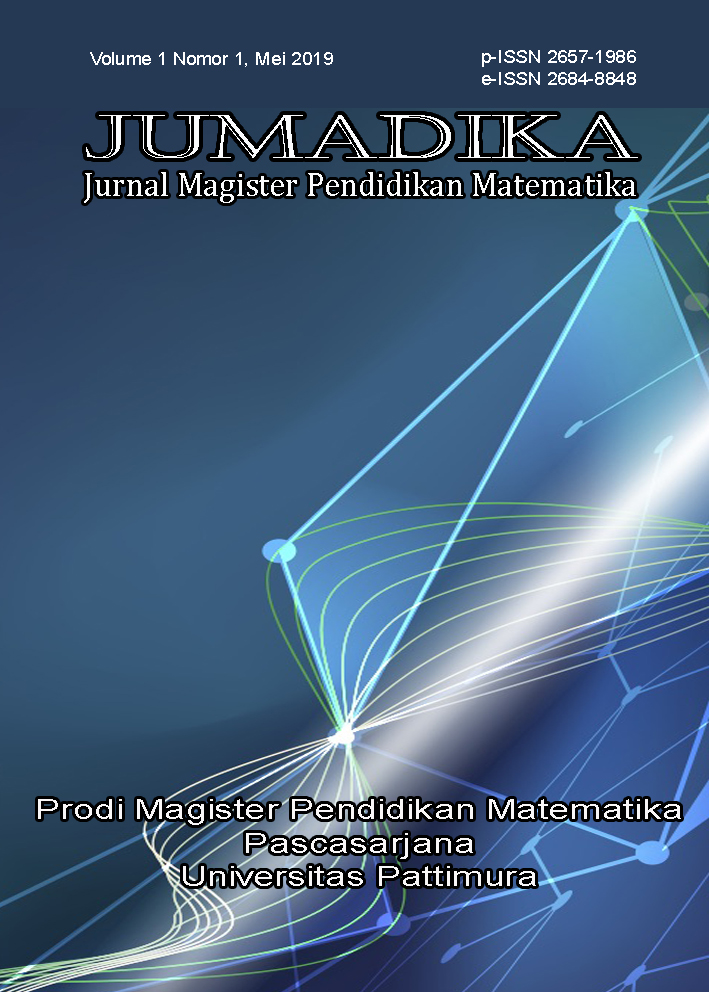 How to Cite
Fradi, L., Laurens, T., & Mataheru, W. (2019). ETNOMATEMATIKA DALAM TRANSAKSI JUAL BELI YANG DILAKUKAN PEDAGANG DI PASAR TRADISIONAL KABUPATEN KAIMANA. Jurnal Magister Pendidikan Matematika (JUMADIKA), 1(1), 1-8. https://doi.org/10.30598/jumadikavol1iss1year2019page1-8
Copyright (c) 2019 JUMADIKA : Jurnal Magister Pendidikan Matematika
This work is licensed under a Creative Commons Attribution-NonCommercial-ShareAlike 4.0 International License.
License and Copyright Agreement
In submitting the manuscript to the journal, the authors certify that:
They are authorized by their co-authors to enter into these arrangements.
The work described has not been formally published before, except in the form of an abstract or as part of a published lecture, review, thesis, or overlay journal. Please also carefully read Jurnal Magister Pendidikan Matematika (JUMADIKA) Posting Your Article Policy.
That it is not under consideration for publication elsewhere,
That its publication has been approved by all the author(s) and by the responsible authorities – tacitly or explicitly – of the institutes where the work has been carried out.
They secure the right to reproduce any material that has already been published or copyrighted elsewhere.
They agree to the following license and copyright agreement.
Copyright
Authors who publish with Jurnal Magister Pendidikan Matematika (JUMADIKA) agree to the following terms:
Authors retain copyright and grant the journal right of first publication with the work simultaneously licensed under a Creative Commons Attribution-NonCommercial-ShareAlike 4.0 International License (http://creativecommons.org/licenses/by-nc-sa/4.0/) that allows others to share the work with an acknowledgment of the work's authorship and initial publication in this journal.
Authors are able to enter into separate, additional contractual arrangements for the non-exclusive distribution of the journal's published version of the work (e.g., post it to an institutional repository or publish it in a book), with an acknowledgment of its initial publication in this journal.
Authors are permitted and encouraged to post their work online (e.g., in institutional repositories or on their website) prior to and during the submission process, as it can lead to productive exchanges, as well as earlier and greater citation of published work.