ANALISIS KEMAMPUAN BERPIKIR REFLEKTIF DAN ANALITIK PESERTA DIDIK SMP DALAM MENYELESAIKAN SOAL MODEL PROGRAMME FOR INTERNATIONAL STUDENT ASSESSMENT (PISA)
Hasan Bashri Hadimu

Universitas Pattimura

Theresia Laurens

Universitas Pattimura

La Moma

Universitas Pattimura
Keywords:
analytics, reflective, pisa
Abstract
During this time, reflective thinking and analytical skills have not been one of the objectives of mathematics and learners have not demonstrated reflective activity and analytic learning. The ability of the students ' reflective thinking and analytics is an important aspect to be examined and developed so that the learner's math learning is more optimal. The study aims to describe the ability of the students ' reflective thinking and analytic of junior high school in solving the Programme for International Student Assessment (PISA) model. This research is a qualitative descriptive study describing the reflective thinking skills and analytical students of junior high school in solving the Programme for International Student Assessment (PISA) model. The subject in this study is a class IX student consisting of three learners with the details of each of the 1 learners with reflective thinking skills, 1 student with analytic thinking skills and 1 student with reflective and analytical thinking skills. The data collection techniques used are tests of reflective thinking and analytical skills as well as interviews. Test Data and interviews are analyzed based on indicators that meet the ability of reflective thinking and analytical thinking skills. Data analysis techniques refer to the Miles and Hiberman concepts which include data reduction, data presentation, and conclusion withdrawal. Data validity techniques use observer persistence, triangulation time and peer checking. The results of the study provide conclusions: 1) Subject 1 meets the indicator of the reflective thinking ability, subject 1 able to the reacting phase, comparing, less in the contemplating phase: 2) Subject 2 meets the analytical thinking ability indicator, subject 2 is capable at would phase, organizing and attributing: 3) Subject 3 meets the indicator of reflective thinking capabilities capable of the reacting, comparing, contemplating and subject 3, organizing and attributing
Downloads
Download data is not yet available.
References
Amer, Aiman. 2005. Analythical Thinking. Cairo: Cairo University (CAPSCU)
Ananda. 2019. Analisis Kemampuan Berpikir Reflektif Matematis Dalam Menyelesaikan Soal Operasi Pecahan Campuran Pada Kelas VII Sekolah Menengah Pertama Negeri 14 Satu Atap Tanjungpinang (FKIP: Universitas Maritim Raja Ali Haji Tanjung Pinang)
Febriana Della Putri, 2019. Analisis Kemampuan Berpikir Analitik Dalam Menyelesaikan Masalah Geometri Dengan Model Advance Organize (FKIP: Uin Sunan Ampel, Surabaya)
Fuady Anies. 2017. Berfikir Reflektif Dalam Pembelajaran Matematika. Volume 1 Nomor 2, hal. 110.
Gurol, A. 2011. Determining the Reflective Thinking Skill of Pre-service Teacher in Learning and Teaching Process. Energi Education Science and Technologi Part B: Social and Educational Studies 2011 Volume (issue) 3(3): 387-402
Kurniati, D., Harimukti, R., & Jamil, N. A. (2016). Kemampuan berpikir tingkat tinggi siswa SMP di Kabupaten Jember dalam menyelesaikan soal berstandar PISA. Jurnal Penelitian dan Evaluasi Pendidikan, 20(2), 142-155.
Muin, A. (2011). "The Situations that Can Bering Reflective Thinking Process in Mathematics Learningâ€. International Seminar and the Fourth Natinal Conference on Mathematics Education Department of Mathematics Education. (pp. 231-238). Yogyakarta State University. Yogyakarta.
Nindisari Hepsi., Kusumah Yaya, Sumarmo Utari., Sabandar Jozua, 2014. Pendekatan Metakognitif Untuk Meningkatkan Kemampuan Berpikir Reflektif Matematis Siswa SMA. Jurnal Ilmu Pendidikan dan Pengajaran. Vol. 1 No. 1, Maret 2014. hal. 82.
OECD. (2014). PISA 2012 Results: What Students Know and Can Do – Student Performance in Mathematics, Reading and Science (Volume I, Revised edition, February 2013). PISA, OECD Publishing.
Parta, I. N. (2016). Karakteristik Berpikir analitik Mahasiswa dalam Menyelesaikan "Masalah Sederhanaâ€. Malang: Universitas Negeri Malang.
Rodgers, C., 2002. Definiting Reflection: Another Look at John Dewey and Reflective Thinking. Teachers College Record Volume 104, Number 4, June 2002, pp. 842-866. Columbia University
Sabandar, J. (2010). Berpikir Reflektif dalam Pembelajaran Matematika.(Pascasarjana: Pendidikan Matematika Universitas Pendidikan Indonesia)
Setiawan, H. (2014). Soal matematika dalam PISA kaitannya dengan literasi matematika dan keterampilan berpikir tingkat tinggi. In Prosiding Seminar Nasional Matematika, Universitas Jember.
Sternberg, Robert J., Karin Sternberg. 2012. Cognitive Psychology. Sixth Edition. Wadsworth. USA
Suharna, Hery. 2012. Teori berpikir reflektif dalam menyelesaikan masalah matematika. Yogyakarta: CV Budi Utama.
Suherman, E. dan Sukjaya, Y. 1990. Petunjuk Praktis Untuk Melaksanakan Evaluasi Pendidikan Matematika. Bandung: Wijayakusumah.
Sulastri dkk, Pengaruh Strategi Pembelajaran Critical Incident terhadap Keterampilan Analisis Siswa (FKIP: Universitas Prof Dr. Hamka, Jakarta)
Viyanti Pratiwi, 2019. Kemampuan Berpikir Analitik Peserta Didik Dalam Memecahkan Masalah Matematika di Mi Ma'aruf Pagerwojo Buduran Sidoarjo Studi Komparatif Siswa Gaya Kognitif Visual Verbalizer, (Pascasarjana: UIN Sunan Ampel, Surabaya).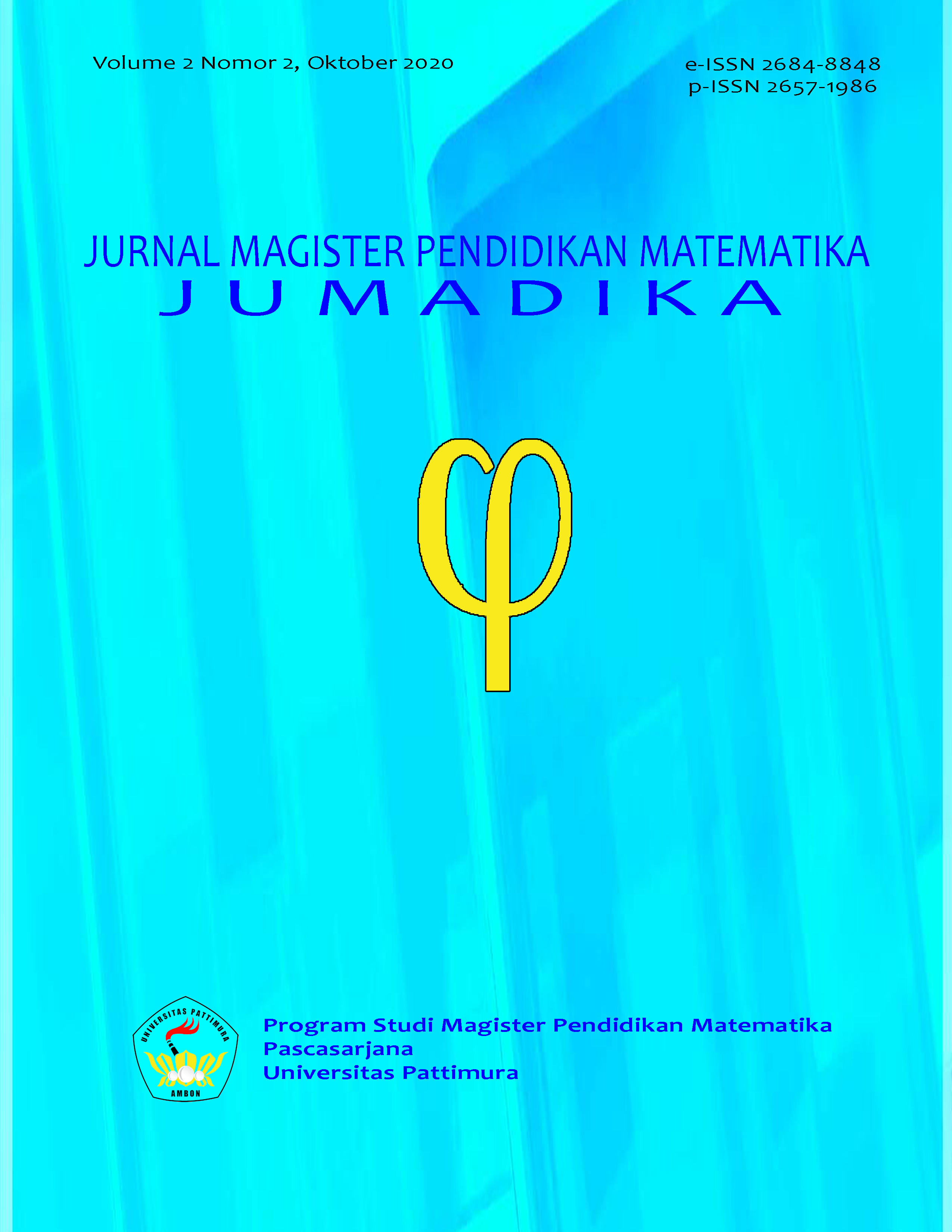 How to Cite
Hadimu, H., Laurens, T., & Moma, L. (2020). ANALISIS KEMAMPUAN BERPIKIR REFLEKTIF DAN ANALITIK PESERTA DIDIK SMP DALAM MENYELESAIKAN SOAL MODEL PROGRAMME FOR INTERNATIONAL STUDENT ASSESSMENT (PISA). Jurnal Magister Pendidikan Matematika (JUMADIKA), 2(2), 46-59. https://doi.org/10.30598/jumadikavol2iss2year2020page46-59
Copyright (c) 2020 Hasan Bashri Hadimu, Theresia Laurens, La Moma
This work is licensed under a Creative Commons Attribution-NonCommercial-ShareAlike 4.0 International License.
License and Copyright Agreement
In submitting the manuscript to the journal, the authors certify that:
They are authorized by their co-authors to enter into these arrangements.
The work described has not been formally published before, except in the form of an abstract or as part of a published lecture, review, thesis, or overlay journal. Please also carefully read Jurnal Magister Pendidikan Matematika (JUMADIKA) Posting Your Article Policy.
That it is not under consideration for publication elsewhere,
That its publication has been approved by all the author(s) and by the responsible authorities – tacitly or explicitly – of the institutes where the work has been carried out.
They secure the right to reproduce any material that has already been published or copyrighted elsewhere.
They agree to the following license and copyright agreement.
Copyright
Authors who publish with Jurnal Magister Pendidikan Matematika (JUMADIKA) agree to the following terms:
Authors retain copyright and grant the journal right of first publication with the work simultaneously licensed under a Creative Commons Attribution-NonCommercial-ShareAlike 4.0 International License (http://creativecommons.org/licenses/by-nc-sa/4.0/) that allows others to share the work with an acknowledgment of the work's authorship and initial publication in this journal.
Authors are able to enter into separate, additional contractual arrangements for the non-exclusive distribution of the journal's published version of the work (e.g., post it to an institutional repository or publish it in a book), with an acknowledgment of its initial publication in this journal.
Authors are permitted and encouraged to post their work online (e.g., in institutional repositories or on their website) prior to and during the submission process, as it can lead to productive exchanges, as well as earlier and greater citation of published work.