THE INFLUENCE OF LEARNING ACCOMPANIED BY SELF HYPNOSIS ON INCREASING MATHEMATICS VALUE
Endro Tri Susdarwono

Universitas Peradaban
Keywords:
mathematics, learning, self hypnosis
Abstract
Hypnosis is the fastest and most effective way to get into the subconscious mind. Each suggestion was nine times stronger than the usual situation. This experimental research aims to provide a description of the effect of learning accompanied by self-hypnosis on increasing mathematics scores. The test is done by comparing the post-test scores of the control group and the experimental group through the t test for the independent sample. This experimental study concluded that the method of learning mathematics with self-hypnosis was able to improve students' mathematical abilities. This conclusion is evidenced by the significant difference between the mean of group 1 as the control variable and group 2 as the experimental variable after being given treatment or stimulus for a period of 1 semester
Downloads
Download data is not yet available.
References
Arikunto, S. (2006). Prosedur Penelitian Suatu Pendekatan Praktik. Jakarta: Rineka Cipta.
Fraenkel, J.R., Wallen, N.E., & Hyun, H.H. (2012). How to Design and Evaluate Research in Education. United States (New York): McGraw-Hill Companies. Inc.
Gunawan, Adi W. (2007). Hypnosis: The Art of Subconcious Communication. Jakarta: Gramedia.
Jayawardana, Hepta Bungsu Agung & Djukri. (2015). Pengembangan Model Pembelajaran Hypnoteaching Untuk Meningkatkan Motivasi Dan Hasil Belajar Biologi Siswa Sma/Ma. Jurnal Inovasi Pendidika IPA, 1(2), 167-177.
Lestari, Karunia Eka & Yudhanegara, Mokhammad Ridwan. (2015). Penelitian Pendidikan Matematika. Bandung: PT Refika Aditama.
Magis, Dodie. (2009). Self Hypnosis. Semarang: Effhar Offset.
Miftakhurozaq. (2018). Implementasi Metode Hypnoteaching dalam Pembelajaran PAI. TA'ALLUM: Jurnal Pendidikan Islam, 6(1), 83-104.
Prawoto, Budi Priyo. (2012). Hipnosis dalam Pembelajaran Matematika: (Hasil Kajian). Gamatika, 3(1), 44-51.
Salami. (2017). Hypnotic Teacher dan Hypnoteaching. Jurnal Ar-Raniry, 3(1), 34-44.
Sugiyono. (2010). Metode Penelitian Bisnis (Pendekatan Kuantitatif, Kualitatid dan R&D). Bandung: Alfabeta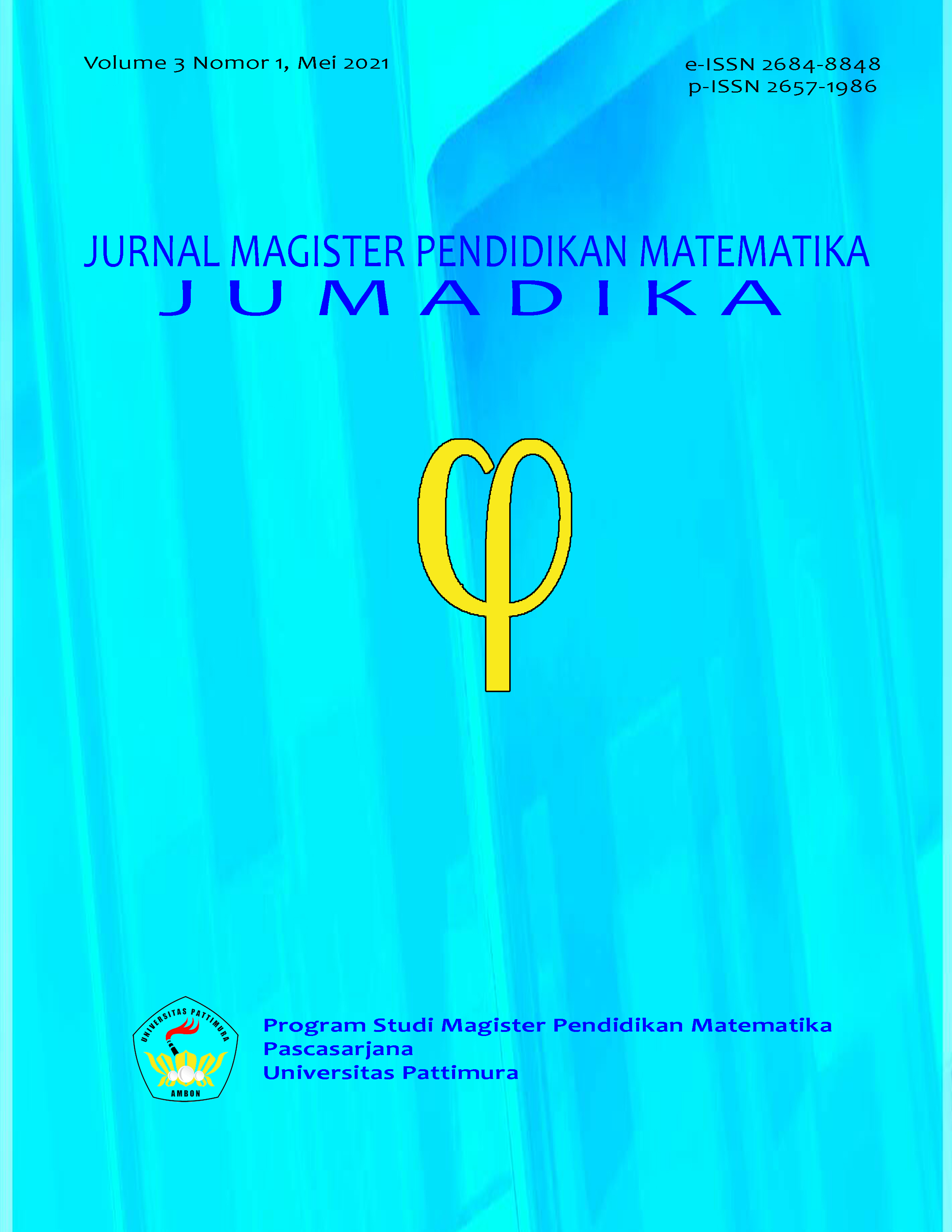 How to Cite
Susdarwono, E. (2021). THE INFLUENCE OF LEARNING ACCOMPANIED BY SELF HYPNOSIS ON INCREASING MATHEMATICS VALUE. Jurnal Magister Pendidikan Matematika (JUMADIKA), 3(1), 8-15. https://doi.org/10.30598/jumadikavol3iss1year2021page8-15
Copyright (c) 2021 Endro Tri Susdarwono
This work is licensed under a Creative Commons Attribution-NonCommercial-ShareAlike 4.0 International License.
License and Copyright Agreement
In submitting the manuscript to the journal, the authors certify that:
They are authorized by their co-authors to enter into these arrangements.
The work described has not been formally published before, except in the form of an abstract or as part of a published lecture, review, thesis, or overlay journal. Please also carefully read Jurnal Magister Pendidikan Matematika (JUMADIKA) Posting Your Article Policy.
That it is not under consideration for publication elsewhere,
That its publication has been approved by all the author(s) and by the responsible authorities – tacitly or explicitly – of the institutes where the work has been carried out.
They secure the right to reproduce any material that has already been published or copyrighted elsewhere.
They agree to the following license and copyright agreement.
Copyright
Authors who publish with Jurnal Magister Pendidikan Matematika (JUMADIKA) agree to the following terms:
Authors retain copyright and grant the journal right of first publication with the work simultaneously licensed under a Creative Commons Attribution-NonCommercial-ShareAlike 4.0 International License (http://creativecommons.org/licenses/by-nc-sa/4.0/) that allows others to share the work with an acknowledgment of the work's authorship and initial publication in this journal.
Authors are able to enter into separate, additional contractual arrangements for the non-exclusive distribution of the journal's published version of the work (e.g., post it to an institutional repository or publish it in a book), with an acknowledgment of its initial publication in this journal.
Authors are permitted and encouraged to post their work online (e.g., in institutional repositories or on their website) prior to and during the submission process, as it can lead to productive exchanges, as well as earlier and greater citation of published work.