KETUPAT DESA ALASMALANG BANYUWANGI: MENGGALI MATEMATIKA DALAM BUDAYA
Keywords:
etnomatematika, ketupat bawang, ketupat Jawa
Abstract
Ketupat merupakan salah satu makanan tradisional yang dikenal oleh masyarakat Indonesia. Desa Alasmalang Kecamatan Singojuruh Kabupaten Banyuwangi merupakan salah satu daerah yang masih aktif melestarikan budaya Kupatan, yaitu perayaan hari ketujuh setelah hari raya Idul Fitri. Sayangnya, tradisi yang sarat dengan pembelajaran ini masih sekedar tradisi tanpa eksplorasi konsep-konsep pembelajaran di dalamnya. Untuk itu dilakukan eksplorasi etnomatematika dalam ketupat, khususnya ketupat bawang dan ketupat Jawa, yang biasa dibuat di Desa Alasmalang. Penelitian dilakukan dengan prinsip kualitatif berbasis etnografi dengan 3 orang informan yaitu Ibu-ibu di Desa Alasmalang. Pengumpulan data dilakukan dengan cara observasi dan wawancara. Analisis data ditentukan berdasarkan analisis domain dan analisis taksonomi untuk menemukan tema budaya. Hasil penelitian menunjukkan bahwa dalam ketupat bawang dan ketupat Jawa termuat konsep hubungan antar garis, sudut, geometri dua dimensi, geometri tiga dimensi, pengubinan, volume bangun ruang dalam satuan tidak baku, serta pecahan
Downloads
Download data is not yet available.
References
Amin, W. R. (2017). Kupatan, Tradisi untuk Melestarikan Ajaran Bersedekah, Memperkuat Tali Silaturahmi, dan Memuliakan Tamu. Al'A'raf, Jurnal Pemikiran Islam dan Filsafat, Vol. XIV, No. 2 , 267-282.
Arif, M., & Lasantu, M. Y. (2019). Nilai Pendidikan dalam Tradisi Lebaran Ketupat Masyarakat Suku Jawa Tondano di Gorontalo. Madani, Vol. 1, No. 2 , 144-159.
As'ari, A., Tohir, M., Valentino, E., Imron, Z., & Taufiq, I. (2017). Matematika SMP/MTs Kelas VII Semester 2. Jakarta: Pusat Kurikulum dan Perbukuan, Balitbang, Kemendikbud.
Choeriyah, L., Nusantara, T., Qohar, A., & Subanji. (2020). Studi etnomatematika pada makanan tradisional Cilacap. AKSIOMA: Jurnal Matematika dan Pendidikan Matematika, Vol. 11, No. 2 , 210-218.
D'Ambrosio, U. (2001). Ethnomathematics, Link between Traditions and Modernity. Rotterdam, The Netherlands: Sense Publisher.
Djojosuroto, K. (2013). Ikon Tradisi Ba'do Katupat Sebagai Refleksi Kebudayaan Masyarakat Jaton di Sulawesi Utara. el Harakah Vol.15, No.2 , 217-227.
Dwi, A. A., & Farabi, Z. A. (2017, Oktober 3). Detik food. Dipetik November 10, 2020, dari Detik.com: https://food.detik.com/infografis/d-3668651/mengenal-bentuk-bentuk-ketupat-tradisional-indonesia
Fajar, F. A., Sunardi, & Yudianto, E. (2018). Etnomatematika Pembuatan Kerajinan Tangan Anyaman Bambu Masyarakat Osing di Desa Gintangan Banyuwangi sebagai Bahan Ajar Geometri. Kadikma, Vol. 9, No. 3 , 97-108.
Huda, N. T. (2018). Etnomatematika Pada Bentuk Jajanan Pasar di Daerah Istimewa Yogyakarta. JNPM (Jurnal Nasional Pendidikan Matematika), Vol. 2, No. 2 , 217-232.
Makmur, M. H., & Taufiq, A. (2016). Konstruksi Kebijakan Kebudayaan di Banyuwangi: Wacana, Relasi, dan Model Kebijakan Berbasis Identitas. Dalam N. Anoegrajekti, S. Macaryus, & H. Prasetyo, Kebudayaan Using: Konstruksi, Identitas, dan Pengembangannya (hal. 102-120). Jember: Pusat Penelitian Budaya Etnik dan Komunitas, Lembaga Penelitian Universitas Jember.
Negoro, S., & Harahap, B. (1998). Ensiklopedia Matematika (edisi kedua). Surabaya: Ghalia Indonesia.
Pathuddin, H., & Raehana, S. (2019). Etnomatematika : Makanan Tradisional Bugis sebagai Sumber Belajar Matematika. MaPan : Jurnal Matematika dan Pembelajaran, Vol. 7, No. 2 , 307-327.
Prabawati, M. N. (2016). Etnomatematika Masyarakat Pengrajin Anyaman Rajapolah Kabupaten Tasikmalaya. Infinity, Vol 5, No. 1 , 25-31.
Puspadewi, K. R., & Putra, I. G. (2014). Etnomatematika di Balik Kerajinan Anyaman Bali. Jurnal Matematika, Vol. 4, No. 2 , 80-89.
Rahmadi, I., Sugiyono, & Suyatma, N. E. (2019). Teknologi Pengolahan Ketupat: Perubahan Karakteristik Fisikokimia dan Mikrobiologi selama Pengolahan dan Penyimpanan. PANGAN, Vol. 28, No. 2 , 161-170.
Rianti, A., Novenia, A. E., Christopher, A., Lestari, D., & Parassih, E. K. (2018). Ketupat as traditional food of Indonesian culture. Journal of Ethnic Foods Vol. 5 , 4-9.
Shirley, L. (2015). Mathematics of Students' Culture: a Goal of Localized Ethnomathematics. Revista Latinoamericana de Etnomatematica, Vol. 8, No. 2 , 316-325.
Spradley, J. P. (2007). Metode Etnografi. Yogyakarta: Tiara Wacana.
Susanah, & Hartono. (2009). Geometry (edisi keempat). Surabaya: Unesa University Press.
Yanti, F. (2019). Komunikasi Sosial dalam Membangun Komunikasi Umat (Kajian Makna Tradisi Ied (Lebaran) pada masyarakat Muslim di Bandar Lampung). Komunika, Vol. 2, No. 1 , 1-16.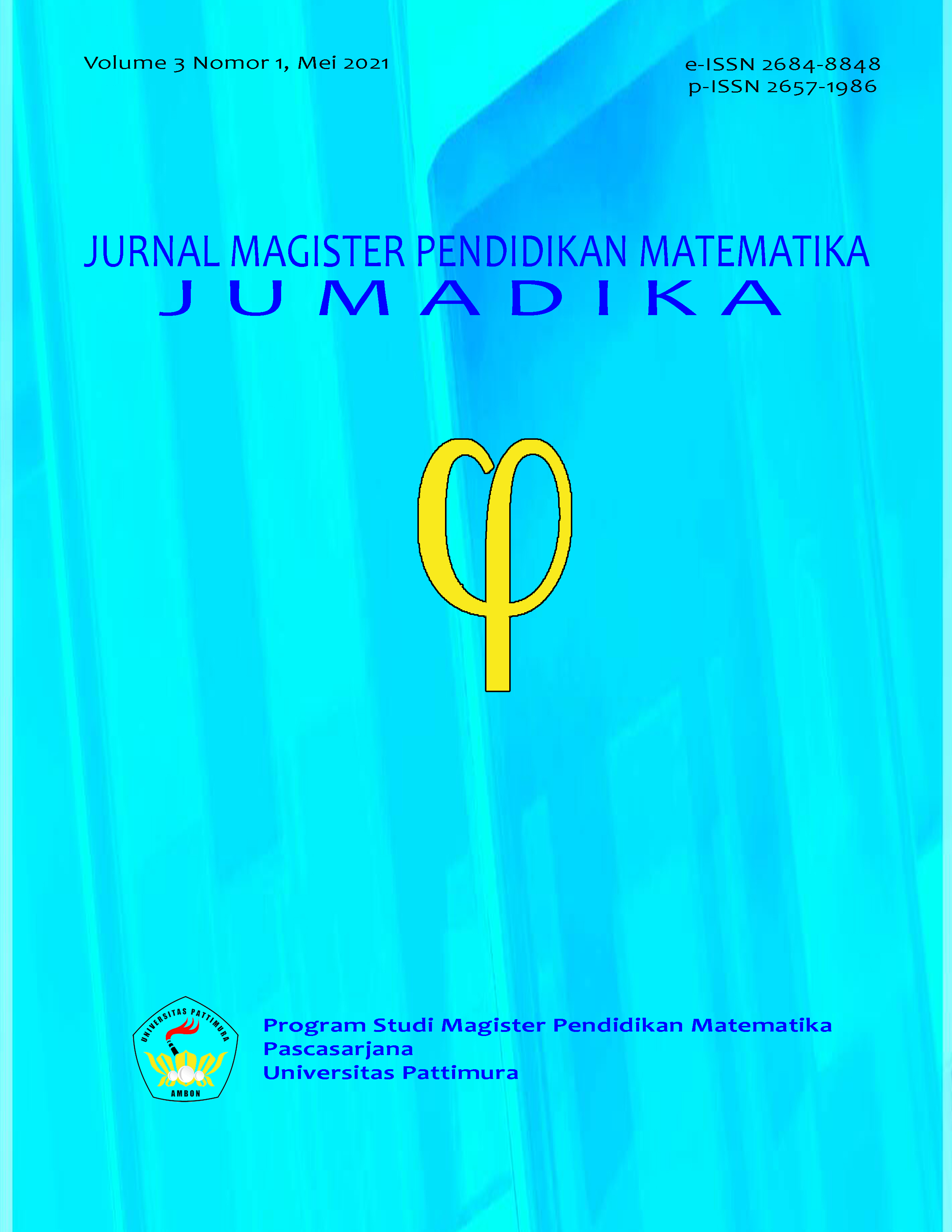 How to Cite
Hotima, H., & Hariastuti, R. (2021). KETUPAT DESA ALASMALANG BANYUWANGI: MENGGALI MATEMATIKA DALAM BUDAYA. Jurnal Magister Pendidikan Matematika (JUMADIKA), 3(1), 16-25. https://doi.org/10.30598/jumadikavol3iss1year2021page16-25
Copyright (c) 2021 Husnul Hotima, Rachmaniah Mirza Hariastuti
This work is licensed under a Creative Commons Attribution-NonCommercial-ShareAlike 4.0 International License.
License and Copyright Agreement
In submitting the manuscript to the journal, the authors certify that:
They are authorized by their co-authors to enter into these arrangements.
The work described has not been formally published before, except in the form of an abstract or as part of a published lecture, review, thesis, or overlay journal. Please also carefully read Jurnal Magister Pendidikan Matematika (JUMADIKA) Posting Your Article Policy.
That it is not under consideration for publication elsewhere,
That its publication has been approved by all the author(s) and by the responsible authorities – tacitly or explicitly – of the institutes where the work has been carried out.
They secure the right to reproduce any material that has already been published or copyrighted elsewhere.
They agree to the following license and copyright agreement.
Copyright
Authors who publish with Jurnal Magister Pendidikan Matematika (JUMADIKA) agree to the following terms:
Authors retain copyright and grant the journal right of first publication with the work simultaneously licensed under a Creative Commons Attribution-NonCommercial-ShareAlike 4.0 International License (http://creativecommons.org/licenses/by-nc-sa/4.0/) that allows others to share the work with an acknowledgment of the work's authorship and initial publication in this journal.
Authors are able to enter into separate, additional contractual arrangements for the non-exclusive distribution of the journal's published version of the work (e.g., post it to an institutional repository or publish it in a book), with an acknowledgment of its initial publication in this journal.
Authors are permitted and encouraged to post their work online (e.g., in institutional repositories or on their website) prior to and during the submission process, as it can lead to productive exchanges, as well as earlier and greater citation of published work.