DAMPAK PSIKOLOGIS PANDEMI COVID 19 PADA MAHASISWA
Asriati Asriati

Universitas Cenderawasih

Lisda Oktavia Madu Pamangin
Keywords:
Stress, Mahasiswa, Covid-19
Abstract
Pandemi COVID-19 yang telah terjadi lebih dari satu tahun memberikan pengaruh psikologis pada mahasiswa akibat pembatasan sosial dengan pembelajaran jarak jauh. Siswa selama periode pandemi ternyata menunjukkan tingkat kecemasan, depresi dan stress yang jauh lebih tinggi dibandingkan siswa pada masa-masa normal. Penelitian ini bertujuan untuk mengetahui gambaran stress dan sumber stress akibat pandemi seperti kehidupan akademik, pembatasan sosial, beban tugas, dan takut tertular covid pada mahasiswa Universitas Cenderawasih. Jenis penelitian menggunakan survey cross sectional, yang dilaksanakan Juni – Juli 2021. Sampel sebanyak 308 mahasiswa Fakultas Kesehatan Masyarakat yang diambil menggunakan teknik propotional simple random sampling. Analisis data menggunakan  Uji Kruskall-Wallis. Mayoritas mahasiswa mengalami tingkat stress sedang sebanyak 187 (60,71%) dan tingkat stress tinggi sebanyak 66 (21,43%). Sebanyak 142 (60,2%) mahasiswa perempuan mengalami tingkat stress sedang dan sebanyak 57 (24,1%) mengalami stress tinggi. Sebanyak 45 (62,5%) mahasiswa laki-laki mengalami tingkat stress sedang dan hanya 9 (12,5%) yang mengalami stres tinggi. Usia 18-29 mengalami stres tinggi sebanyak 66 orang dan usia 18-35 sebanyak 187 orang mengalami stress sedang. Mahasiwa yang mengikuti perkuliahan di Kota Jayapura 142 (60,4%) mengalami stress sedang dan sebanyak 57 (24,3%) mengalami stress tinggi. Hasil uji Kruskall Wallis menemukan variabel persepsi takut tertular covid-19 (p=0,0001), pembatasan sosial (p=0,0001), hubungan dengan dosen (0,0047) dan proses belajar selama pandemi (p=0,0002) memiliki hubungan yang bermakna dengan tingkat stress mahasiswa selama pandemi covid 19. Mengingat mayoritas mahasiswa merasa stress selama pembelajaran daring, maka diperlukan upaya untuk mencegah berkembangnya stress menjadi depresi dan frustasi.
Downloads
Download data is not yet available.
References
Alateeq DA, Aljhani S, Aleesa D. Perceived stress among students in virtual classrooms during the COVID-19 outbreak in KSA. J Taibah Univ Med Sci [Internet]. 2020;15(5):398–403. Available from: http://dx.doi.org/10.1016/j.jtumed.2020.07.004
World Health Organization (WHO). COVID-19 Weekly Epidemiological Update. 2021.
Pradnyani PE, Ranitadewi IN, Luh N, Purni E, Febriana F, Resmiadi NL, et al. Sikap Remaja di 10 Provinsi Indonesia Terkait Perilaku Seksual Pada Masa Pandemi Covid-19. Pros IAKMI. 2020;25–6.
Cao W, Fang Z, Hou G, Han M, Xu X, Dong J. The psychological impact of the COVID-19 epidemic on college students in China. Psychiatry Res [Internet]. 2020;287(March):112934. Available from: https://doi.org/10.1016/j.psychres.2020.112934
Chen, B., Sun, J., and Feng Y. How have COVID-19 isolation policies affected young people's mental health? - Evidence from Chinese college students. Front Psychol. 2020;11(1529).
Lee SA. Coronavirus Anxiety Scale: a brief mental health screener for COVID-19 related anxiety. Death Study. 2020;44:393–401.
Sahu P. Closure of Universities Due to Coronavirus Disease 2019 ( COVID-19 ): Impact on Education and Mental Health of Students and Academic Staff Challenges. Cureus. 2020;2019(4):4–9.
Zurlo MC, Francesca M, Della C, Vallone F. COVID-19 Student Stress Questionnaire : Development and Validation of a Questionnaire to Evaluate Students ' Stressors Related to the Coronavirus Pandemic Lockdown. Front Psychol. 2020;11(October):1–11.
Daring PP, Akademik S, Selama M, Andiarna F. Effects of Online Learning on Student Academic Stress During the Covid-19 Pandemic. 2020;139–50.
Covid- SP. Gambaran psikologis mahasiswa dalam proses pembelajaran selama pandemi covid-19. 2020;8(3):299–306.
Id CY, Chen A, Chen Y. College students ' stress and health in the COVID-19 pandemic : The role of academic workload , separation from school , and fears of contagion. PLoS One [Internet]. 2021;2019:1–16. Available from: http://dx.doi.org/10.1371/journal.pone.0246676
Fitriasari A, Septianingrum Y, Budury S, Khamida K. Stres pembelajaran online berhubungan dengan strategi koping mahasiswa selama pandemi covid-19. J Keperawatan. 2020;12(4):985–92.
Brooks, S. K., Webster, R. K., Smith, L. E., Woodland, L., Wessely, S., Greenberg, N. et al. The psychological impact of quarantine and how to reduce it: rapid review ofthe evidence. Lancet. 2020;395:912–920.
Son C, Hegde S, Smith A, Wang X. Effects of COVID-19 on College Students ' Mental Health in the United States : Interview Survey Study Corresponding Author : J Med Internet Res. 2020;22:1–14.
Cohen S, Kamarck T, Mermelstein R. Stress A Global Measure of Perceived. 2013;24(4):385–96.
Purnami CT, Sawitri DR. Instrumen " Perceive Stress Scale " Online Sebagai Alternatif Alat Pengukur Tingkat Stress Secara Mudah Dan Cepat. 2019;311–4.
Al-sowygh ZH. Academic distress , perceived stress and coping strategies among dental students in Saudi Arabia. Saudi Dent J [Internet]. 2013;25(3):97–105. Available from: http://dx.doi.org/10.1016/j.sdentj.2013.05.002
Mboya IB, John B, Kibopile ES, Mhando L, George J, Ngocho JS. Factors associated with mental distress among undergraduate students in northern Tanzania. 2020;1–7.
PH L, Mubin MF, Basthomi Y. " tugas pembelajaran " penyebab stres mahasiswa selama pandemi covid-19. J Ilmu Keperawatan Jiwa. 2020;3(2):203–8.
Lubis H, Ramadhani A, Rasyid M. Stres Akademik Mahasiswa dalam Melaksanakan Kuliah Daring Selama Masa Pandemi Covid 19. J Psikol. 2021;10(1):31–9.
Marques D, Miranda D, Athanasio S, Cecília A, Oliveira S, Simoes-e-silva AC. Since January 2020 Elsevier has created a COVID-19 resource centre with free information in English and Mandarin on the novel coronavirus COVID- 19 . The COVID-19 resource centre is hosted on Elsevier Connect , the company ' s public news and information. Int J Disaster Risk Reduct. 2020;51(January).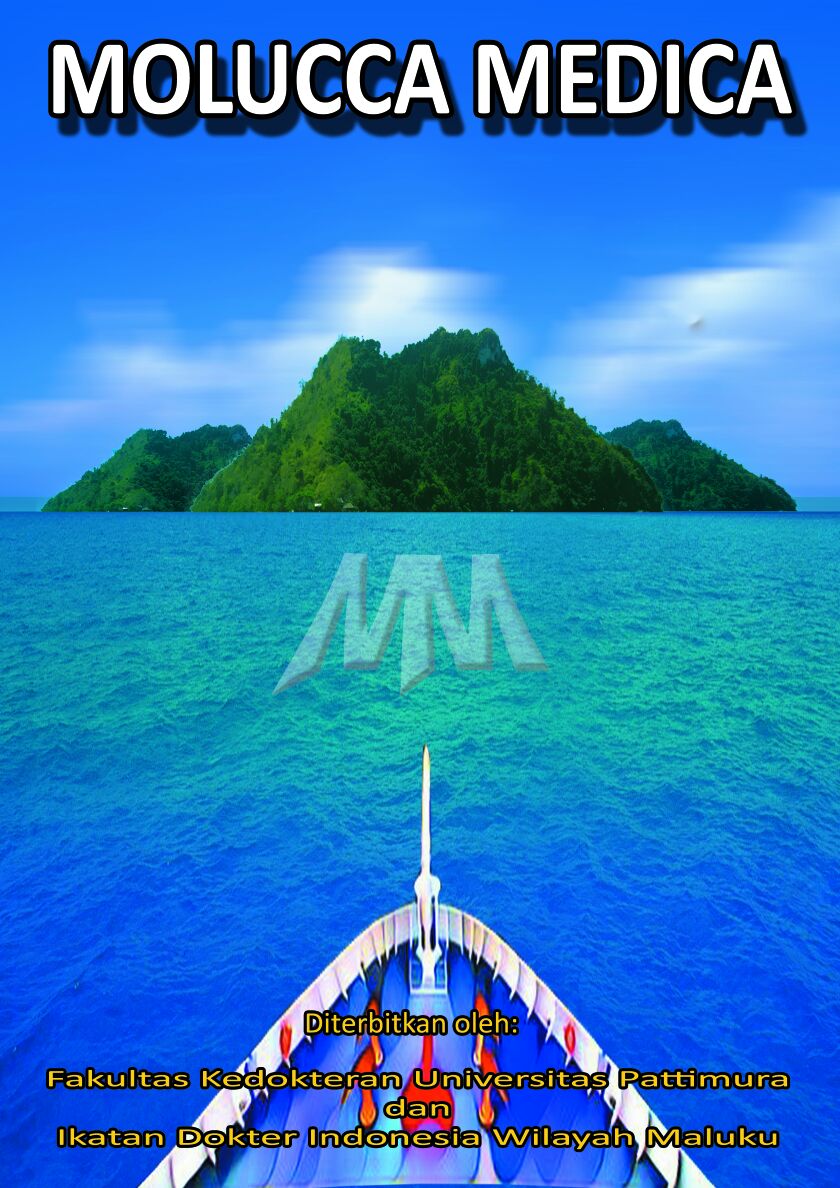 Copyright (c) 2022 Molucca Medica
This work is licensed under a Creative Commons Attribution-NonCommercial-ShareAlike 4.0 International License.