Kajian Kriminologis Terhadap Minuman Beralkohol (Sopi) Dengan Tindak Pidana Yang Terjadi Di Kabupaten Kepulauan Aru
Resi Luturmas

Fakultas Hukum Program Studi Diluar Kampus Utama Universitas Pattimura

Sherly Adam

Fakultas Hukum Universitas Pattimura

Elias Zadrach Leasa

Fakultas Hukum Universitas Pattimura
Keywords:
Criminologist, Traditional Drink, Criminal Act
Abstract
The crimes that arise in the Aru Islands district due to the consumption of alcoholic drinks (sopi) have been increasing lately, so efforts must be made to resolve them so that no more crimes occur. This study aims to examine and discuss what crimes are caused by consuming alcoholic beverages (sopi) in the Aru Islands district. The type of research used in this research is empirical-juridical or sociological-juridical. The data sources used are primary data and secondary data. Techniques for collecting legal materials through interviews, documentation studies, and qualitative analysis of legal materials. The results of the study show that the factors causing the occurrence of criminal acts caused by consuming alcoholic beverages (sopi) are many, including unemployment, excessive alcohol consumption, and the fact that most people still use alcoholic beverages (sopi) as an outlet. The efforts made by the Aru Islands Police include conducting campaigns among teenagers as well as carrying out operations and enforcing the law against perpetrators of the distribution of alcoholic beverages (sopi).
Downloads
Download data is not yet available.
References
Kevin A. Lomban, Permasalahan dan Segi Hukum Tentang Alkoholisme Di Indonesia, Jurnal Lex Crimen Vol. III/No. 1/Jan-Mar/2014.
Mustafa Abdullah & Ruben Ahmad, Intisari Hukum Pidana, Ghalia Indonesia, Jakarta, 1993.
Ronny Hanitijo Soemitro, Metode Penelitian Hukum dan Jurimetri, Ghalia, Jakarta, 1998.
Soedjono Dirdjosisworo, Alkoholisme Paparan Hukum dan Kriminologi, Remaja Karya, Bandung, 1994.
Wiryono Prodjodikoro, Asas-Asas Hukum Pidana Di Indonesia, Cetakan Keempat, Eresco, Bandung, 1986.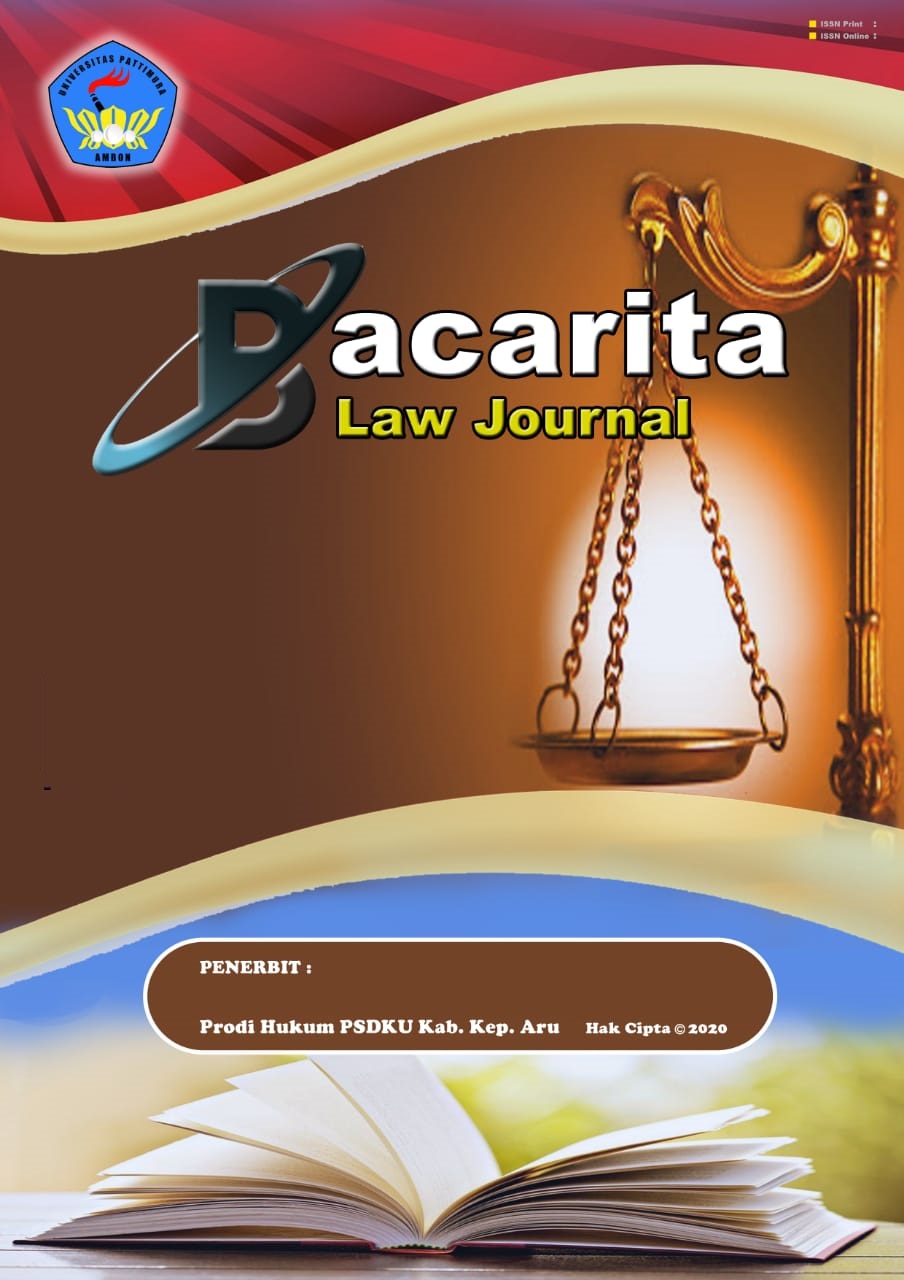 How to Cite
Luturmas, Resi, Sherly Adam, and Elias Leasa. 2023. "Kajian Kriminologis Terhadap Minuman Beralkohol (Sopi) Dengan Tindak Pidana Yang Terjadi Di Kabupaten Kepulauan Aru". Bacarita Law Journal 3 (2), 76-81. https://doi.org/10.30598/bacarita.v3i2.8403.
Copyright (c) 2023 Resi Luturmas, Sherly Adam, Elias Zadrach Leasa
This work is licensed under a Creative Commons Attribution-NonCommercial 4.0 International License.
Authors who publish their manuscripts in this Journal agree to the following conditions:
The copyright in each article belongs to the author, as well as the right to patent.
Authors are able to enter into separate, additional contractual arrangements for the non-exclusive distribution of the journal's published version of the work (e.g., post it to an institutional repository or publish it in a book), with an acknowledgment of its initial publication in this journal.
Authors are permitted and encouraged to post their work online (e.g., in institutional repositories or on their website) prior to and during the submission process, as it can lead to productive exchanges, as well as earlier and greater citation of published work.
Authors have the right to self-archiving of the article (Author Self-Archiving Policy)