The density of Siasia (Sipunculus nodus) population based on the differences in the substrate of the sea grasses beds on the waters of Saparua Island
Yoin Meissy Matulessy

Universitas Pattimura

Ali Awan

Universitas Pattimura

Sintje Liline

Universitas Pattimura
Keywords:
Density, proximate, Sipunculus nodus
Abstract
Sipuncula, a marine biota which is commonly called a peanut worm, is a marine biota that is a little "controversial".  Some literature also refers to these animals as "unsegmented marine worms" or unsegmented marine worms. Siasia (Sipunculus nodus) usually lives in coastal areas, especially around seagrass beds, mangrove forests, and coral reefs. These biotas tend to inhabit the bottom of the waters, especially in the substrate, so they are categorized as infauna benthic organisms. Siasia (S. nodus) can inhabit soft and hard substrate areas. Based on its ecological function, seagrass forms associations with various kinds of marine life as food providers, shelters, and places to live, causing high diversity of marine life. The basic substrate in the form of flat stones and gravel is a good living environment for macrozoobenthos because it is rich in organic compounds so it has a big population density and diversity.The bottom of the waters in the form of sand and fine sediment is not a good living environment for benthic animals. Factors affecting density and diversity are environmental conditions, habitat, and diet. The same factors also affect the nutritional content of Siasia (S. nodus). So, it is feared that when the population density of Siasia (S. nodus) becomes high in the water there will be competition for food which will have a direct impact on the nutritional content of Siasia (S. nodus). The population density of each water is different, so it is necessary to research the population density of Siasia (S. nodus) based on differences in the substrate of the seagrass area in the waters of Saparua Island, Maluku Province, Central Maluku Regency. The highest population density value of Siasia (Sipunculus nodus) in Saparua Island waters is found in Siri-sori State and the lowest is in Paperu Country.
Downloads
Download data is not yet available.
References
Barnes, R. D. (1987). Invertebrete zoologi. Edisi ke-5. Sounders College Publising, Orlando, New York. pp. 893.
Barus, T. A. (2004). Faktor-faktor lingkungan abiotik dan keanekaragaman plankton sebagai indikator kualitas perairan danau toba (Environmental abiotic factors and the diversity of plankton as water quality indicators in lake toba, North Sumatera, Indonesia). Jurnal Manusia dan Lingkungan, 11(2), 64-72. (In Indonesian).
Brower, J., & Zar, J. (1997). Field and laboratory methods for general ecology. Spiral- bound, USA.
Effendi, H. (2003). Telaah kualitas air bagi pengelolaan sumber daya dan lingkungan perairan [study of water quality for management of aquatic resources and environment]. Kanisius, Yogyakarta. (In Indonesian).
Gufran, M. H., & Baso, B. T. (2007). Pengelolaan kualitas air dalam budi daya perairan [Management of water quality in aquaculture]. Rineka Cipta, Jakarta. (In Indonesian).
Hutching, P. A., & Johnson, R. T. (2003). Australian aphroditidae (Polychaeta) delta database. In R.S. Wilson, P.A. Hutchings dan C.J. Glasby (eds). Polychaetes: An Interactive Identification. Csiro, Melbourne.
Hynes, H. B. N. (1976). The ecology with of running water. Lipverpool University Press, England.
Irwan, D. (1997). Prinsip-prinsip ekologi dan organisasi ekosistem & komunitas lingkungan [Ecological principles and organization of environmental ecosystems & communities]. Bumi Aksara, Jakarta. (In Indonesian).
Koesbiono. (1979). Dasar-dasar ekologi umum [General ecology basics]. Sekolah Pasca Sarjana Program Studi Lingkungan, IPB. Bogor. (In Indonesian).
Mudjiman, A. (1981). Budidaya udang windu [Tiger prawn cultivation]. PT. Penebar Swadaya, Jakarta. (In Indonesian).
Nybakken, J. W. (1992). Biologi laut suatu pendekatan ekologis [Marine biology an ecological approach]. PT. Gramedia Pustaka Utama, Jakarta. (In Indonesian).
Odum, E. P. (1994). Dasar-dasar ekologi [Ecological basics]. Edisi Ketiga. Universitas Gadjah Mada Press, Yogyakarta. (In Indonesian).
Payung, W. R. (2017). Keanekaragaman makrozoobentos (epifauna) pada ekosistem mangrove di sempadan sungai tallo kota makassar [Diversity of macrozoobenthos (epifauna) in the mangrove ecosystem on the tallo riverbank of the city of Makassar]. Skripsi. Departemen Ilmu Kelautan Fakultas Ilmu Kelautan dan Perikanan Universitas Hasanuddin Makassar. (In Indonesian).
Pescod, M. B. (1973). Investigation of rational effluent and stream standart for tropical countries, AIT, Bangkok.
Purwaningsih, S. (2014). Pengembangan pangan fungsional sebagai antidiabetes dari beberapa moluska yang mempunyai aktivitas antioksidan tinggi [Development of functional food as antidiabetic of several mollusks which have high antioxidant activity]. Institut Pertanian Bogor, Bogor. (In Indonesian).
Seki, H. (1982). Organic Material in Aquatik Ecosystem. CRC Press. Inc, Folrida.
Silaban, B. (2012). Profil Nutrisi Sipuncula (Cacing Kacang); Biota laut yang kontrovertif di Pulau Nusalaut, Maluku Tengah [Nutritional Profile of Sipuncula (Peanut Worm); Controversial marine life on Nusalaut Island, Central Maluku]. Laporan hasil penelitian dosen pemula yang dibiayai dengan PNBP Lembaga Penelitian Universitas Pattimura. (In Indonesian).
Silaban, B, br., Nanlohy, E. E. E. M. (2012). Profil nutrisi sipuncula (cacing kacang) biota laut yang kontrovertif di pulau Nusalaut, Maluku Tengah. Jurnal Triton, 7(2):32-41. (In Indonesian).
Silaban, B., & Silaban, R. (2019). Cacing kacang (sipuncula): Kajian biologi, ekologi, penangkapan dan pemanfaatan [Peanut worms (sipuncula): Study of biology, ecology, capture and use]. CV. Budi Utama, Yogyakarta. (In Indonesian).
Supono., U. Y., & Arbi. (2010). Struktur komunitas ekhinodermata di padang lamun perairan kema, Sulawesi Utara [Structure of Echinoderm Community in Kema Seagrass Field, North Sulawesi]. Oseanologi dan Limnologi di Indonesia, 6(3), 329-342. (In Indonesian).
Suwignyo., & Sugiarti. (2005). Avertebrata Air [Aquatic Invertebrates]. Jilid 1, Swadaya, Jakarta. (In Indonesian).
Tree of Life Web Project. (2008). Sipuncula. Peanut Worms. Version 09 January 2008 (temporary). http://tolweb.org/Sipuncula/2487/2008. 01.09 in The Tree of Life Web Project, http://tolweb.org/ [13 Maret 2021].
Welch, E. B. (1980). Ecological Effect of Wastewater. Cambridge University Press, Cambridge London, New York New Rochelle.
Zhang, C. X., Zi, R. D., Qiu, X. C. (2011). Anti inflammatory and anti-nociceptive activities of Sipunculus nudus L. Extract. Journal of Ethnopharmacology, 137(3), 1177-1182.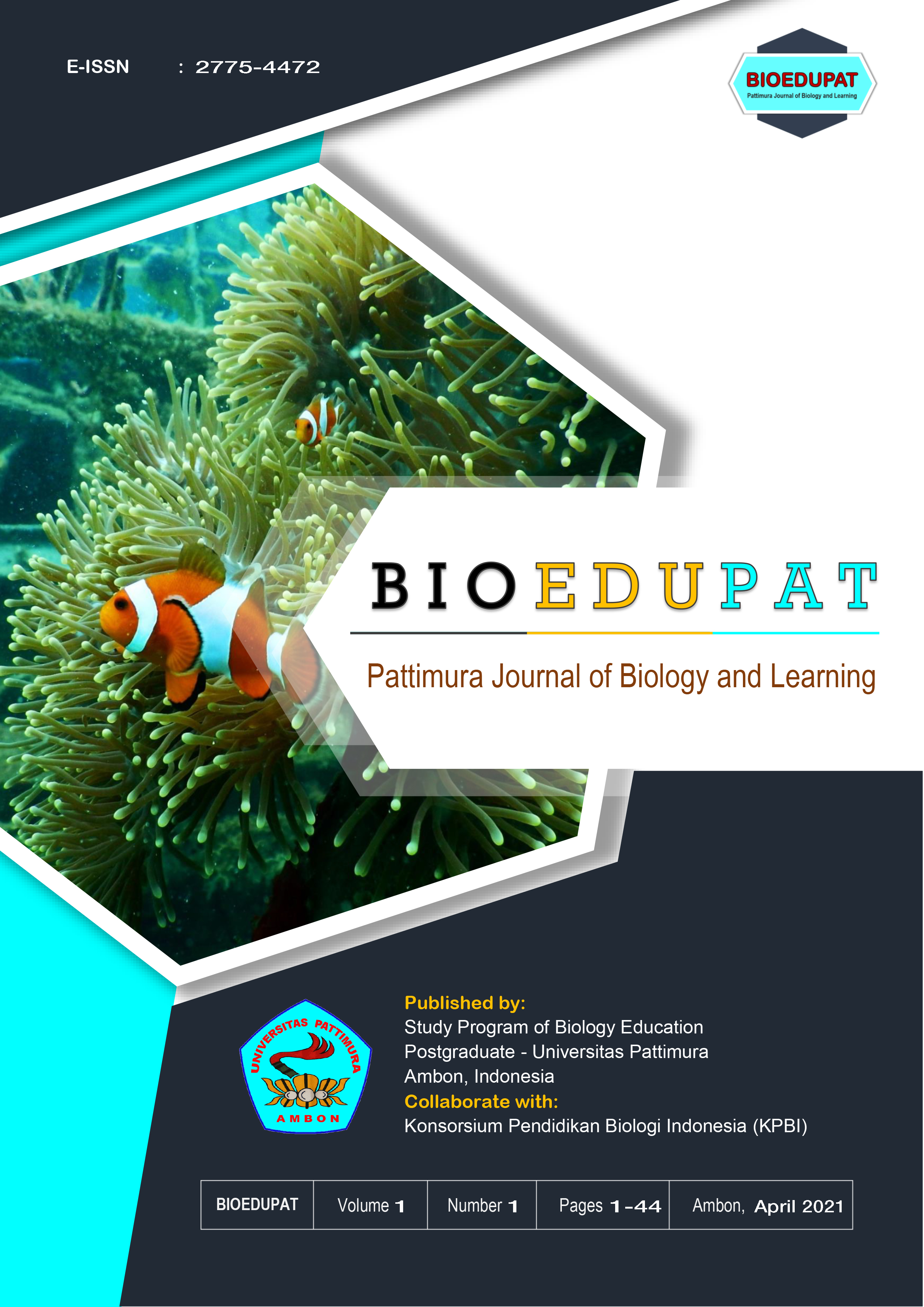 Copyright (c) 2021 Yoin Meissy Matulessy, Ali Awan, Sintje Liline
This work is licensed under a Creative Commons Attribution-ShareAlike 4.0 International License.