Viscosity and organoleptic test of gude bean soy sauce (Cajanus cajan L.)
maria kiliroong

Hadi Wael

Alwi Smith

Syahran Wael
Keywords:
Cajanus cajan L. soy sauce, viscosity, organoleptic.
Abstract
Gude nuts are known as wooden nuts on Kisar Island, which is an area that uses wood nuts as food. This study aims to determine the viscosity value and organoleptic test of pigeon pea sauce based on the weight of the beans. This research was conducted in February - March 2021 at the Laboratory of the Biology Education Study Program, FKIP, Pattimura University, Ambon and a viscosity test at the Ambon Industrial Standardization and Research Institute (Baristand) using an experimental research type and the research design used was a completely randomized design ( RAL), using 3 treatments, namely the weight of pigeon pea 150 g, 300 g and 450 g and using 2 replications to obtain 6 samples. This study showed that the weight of pigeon pea had an effect on the viscosity and organoleptic of soy sauce. From the viscosity analysis, the highest viscosity was obtained, namely 608.065 cp with a weight of 450 g pigeon pea, while for pigeon pea 300 g 411.065 cp and 150 g gude beans at 141 cp and organoleptic test obtained the average value of the texture of soy sauce on the treatment of pigeon pea and soy sauce 450 g pigeon pea 300 g with an average value of 4 (very thick) and peanut gude 150 g with an average value of 3 (thick). In the flavor of  pigeon pea sauce 300 g and 150 g have an average value of 3 (fragrant), while for the treatment of 450 g peanuts is 4 (very fragrant). The color of the soy sauce in the pigeon pea sauce treatment was 450 g and 300 g with an average value of 4 (very black), and the 150 g peanut sauce treatment was 3 (black). In the treatment of 450 g of pigeon pea sauce and 300 g of pigeon pea sauce, the average value was 3 (sweet). For 150 g of pigeon pea soy sauce, on average the panelists gave a score of 2 (less sweet). There is an influence on the viscosity because the weight of the nuts used is different. while the organoleptic test showed a thick, fragrant, less sweet, and sweet taste.
Downloads
Download data is not yet available.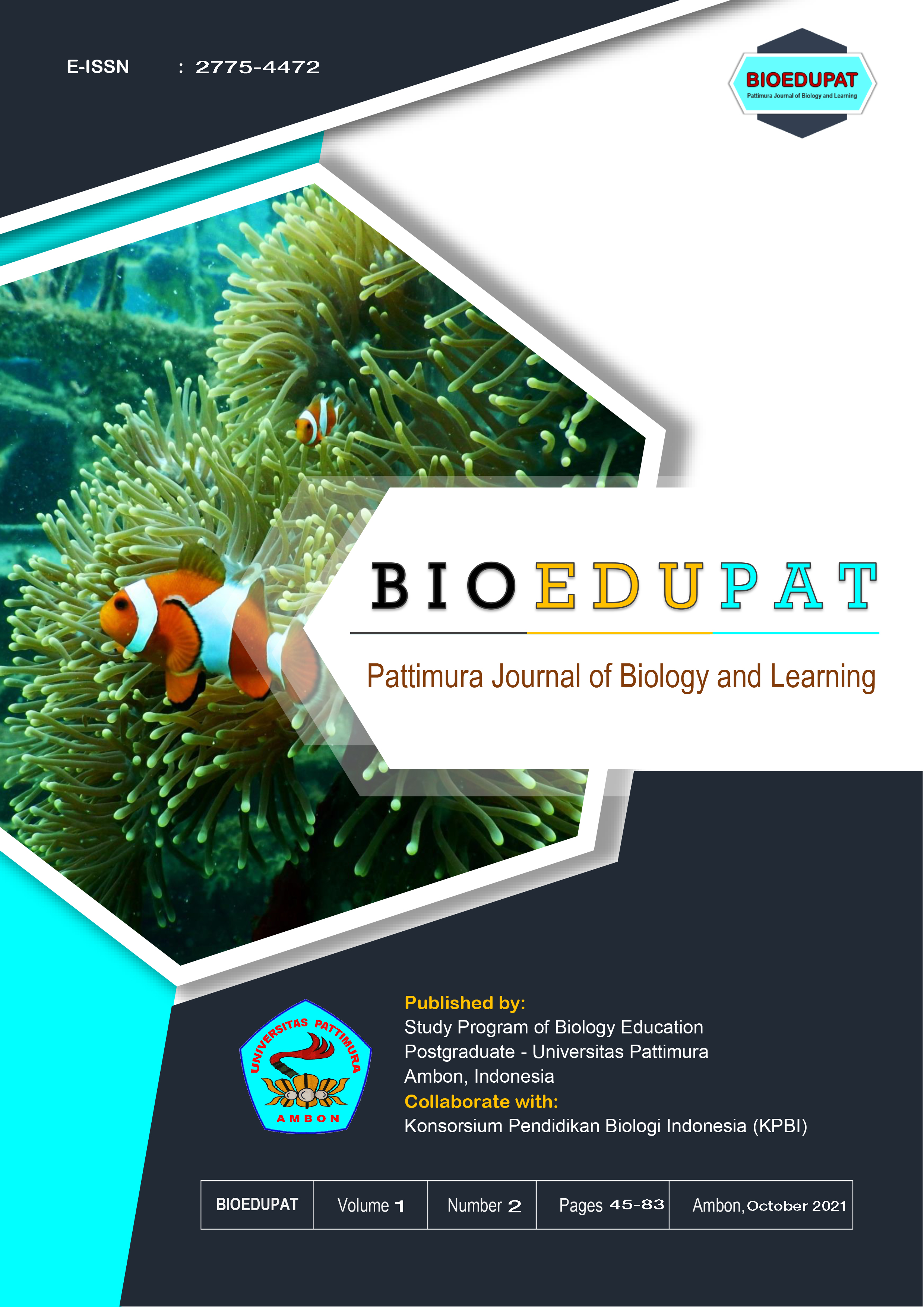 Copyright (c) 2021 maria kiliroong, Hadi Wael, Alwi Smith, Syahran Wael
This work is licensed under a Creative Commons Attribution-NonCommercial-ShareAlike 4.0 International License.
Authors who publish with BIOEDUPAT: Pattimura Journal of Biology and Learning agree to the following terms:
Authors retain copyright and grant the journal right of first publication with the work simultaneously licensed under a Creative Commons Attribution License (CC BY-NC-SA 4.0) that allows others to share the work with an acknowledgment of the work's authorship and initial publication in this journal.
Authors are able to enter into separate, additional contractual arrangements for the non-exclusive distribution of the journal's published version of the work (e.g., post it to an institutional repository or publish it in a book), with an acknowledgment of its initial publication in this journal.
Authors are permitted and encouraged to post their work online (e.g., in institutional repositories or on their website) prior to and during the submission process, as it can lead to productive exchanges, as well as earlier and greater citation of published work.