Potential of extract leaf cherry (Muntingia calabura L) on production macrophage mice (Mus musculus)
Syahran Wael

Universitas Pattimura

Ana Bina Sari

Sekolah Tinggi Analis Bakti Asih

Ine Arini

Universitas Pattimura

Milka Gabriel Lestuny

Universitas Pattimura
Keywords:
cherry, macrophages, lymphocytes
Abstract
The cherry plant (Muntingia calabura L.) is a shrub or small tree only up to 12 meters high, although generally only around 3-6m. The purpose of this study was to see the application of cherry leaf extract to mice infected with Salmonella typimirium. This research is a laboratory experimental study with a post test-only control group design using Balb/c mice as the research object. This research was conducted from 10 February to 15 April 2022. The extract of cherry leaves was used at the basic biology laboratory of Pattimura University. The mice used were adult male mice aged 3 months and weighing about 20 grams. Macrophage analysis was measured from the spleen of mice using the SPPS 20 One Way Anova test and then continued with the LSD follow-up test. The results of the study showed that in the control group the average weight of the spleen was 0.126 lighter because it was not infected with Salmonella typimerium compared to the treatment of cherry leaf extract infected with Salmonella typimerium) dose of 15 mg/kgbw (0.556), dose of 75 mg/kgbw (0.516) and a dose of 150 mg/kgbw (0.510). While there was no significant difference in macrophages. Salmonella typimurium infection will initiate an inflammatory response at the site of spread of the bacteria, including reaching the spleen and causing enlargement of the spleen.
Downloads
Download data is not yet available.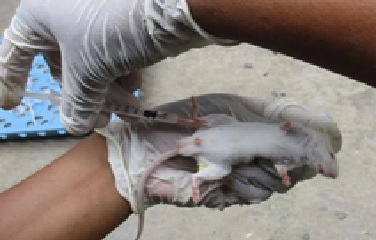 Copyright (c) 2023 Syahran Wael, Ana Bina Sari, Ine Arini, Milka Gabriel Lestuny
This work is licensed under a Creative Commons Attribution-NonCommercial-ShareAlike 4.0 International License.
Authors who publish with BIOEDUPAT: Pattimura Journal of Biology and Learning agree to the following terms:
Authors retain copyright and grant the journal right of first publication with the work simultaneously licensed under a Creative Commons Attribution License (CC BY-NC-SA 4.0) that allows others to share the work with an acknowledgment of the work's authorship and initial publication in this journal.
Authors are able to enter into separate, additional contractual arrangements for the non-exclusive distribution of the journal's published version of the work (e.g., post it to an institutional repository or publish it in a book), with an acknowledgment of its initial publication in this journal.
Authors are permitted and encouraged to post their work online (e.g., in institutional repositories or on their website) prior to and during the submission process, as it can lead to productive exchanges, as well as earlier and greater citation of published work.