Contribution Of Game Traditional To Relationship Social Relations Of Children Schools
Criezta Korlefura

Theophanny Paula Theresia Rampisela

Counseling Guidance Study Program, Faculty of Education and Teacher Training, Pattimura University

Jeanete Ophilia Papilaya

Counseling Guidance Study Program, Faculty of Education and Teacher Training, Pattimura University

R F Tuasikal

Counseling Guidance Study Program, Faculty of Education and Teacher Training, Pattimura University
Keywords:
Game Traditional, Social Relations, Children Schools
Abstract
Playing gives children the possibility of active participation and enables development, achieving confidence and better in relations between groups. Through games children can learn social skills and obtain certain rules in games that are temporarily played. Departing this, the purpose of this study was to see how much the contribution of traditional games to the quality of children's social relations at school. This ability is included in the socioemotional aspect. After knowing, the goal in the future also wants to make a model that contains the procedures for applying traditional play methods in the curriculum / school subjects to be able to help children develop optimally the socioemotional aspects.
The research method used is the qualitative and quantitative approaches. Quantitative approaches are used primarily about the presentation of children's social behaviors in school; while the qualitative approach is used more intensively in the analysis of the quality of children's social relations, along with the profile and results of the treatment given. The procedures used in this study are research and development procedures. Research and development procedures are used based on the reason that this study is intended to get an initial picture of the quality of children's social relations and it is hoped that in the next research it can produce a product that is the application of traditional games in subjects that aim to improve children's social relations skills.
There are some findings obtained first, the results that children who are involved in some traditional games that are performed look more able to do teamwork or good communication with friends. They are indirectly trained in good communication skills and strategies. Secondly, they also after doing a game together, they tend to invite their friends in class to do the same thing. Third, children who are involved in traditional games have a good increase in gross motor activities
Downloads
Download data is not yet available.
References
Basri, A. O. L., Aso, L, Momo, H., A, Mudana, Wayan, I, Taena, L, Salniwati, Janu, L., & Aswati. (2017). The Valuas of Multicultural Education in Munanese Traditional Culture. Asian Culture and History, 9(1), 33-39. https://doi.org/10.5539/ach.v9nlp33
Basri, A. O. L., Mudana, Wayan, I., & Rahman, A. (2017). The Negative Stigma Against the Bajo Tribe and its Impact on Local Culture: Study of the Bajo Tribe in Bungin Village of South Konawe. Asian Culture and History, 9(2), 90-95. https://doi.org/10.5539/ach.v9n2p90
Basri, A. O. L., Momo, A. H., Marhadi, A., Rahman, A., & Aswati. (2017). Concept and Leadership Style in the Story of Munanese Folklore: A Study to the Fairy Tale of Kolope Bhala Tumbu (Gadung/Dioscorea Hispida Dennst). Asian Culture & History, 9(2), 83-89. https://doi.org/10.5539/ach.v9n2p83
Basri, A. O. L., Momo, H. A., & Rahman, A. (2017). Strategi Pelestarian Budaya Lokal Masyarakat Muna. Laporan Hasil Penelitian. Kendari: LPPM UHO.
Boro, J., Daimary, R., & Narzaree, B. (2015). Impact of Globalisation to Traditional Games and Recreation of the Bodos. Journal of Humanities and Social Science, 2(3), 87-91. https://doi.org/10.9790/0837-20338791.
Kemp, C & Carter, M. (2005). Identifying skill for promoting successful inclusion in kindergarten. Journal of Intellectual & Development Disability, 30(1): 31-44
Sibarani, R. (2012). Kearifan Lokal Hakikat Peran dan Metode Tradisi Lisan. Jakarta: Asosiasi Tradisi Lisan.
Sukirman, dkk. (2004). Permainan Tradisional Jawa. Kepel Press: Yogyakarta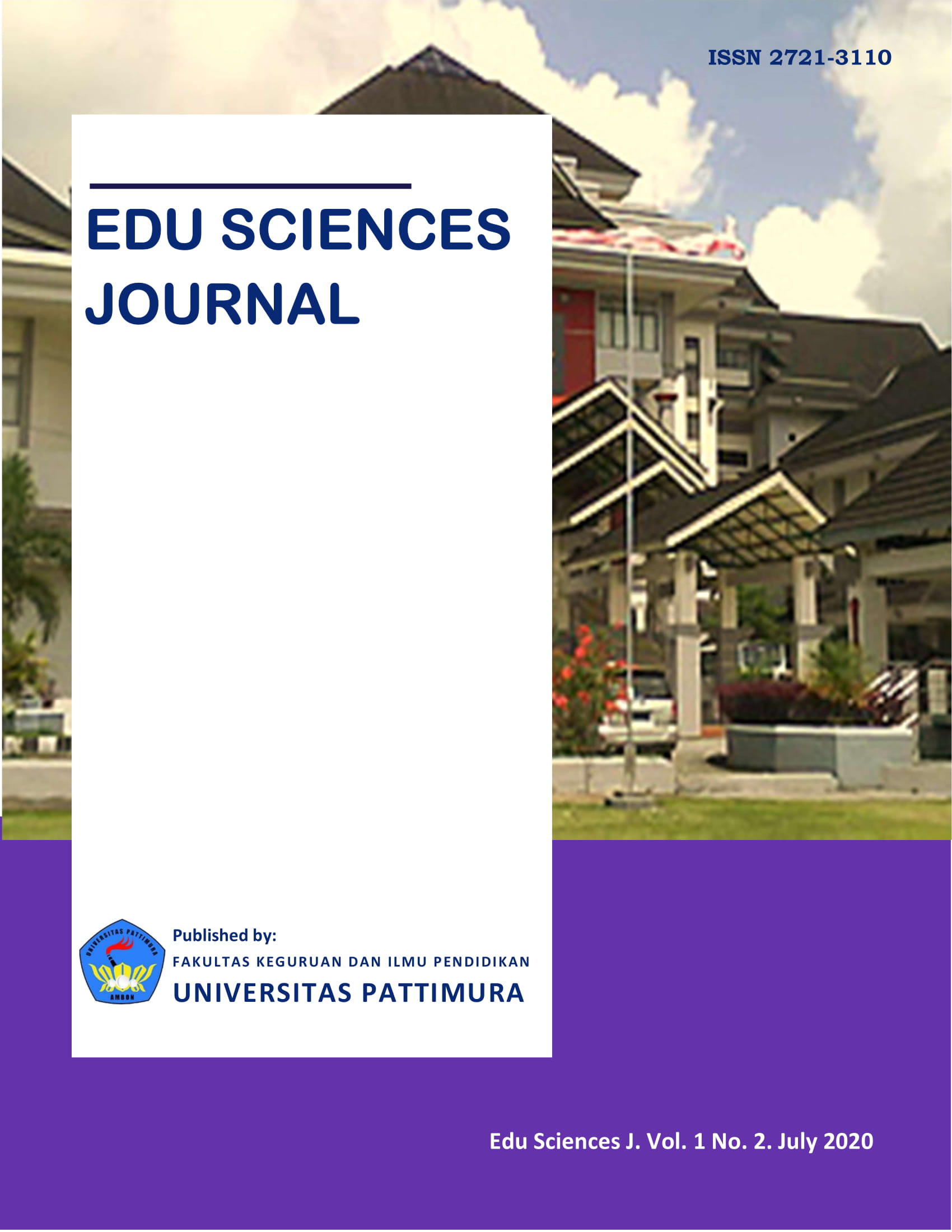 How to Cite
Korlefura, C., Rampisela, T., Papilaya, J., & Tuasikal, R. (2020). Contribution Of Game Traditional To Relationship Social Relations Of Children Schools. EDU SCIENCES JOURNAL, 1(2), 118-123. https://doi.org/10.30598/edusciencesvol1iss2pp118-123
Copyright (c) 2020 EDU SCIENCES JOURNAL
This work is licensed under a Creative Commons Attribution-NonCommercial-ShareAlike 4.0 International License.