DEVELOPMENT OF INTEGRATED SCIENCE LEARNING DEVICES USING PROBLEM BASED LEARNING (PBL) LEARNING MODEL THROUGH LESSON STUDY
Sarlota Singerin

Faculty of Education and Teacher Training, Pattimura University

Estevanus K Huliselan

Faculty of Education and Teacher Training, Pattimura University

Altje Latununuwe

Faculty of Education and Teacher Training, Pattimura University
Keywords:
Integrated Science Learning Tools, Problem Base Learning, Lesson Study
Abstract
The study was conducted at SMP Negeri 2 Salahutu. The purpose of this study is to develop a science learning tool using the Problem Based Learning learning model, through lesson study. The research design uses the 4 D Research and Development research method (Define Phase, design, develop, Disseminate). The application of products in the form of PBL-based integrated science-oriented learning modules through LS results in the following findings: 1). The Global warming  theme module is based on curriculum analysis, student and teacher needs and field observations; 2). The Global warming  theme module is able to get students actively involved in the learning process. 3). PBL-based Global warming theme modules through Lesson Study train students' creativity; 4). The teacher's knowledge about the systematic writing of the modules is still lacking so that the writer at the time of dissemination gave a presentation on the systematic module. The results of this study found that 1). Development of Integrated Science Learning Using Models of Problem Based Learning through Lesson Study can improve the student learning outcomes; 2). Development of Integrated Science Learning based on Problem Base Learning through Lesson study using the Global warming theme module is based on curriculum analysis, student and teacher needs and field observations. This module is able to make students actively involved directly in the learning process and train students' creativity
Downloads
Download data is not yet available.
References
Akcay, B. 2009. Problem base learning in science education. Journal of Turkish Education, 6 (1): 26-35
Akinoglu, O. & Tandogan, R.O. 2007. The effects of problem based learning in science education on students academic achievement, attitude and concept learning. Eurasia journal of mathematics, science & technology education, 3 (1): 71-81
Cerbin, W & Kopp, B. 2006. Lesson Study a Model for Building Pedagogical Knowledge and Improving Teaching. International journal of teaching and learning in higher education, 18 (3): 250-257
Hofstein, A. & Naaman, R.M. 2007. The laboratory in science education, the state of the art. Chemistry education research and practice, 8 (2): 105-107 Karim, M.A. 2006. Implementation of lesson studies for improving the quality of mathematics instruction in Malang. Tsukuba journal of educational studies in mathematics, 25: 67-73
Mustikasari, A. 2008. Towards Professional Teachers Through Lesson Study. Semarang. http: // edu-articles. com / towards-the-teacher-professional-through-lesson-study /. September 3, 2008
Mulyana, S. 2008. The Impact of Education and Training on Study Lesson on Teachers. Research Result Articles. West Java LPMP
Phee, A.D.Mc. 2002. Problem base learning in initial teacher education: taking the agenda forward. Journal of education inquiry, 3 (1): 60-74
Rustono, E.H.M. Abdul Muin. 2007. Lesson Study as a Model Guidance for PGSD Students in the Field Experience Program in Elementary Schools. Coaching Research. UPI Education Faculty
Sudrajat, A. 2008. Lesson Study to Improve Learning Processes and Results. Now. http://akhmadsudrajat.wordpress.com/2008/02/22/lesson-study- to improve the process and learning-outcomes /. September 3, 2008
Susilo, H. et al. 2009. School-Based Lesson Study.Malang: Banyumedia Publishing
Winanti, S. 2009. Science-Based Learning Problem Through Guided Inquiry and Modified Free Inquiry in terms of Student's Scientific Attitudes and Creativity. (Thesis). Surakarta: Science Education Study Program Eleven March University Postgraduate Program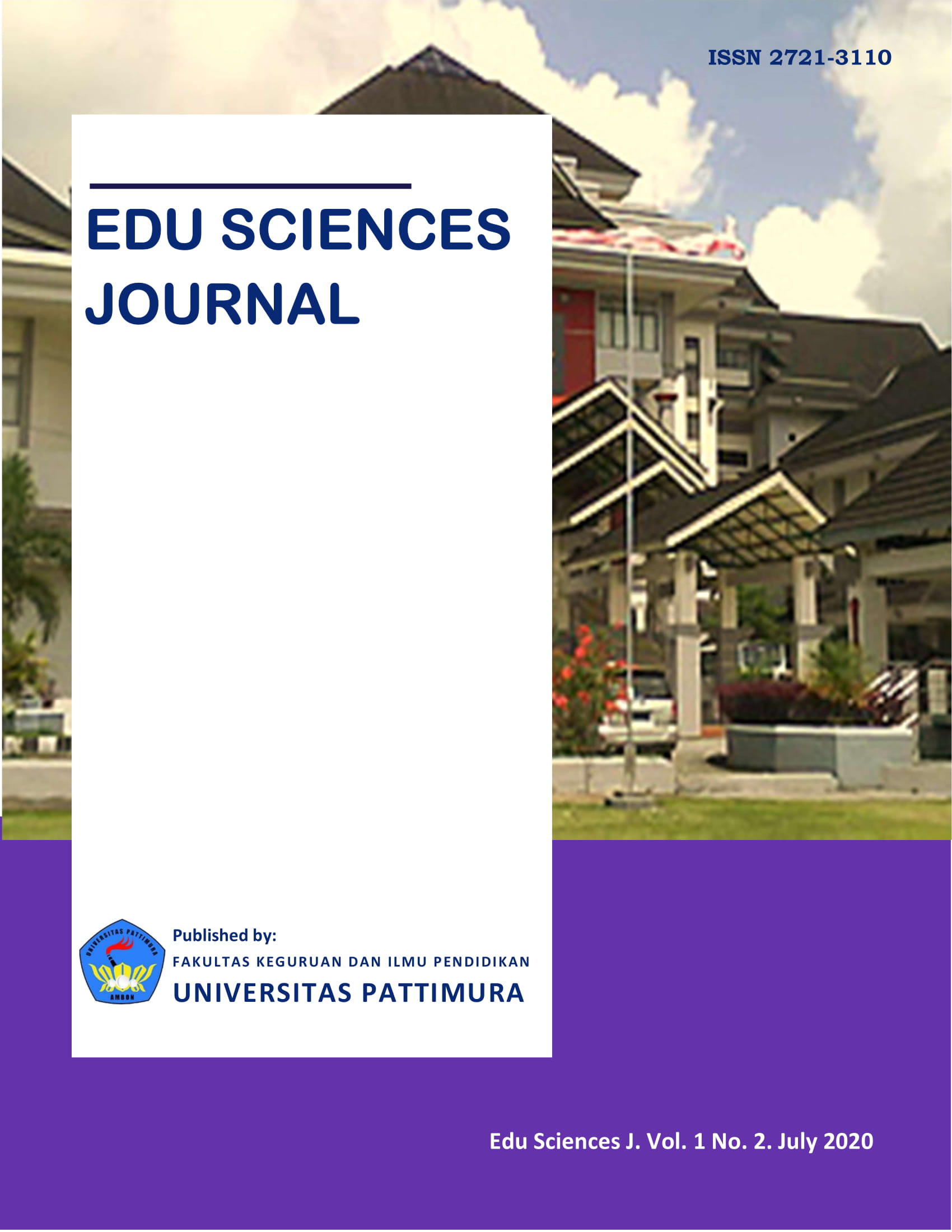 How to Cite
SingerinS., HuliselanE., & LatununuweA. (2020). DEVELOPMENT OF INTEGRATED SCIENCE LEARNING DEVICES USING PROBLEM BASED LEARNING (PBL) LEARNING MODEL THROUGH LESSON STUDY. EDU SCIENCES JOURNAL, 1(2), 124-132. https://doi.org/10.30598/edusciencesvol1iss2pp124-132
Copyright (c) 2020 EDU SCIENCES JOURNAL
This work is licensed under a Creative Commons Attribution-NonCommercial-ShareAlike 4.0 International License.