Pengaruh Variasi Garam Ammonium Terhadap Keasaman Zeolit Alam Pada Reaksi Perengkahan Minyak Jelantah
The Effect Of Ammonium Salt Variation On Natural Zeolite Acidity In Catalytic Cracking Of Waste Cooking Oil
Verry A. Fabiani

Chemistry Department, Faculty of Engineering Bangka Belitung University, Jl.Kampus Peradaban Bangka - Indonesia

Imelda H. Silalahi

Department of Chemistry, Faculty of Mathematics and Natural Sciences, Tanjungpura University Jl. Prof.Dr. Hadari Nawawi, Pontianak-Indonesia

Endah Sayekti

Department of Chemistry, Faculty of Mathematics and Natural Sciences, Tanjungpura University Jl. Prof.Dr. Hadari Nawawi, Pontianak-Indonesia
Keywords:
Ammonium salt, acidity, cracking, waste cooking oil, natural zeolite
Abstract
Natural zeolite modification with the addition of ammonium salt variations was conducted. The modification was conducted by demineralization method, dealumination and followed by activation of ammonium salt. The types of activators were ammonium chloride, ammonium nitrate and ammonium fluoride. The effect of ammonium salt was assessed through acidity parameter with Si/Al ratio variable and applied catalyst for catalytic cracking of waste cooking oil. The results showed that the activation of natural zeolite by using ammonium chloride salt could increase the acidity of natural zeolite with the highest Si/Al ratio about 15.56. Based on the XRF analysis showed that the reduced amount of Na metal in zeolite about 92.8%. The effect of ammonium salt variation on the acidity of natural zeolites was observed by applying a catalyst in the catalytic cracking of waste cooking oil. Physical characteristic of catalytic cracking products from waste cooking oil indicated all products fulfill the solar standards requirement. The results concluded that ammonium chloride salt was the best activator in natural zeolite modification and generally all ammonium salts gave high acidity effect to natural zeolite in catalytic cracking of waste cooking oil.
Downloads
Download data is not yet available.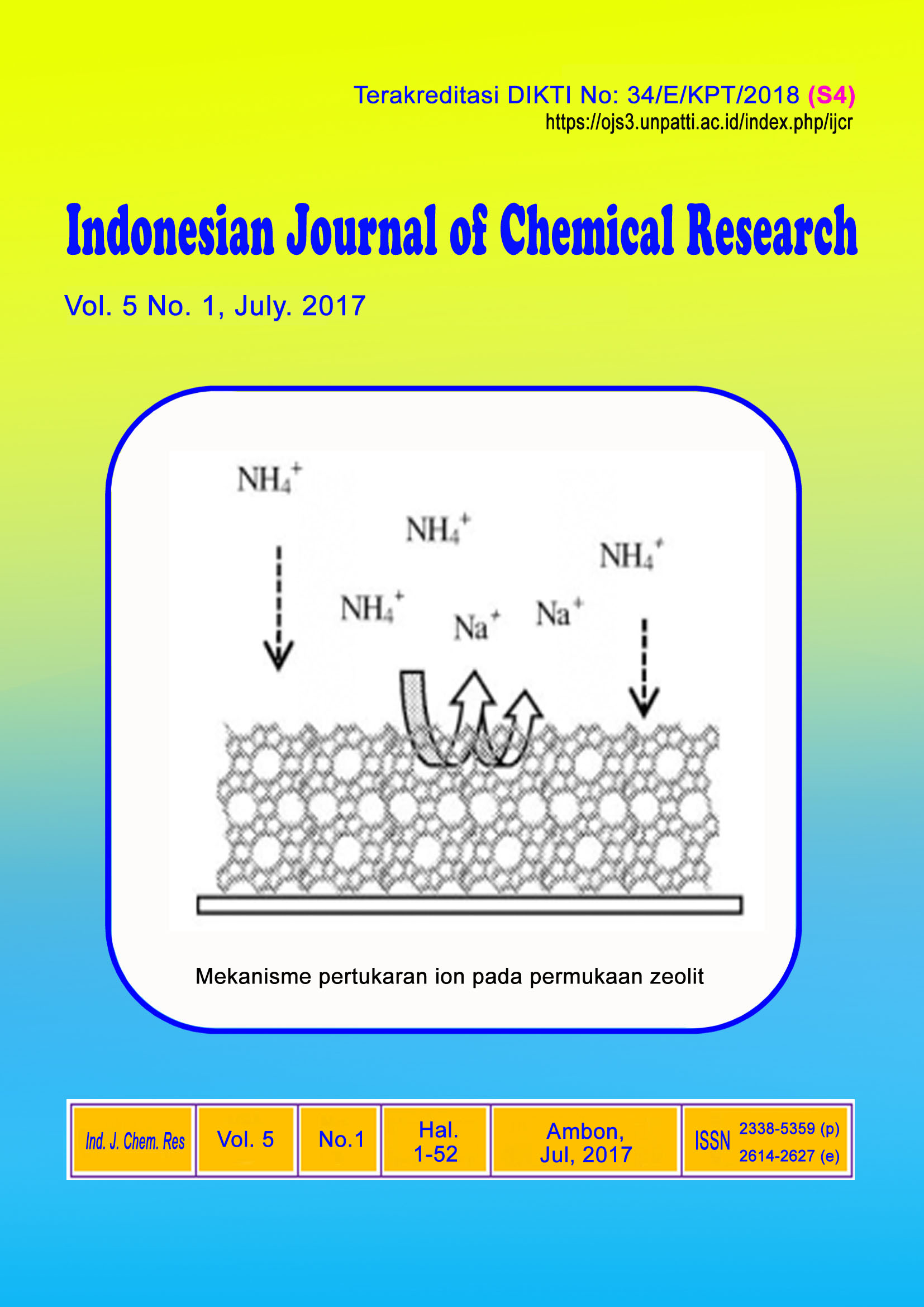 How to Cite
(1)
Fabiani, V.; Silalahi, I.; Sayekti, E. Pengaruh Variasi Garam Ammonium Terhadap Keasaman Zeolit Alam Pada Reaksi Perengkahan Minyak Jelantah. Indo. J. Chem. Res. 2017, 5, 1-6.
Section
Artikel Penelitian (Research articles)
Copyright (c) 2017 Verry A. Fabiani, Imelda H. Silalahi, Endah Sayekti
This work is licensed under a Creative Commons Attribution-NonCommercial-NoDerivatives 4.0 International License.