Produksi Ekstrak Bioaktif Untuk Aditif Pangan Dari Limbah Kulit Buah Naga: Pengaruh Metode Pre-Treatment Dan Ekstraksi
Production of Bioactive Materials for Food Additives from Dragon Fruit Skin Extracts: Effect of Pre-treatment and Extraction Methods
Dian Shofinita

Chemical Engineering Department, Institut Teknologi Bandung

Yazid Bindar

Chemical Engineering Department, Institut Teknologi Bandung

Arwinda Aprillia Jaelawijaya

Food Engineering Department, Institut Teknologi Bandung

Ardiyan Harimawan

Chemical Engineering Department, Institut Teknologi Bandung

Mifta Fawwaz

Food Engineering Department, Institut Teknologi Bandung
Keywords:
Extraction, antioxidant, natural colorant, food additive, drying
Abstract
Dragon fruit is one of the tropical fruits can be grown in Indonesia. The skin of dragon fruit, which is accounted for 30-35% of the whole fruit usually thrown away as waste. This study aims to produce a bioactive extract from extraction of dragon fruit skin that is rich in phenolic and pigment compounds then it used as food additives. The variation that was used in this study includes the application of drying as pre-treatment of dragon fruit skin and the extraction methods (maceration and Soxhlet extraction). The obtained extracts were evaluated for the amount of total phenolic compounds and pigments (anthocyanin and betacyanin). Drying of dragon fruit skin was found to yield lower amounts of bioactive materials, which may occur due to the thermal degradation even though a low drying temperature was used. In addition, the maceration method was found to give a higher amount of bioactive materials compared with the Soxhlet method. The extraction with the highest yield of bioactive materials was obtained by the use of fresh dragon fruit skin and maceration for 240 minutes, which gave amounts of anthocyanin, betacyanin, and total phenolic compounds of  0.08, 0.04, dan 0.35 mg/g fresh dragon fruit skin, respectively.
Downloads
Download data is not yet available.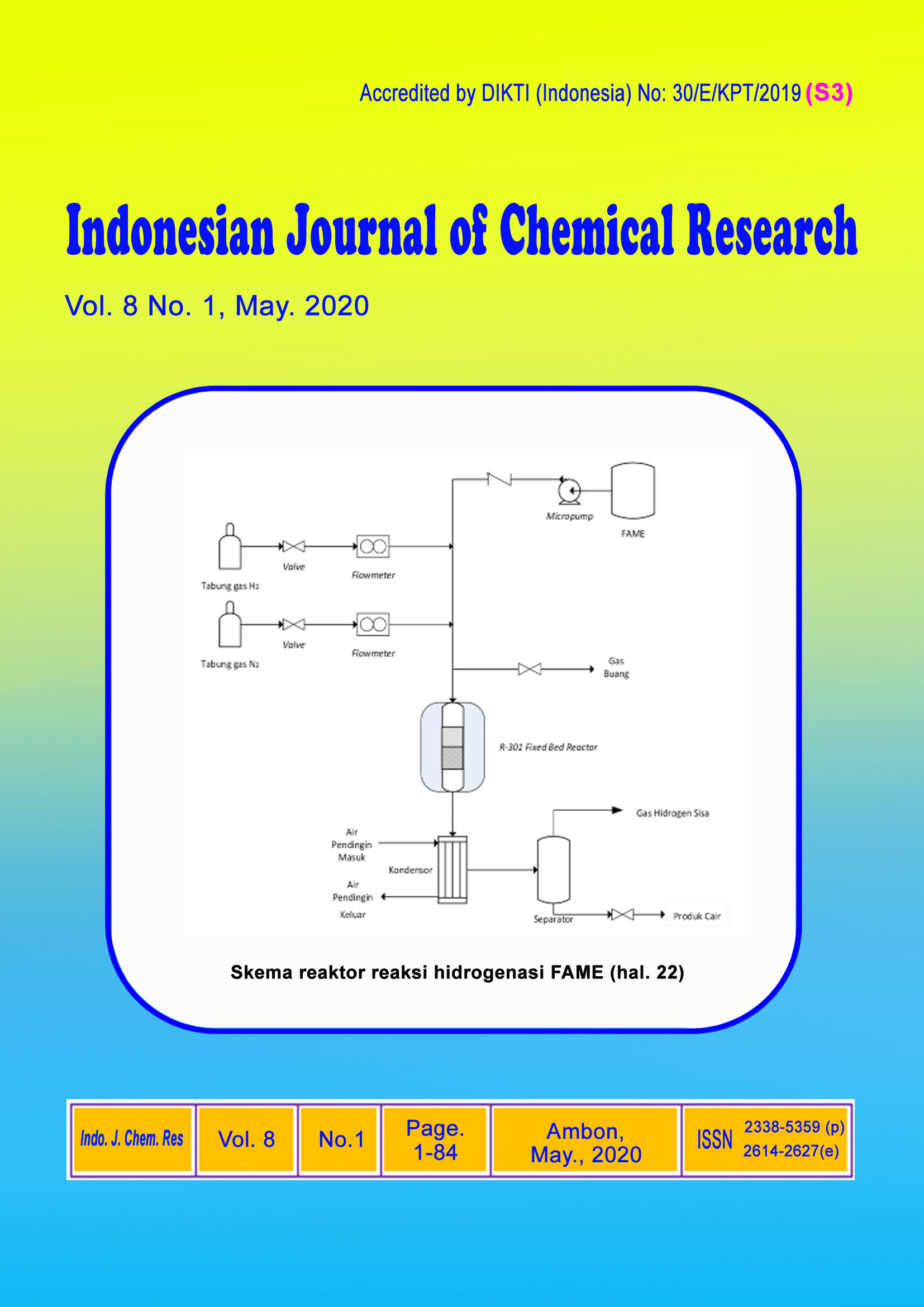 How to Cite
(1)
Shofinita, D.; Bindar, Y.; Jaelawijaya, A.; Harimawan, A.; Fawwaz, M. Produksi Ekstrak Bioaktif Untuk Aditif Pangan Dari Limbah Kulit Buah Naga: Pengaruh Metode Pre-Treatment Dan Ekstraksi. Indo. J. Chem. Res. 2020, 8, 43-50.
Section
Research articles
Copyright (c) 2020 Dian Shofinita, Yazid Bindar, Arwinda Aprillia Jaelawijaya, Ardiyan Harimawan, Mifta Fawwaz
This work is licensed under a Creative Commons Attribution-NonCommercial-NoDerivatives 4.0 International License.