Karakterisasi Fotokatalis Untuk Fotoreduksi Karbon Dioksida Menjadi Asam Format Dalam Fasa Akuatik
Photoreduction of Carbon Dioxide to produce Formic Acid in Aquatic Phase
Jenny Rizkiana

Chemical Engineering Department, Institut Teknologi Bandung

Hary Devianto

Chemical Engineering Department, Institut Teknologi Bandung

Tatang Hernas Soerawidjaja

Chemical Engineering Department, Institut Teknologi Bandung
Keywords:
Photocatalyst, Photosensitizer, Photoreduction, Formic Acid, Carbon Dioxide
Abstract
Photoreduction of carbon dioxide is one of the promising method to reduce green house gas emission. Carbon dioxide can be converted into organic chemical that has higher economic value by utilizing light energy. One of the favorable product is formic acid which is can be used as hydrogen-carrier. For this process, photocatalyst plays important role as it can increase the rate of reaction and as well as the selectivity as such more desirable product can be produced. The objective of present study is to develop photocatalyst which can significantly catalyze the photoreduction process of CO2 to form formic acid. Zinc titanate doped with aluminium is used as the base photocatalyst. Photoreduction process is held in room condition using three 2800 lm lamp. Qualitative analysis of the product is done by silver solid test and acidity test while quantitative analysis is done by High Performance Liquid Chromatography (HPLC) test. The silver solid test results confirm that formic acid is formed during process. Based on acidity profile data, anthocyanin as photosensitizer could increase higher acidity in the mixture than melanin. However, the concentration of formic acid in the solution is still very low so that it cannot be detected by HPLC.
Downloads
Download data is not yet available.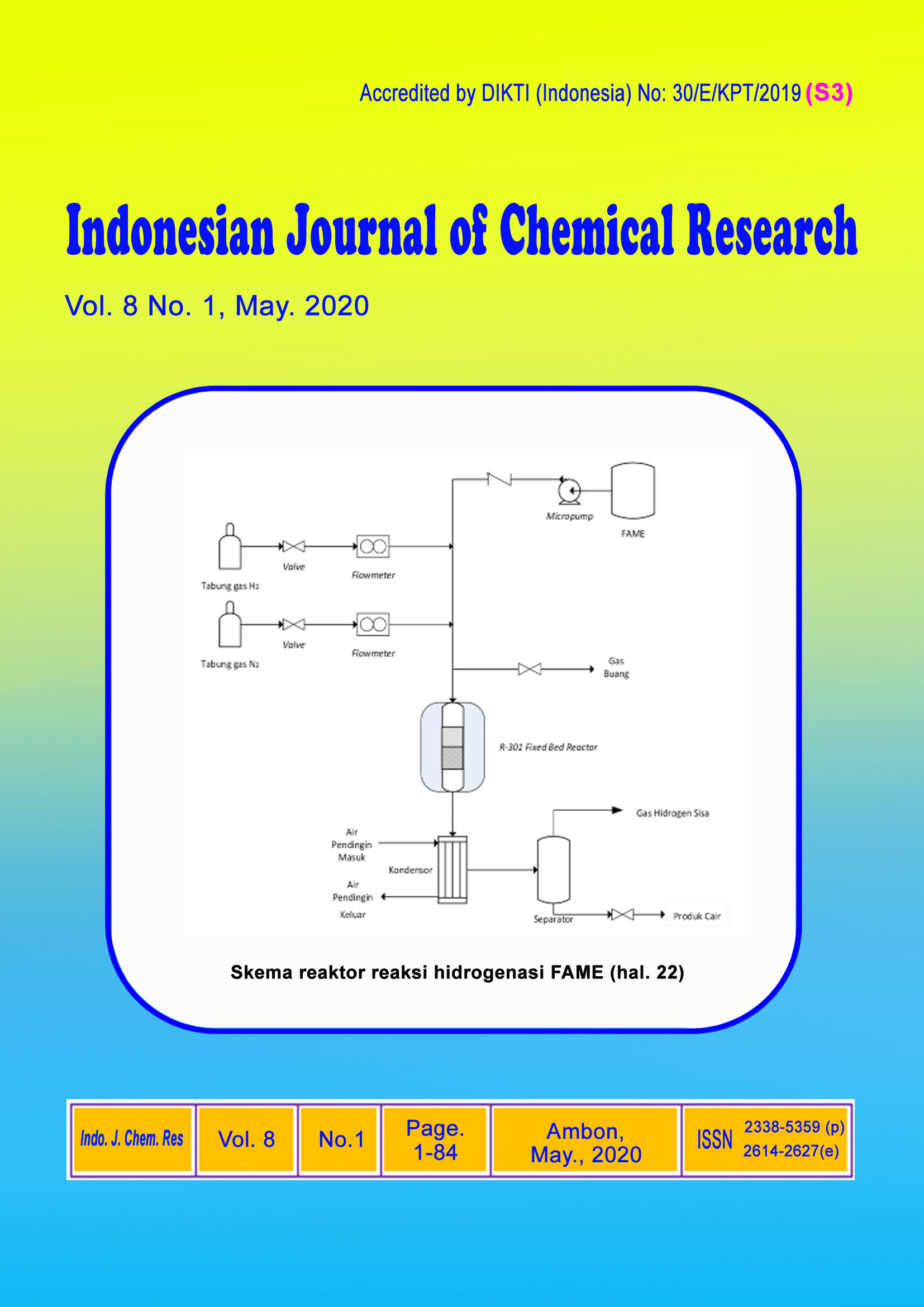 How to Cite
(1)
Rizkiana, J.; Devianto, H.; Soerawidjaja, T. Karakterisasi Fotokatalis Untuk Fotoreduksi Karbon Dioksida Menjadi Asam Format Dalam Fasa Akuatik. Indo. J. Chem. Res. 2020, 8, 35-42.
Section
Research articles
Copyright (c) 2020 Jenny Rizkiana, Hary Devianto, Tatang Hernas Soerawidjaja
This work is licensed under a Creative Commons Attribution-NonCommercial-NoDerivatives 4.0 International License.