Tinjauan Kinetika Kimia Daya Hambat Minyak Daun Cengkeh (Syzygium aromaticum) dan Hasil Mikroenkapsulasinya Terhadap Eschericia coli
Chemical Kinetics Inhibition Clove Leaves Oil (Syzygium aromaticum) and It's Microencapsulat Against Escherichia Coli
Laily - Nurliana

FMIPA Universitas Halu Oleo

Desi Kurniawati

Department of Chemistry, University of Halu Oleo, Indonesia

Rustam Musta

Department of Chemistry Education, University of Halu Oleo, Indonesia

Laode Abdul Kadir

Department of Chemistry, University of Halu Oleo, Indonesia

Fitria Dewi

Department of Chemistry, University of Halu Oleo, Indonesia

Siti Nurjana

Chemistry Department, Teacher Training dan Education Faculty, Halu Oleo University, Kendari
Keywords:
Kinetics, clove leaves oil, microencapsulation, E. coli.
Abstract
The secondary metabolite compounds contained in clove leaves oil have the potential to be antibacterial Escherichia coli. The kinetic analysis is based on the inhibition zone formed as a result of the inhibition of clove leaves oil and the results of microencapsulation on E. coli bacteria. The determination of the inhibition zone uses the disk diffusion method by using amoxicillin as a positive control and tween oil as a negative control. The kinetic review is intended to find out the antibacterial inhibitory reaction process by determining the reaction order (n), rate constant (k) as well as the At-Ao-t relationship of clove leaves oil and the results of its microencapsulation. Based on the research results obtained by the reaction order (n) of clove oil as an antibacterial E. coli is n = 0.1913; with the rate constant k = 5.7679. The reaction order (n) results of microencapsulation as antibacterial E. coli are 0.5039; with the rate constant k = 4.7323. 
Downloads
Download data is not yet available.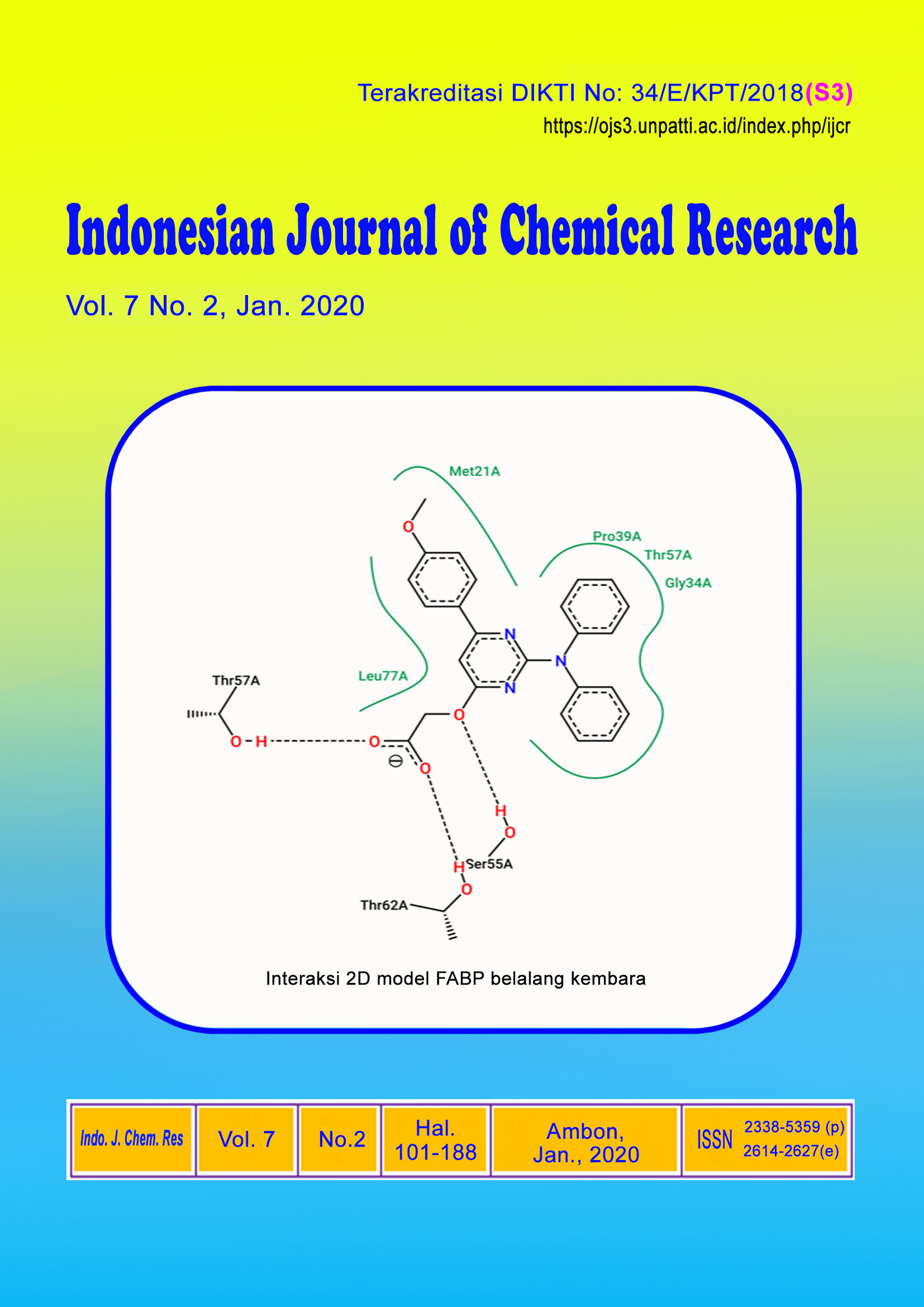 How to Cite
(1)
Nurliana, L.; Kurniawati, D.; Musta, R.; Abdul Kadir, L.; Dewi, F.; Nurjana, S. Tinjauan Kinetika Kimia Daya Hambat Minyak Daun Cengkeh (Syzygium Aromaticum) Dan Hasil Mikroenkapsulasinya Terhadap Eschericia Coli. Indo. J. Chem. Res. 2020, 7, 151-158.
Section
Research articles
Copyright (c) 2020 Laily Nurliana, Desi Kurniawati, Rustam Musta, Laode Abdul Kadir, Fitria Dewi
This work is licensed under a Creative Commons Attribution-NonCommercial-NoDerivatives 4.0 International License.