Sintesis Tetrapeptida Linear (DPAP) Menggunakan Metode Sintesis Peptida Fasa Padat (SPPS) Dan Aktivitas Insektisidanya Terhadap Ulat Krop Kubis
Synthesis of A Linear Tetrapeptide (DPAP) Using Solid Phase Peptide Synthesis (SPPS) Methode and Insecticidal Activity Toward Cabbage Cluster Caterpillar
Eka Fitri Yanti

Fakultas Keguruan dan Ilmu Pendidikan, Universitas Bondowoso, Jl. Diponegoro No.247 Bondowoso

Rani Maharani

Departemen Kimia Fakultas Matematika dan Ilmu Pengetahuan Alam Universitas Padjadjaran Jl. Raya Bandung Sumedang KM.21, Jatinangor
Keywords:
Tetrapeptide, TMOF, Solid phase peptide synthesis, 2-chlorotrytil chloride, Crocidolomia pavonana
Abstract
Crop cabbage worm (Crocidolomia pavonana) is one of the pests that has a bad effect on the cabbage production in Indonesia. One of the efforts that has been applied to control this pest is by using bayrusil. However, the bayrusil can cause negative effects such as poisoning and environmentally polluting effects. To prevent the undesired effects, it has been developed the use of environmentally friendly insecticide and one of them is the use of insecticidal peptide. Tripsin-modulating oostatic factor (TMOF) and ist analogues is one of the peptides that has an insecticidal activity. The aim of this research is to synthesise a linear tetrapeptide (DPAP) an analogues of TMOF and to test insecticidal activities against crop cabbage worm.  A DPAP has been synthesised by Solid Phase Peptide Synthesis on 2-chlorotrytil chloride resin. Fmoc strategy was applied on the synthesis and a combination DIC/Oxime was employed in the coupling reaction.The tetrapeptidyl resin was cleaved by TFA:water:EDT (90:5:5). The peptide was purified by reverse-phase column chromatography and characterized by TOF ES-MS spectroscopy. A linear peptide was biologically tested towards the C. pavonana, showing percentage of mortality values at 1000 ppm.
Downloads
Download data is not yet available.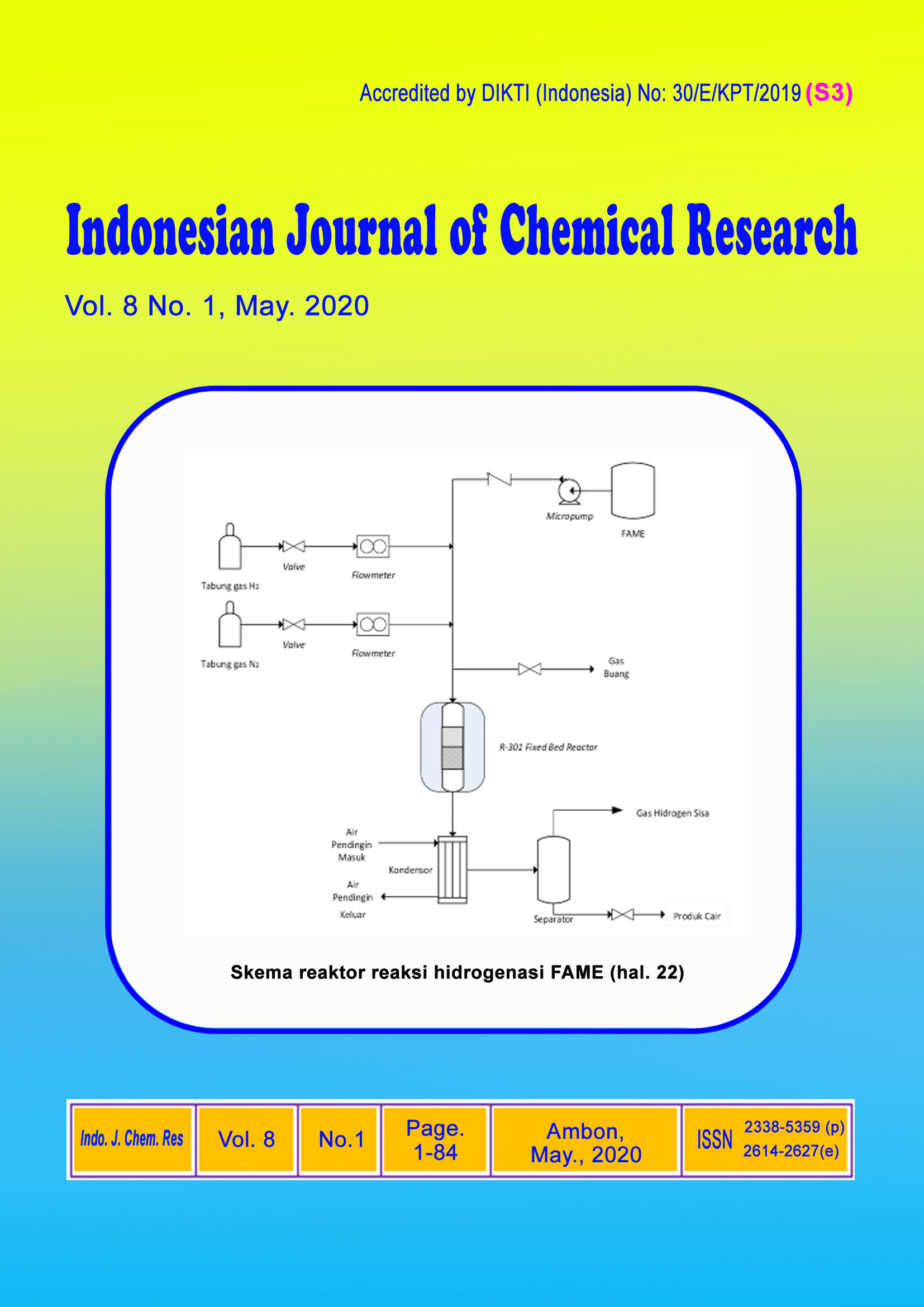 How to Cite
(1)
Yanti, E.; Maharani, R. Sintesis Tetrapeptida Linear (DPAP) Menggunakan Metode Sintesis Peptida Fasa Padat (SPPS) Dan Aktivitas Insektisidanya Terhadap Ulat Krop Kubis. Indo. J. Chem. Res. 2020, 8, 6-14.
Section
Research articles
Copyright (c) 2020 Eka Fitri Yanti, Rani Maharani
This work is licensed under a Creative Commons Attribution-NonCommercial-NoDerivatives 4.0 International License.