Synthesis of Pentapeptide FWKVV (Phe-Trp-Lys-Val-Val) and Its Activity as Antioxidants
Eka Fitri Yanti

Faculty of Teacher Training and Education, Bondowoso University, Jl. Diponegoro No.247 Bondowoso, Indonesia

Eviyanti Nazareth

Faculty of Teacher Training and Education, Bondowoso University, Jl. Diponegoro No.247 Bondowoso, Indonesia

Yuana Dwi Agustin

Nursing Diploma Three Study Program, Bondowoso University, Jl. Diponegoro No.247 Bondowoso, Indonesia

Mohammad Rofik Usman

Pharmacy Study Program, College of Health Sciences Banyuwangi, Jl. LetkolIstiqlah No. 109 Banyuwangi, Indonesia
Keywords:
Antioxidant, pentapeptide, FWKVV, SPPS, DPPH
Abstract
Antioxidant pentapeptides are pentapeptide compounds that have antioxidant activity. One of the pentapeptide compounds that have antioxidant activity is FWKVV. FWKVV is a linear pentapeptide with the amino acid sequence phenylalanine-tryptophan-lysine-valine-valine, which was first isolated to hydrolyzate the muscle protein of Miiuy croaker (Miichthysmiiuy). In addition to isolation, FWKVV compounds can be produced by the peptide synthesis method because this method requires a shorter time than the isolation method from natural materials. Synthesis methods commonly used are solution-phase peptide synthesis and solid-phase peptide synthesis (SPPS). However, the SPSS method is more efficient because it does not require purification in every process. The purpose of this study was to synthesize FWKVV compounds using the SPPS method and test their antioxidant activity. FWKVV has been synthesized using the SPPS method with HBTU/HOBt coupling reagent and Fmoc protective group. The FWKVV crud produced was 148.8 mg and had antioxidant activity against DPPH radicals with an IC50 value of 4.2 mg/mL.
Downloads
Download data is not yet available.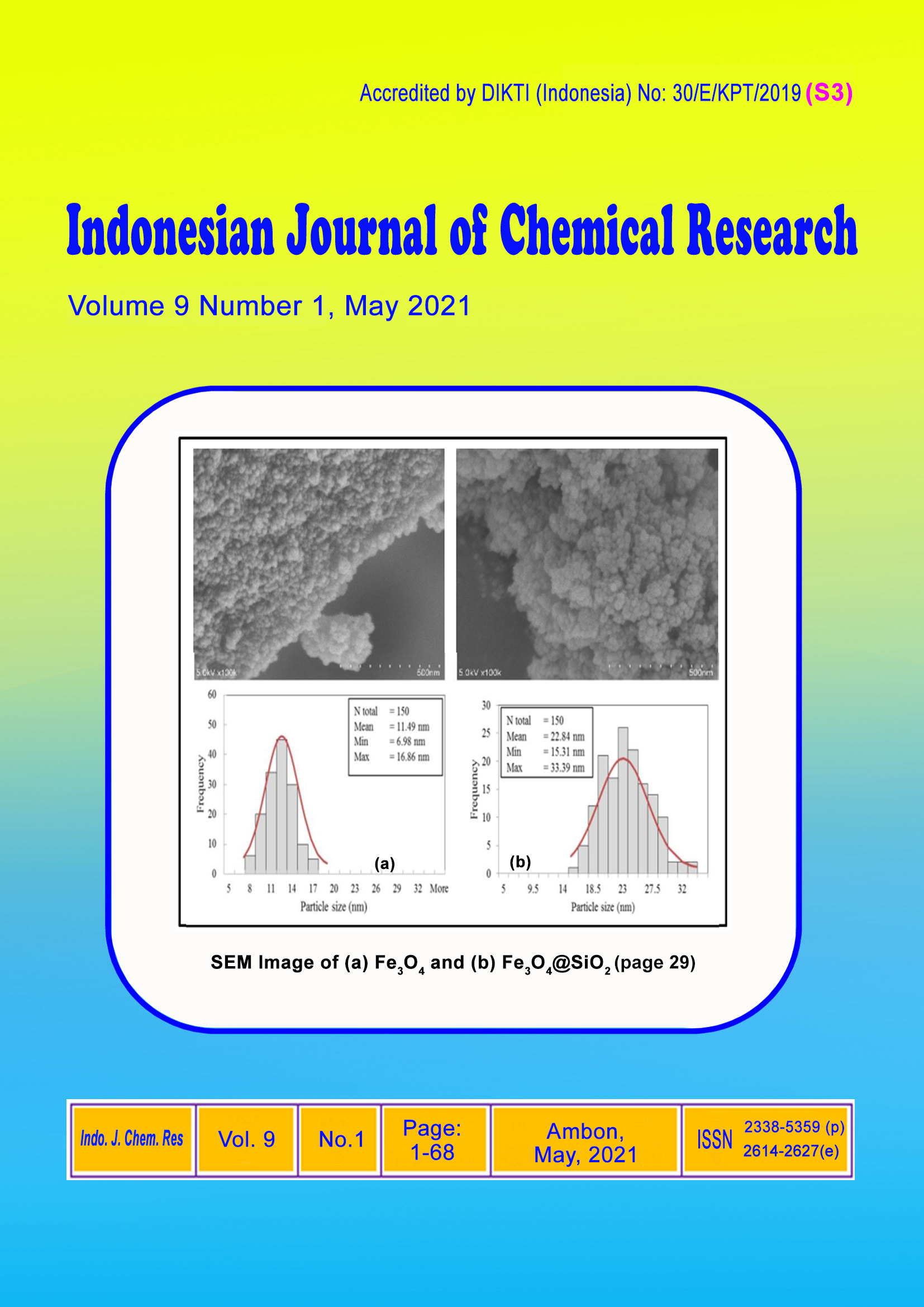 How to Cite
(1)
YantiE.; NazarethE.; AgustinY.; UsmanM. Synthesis of Pentapeptide FWKVV (Phe-Trp-Lys-Val-Val) and Its Activity As Antioxidants. Indo. J. Chem. Res. 2021, 9, 1-7.
Section
Research articles
Copyright (c) 2021 Eka Fitri Yanti, Eviyanti Nazareth, Yuana Dwi Agustin, Mohammad Rofik Usman
This work is licensed under a Creative Commons Attribution-NonCommercial-NoDerivatives 4.0 International License.