Preparation of Natural Ouw Clay-Chitosan Composite and Its Application as Lead and Cadmium Metal Adsorbent
Catherina M. Bijang

Department of Chemistry, Faculty of Mathematics and Natural Sciences, Pattimura University, Ambon, Indonesia

M.F.J.D.P. Tanasale

Department of Chemistry, Faculty of Mathematics and Natural Sciences, Pattimura University, Ambon, Indonesia

Adhi G. Kelrey

Department of Chemistry, Faculty of Mathematics and Natural Sciences, Pattimura University, Ambon, Indonesia

Inda Ulfa Mansur

Department of Chemistry, Faculty of Mathematics and Natural Sciences, Pattimura University, Ambon, Indonesia

Thamrin Azis

Department of Chemistry, Faculty of Mathematics and Natural Sciences, Haluoleo University, Kendari, Indonesia
Keywords:
Adsorbent, adsorption, cadmium, lead chitosan, Ouw Natural Clay
Abstract
This study aims to obtain the optimum ratio of Ouw Natural Clay  (LAO):Chitosan in the manufacture of chitosan-LAO composites. The composite will be used as an adsorbent for heavy metals Lead (Pb) and Cadmium (Cd). LAO-Chitosan composites were made with the ratio of LAO:Chitosan = 1.25:1, 2.5:1, 5:1. XRD and SEM were carried out for each composite. The performance as a Cd metal adsorbent was determined by calculating the adsorption capacity. Composites with a ratio of 1.25:1 have the best adsorption capacity. The performance as adsorbent for Cd metal was determined by calculating the absorbed Cd concentration. Maximum results are achieved by composites with a ratio of 5:1.
Downloads
Download data is not yet available.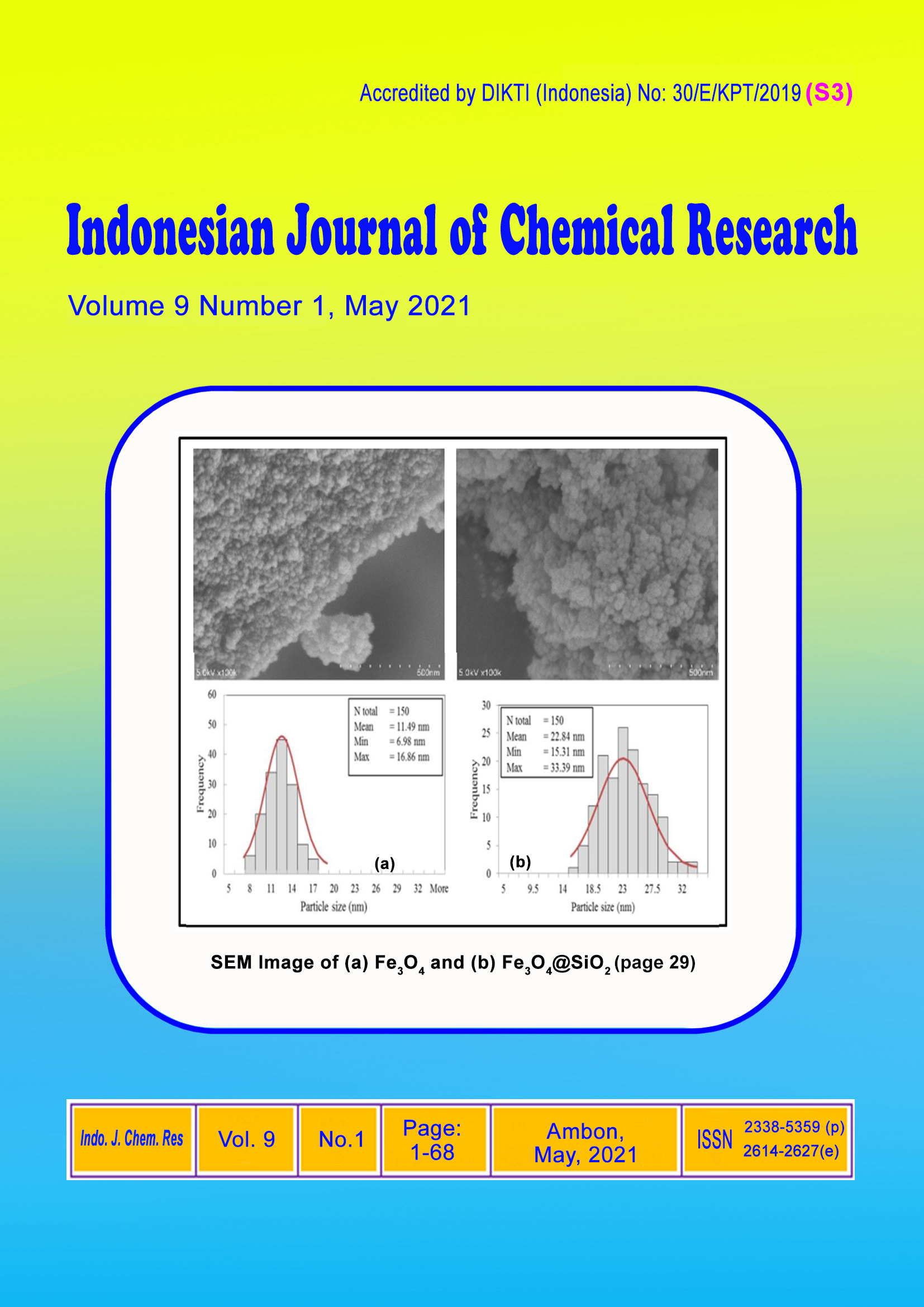 How to Cite
(1)
BijangC.; TanasaleM.; KelreyA.; MansurI.; AzisT. Preparation of Natural Ouw Clay-Chitosan Composite and Its Application As Lead and Cadmium Metal Adsorbent. Indo. J. Chem. Res. 2021, 9, 15-20.
Section
Research articles
Copyright (c) 2021 Catherina Manukpadang Bijang
This work is licensed under a Creative Commons Attribution-NonCommercial-NoDerivatives 4.0 International License.