Studi Kinetika Antibakteri dari Hasil Pirolisis Cangkang Biji Jambu Mete terhadap Staphylococcus aureus
Kinetic Study Antibacterial of Pyrolysis Products from Cashew Nut Shell Against Staphylococcus aureus
Laily Nurliana

Department of Chemitry, Mathematics and Nature Science Faculty, Halu Oleo University

Rustam Musta

Department of Chemitry, Teacher Training dan Education Faculty, Halu Oleo University
Keywords:
Cashew nut shells, pyrolysis, S.aureus, antibacterial, chemical kinetics.
Abstract
Research on kinetics antibacterial from pyrolysis product of cashew nut shell againts Staphylococcus aureus have been carried out. Cashew nuts are prepared by separating the shell and seeds for pyrolysis. The results of S. aureus antibacterial activity test results pyrolysis pyrolysis products shell cashew nut showed inhibition is different for each variation of the concentration of 12.5%, 25%, 50%, 75% and 100% with inhibition of successive 0.87; 0.97; 1.38; 1.47 and 1.61 (cm). Based on these results it can be said that the result of the pyrolysis of cashew nut shells provide a response inhibition that were at concentrations of 12.5 and 25%. While the concentration of 50%, 75%, and 100% response inhibitory power is included in the strong category on the growth of S. aureus. Order the reaction of the antibacterial activity of S. aureus from the pyrolysis products obtained cashew nut shell 0,3 with activity rate constant of 0.38. The concentration of pyrolysis products of pyrolysis results cashew nut shell the minimum recommended for use as an antibacterial S.aureus.
Downloads
Download data is not yet available.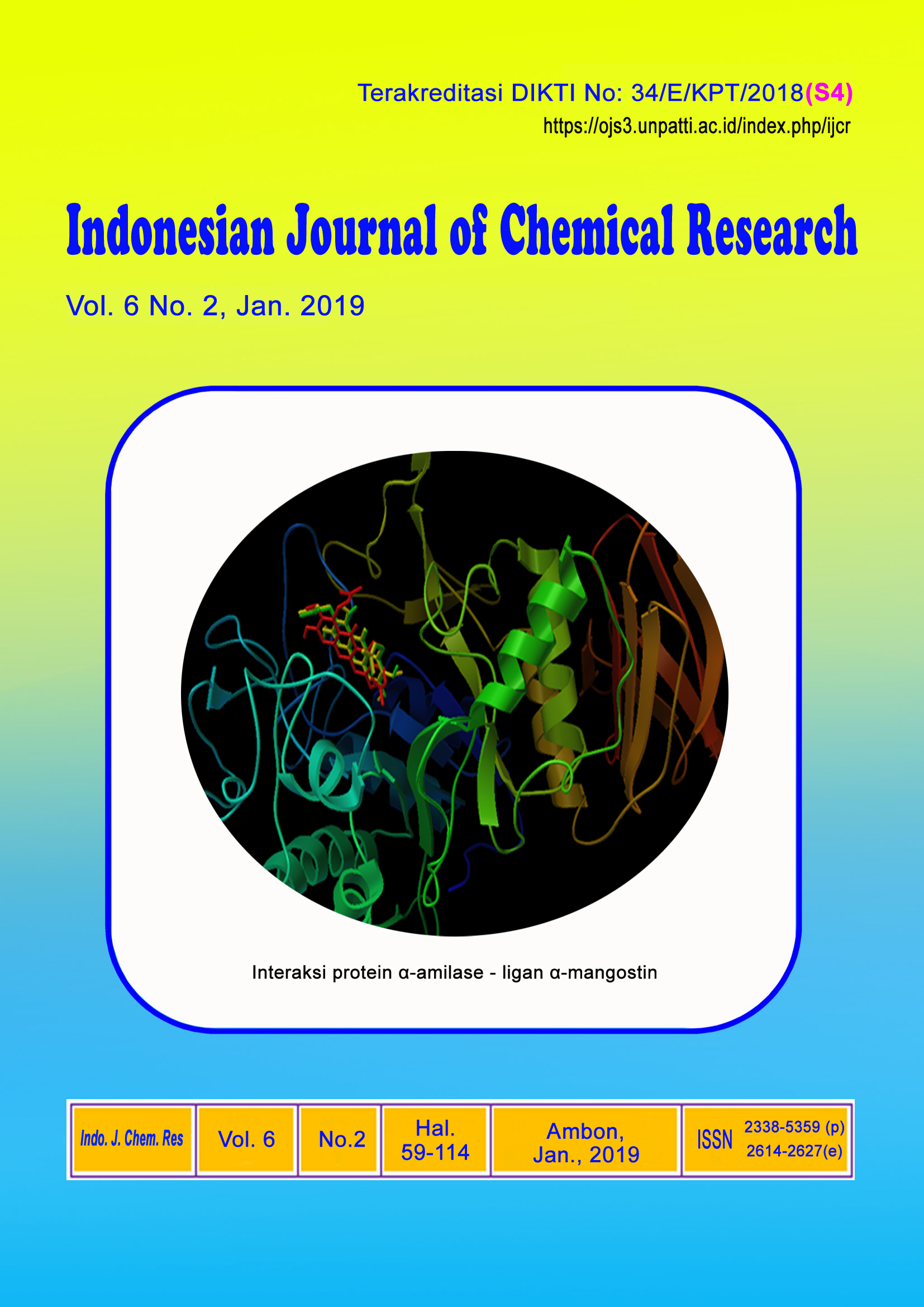 How to Cite
(1)
Nurliana, L.; Musta, R. Studi Kinetika Antibakteri Dari Hasil Pirolisis Cangkang Biji Jambu Mete Terhadap Staphylococcus Aureus. Indo. J. Chem. Res. 2019, 6, 74-80.
Section
Artikel Penelitian (Research articles)
Copyright (c) 2019 Laily Nurliana, Rustam Musta
This work is licensed under a Creative Commons Attribution-NonCommercial-NoDerivatives 4.0 International License.