ANALYSIS OF MANGROVE FOREST ECONOMIC IN KOTANIA BAY, WEST SERAM DISTRICT
Lutfia I. Litiloly

Dinas Kehutanan Provinsi Maluku, Jl. Dr. Tulukabessy No. 23, Ambon 97123

Gun Mardiatmoko

Program Studi Manajemen Hutan, Pascasarjana Universitas Pattimura, Jl. Dr. Ir. M. Latumeten

Debby V. Pattimahu

Program Studi Manajemen Hutan, Pascasarjana Universitas Pattimura, Jl. Dr. Ir. M. Latumeten
Keywords:
Mangrove forest, Economic value, Environmental services
Abstract
Analysis of the economic value of mangrove forests in  Kotania Bay, West Seram District is important to study. Mangrove forest ecosystems are often regarded as public property resources that can be used by anyone without regard to its sustainability aspects. Over-utilization results in the depletion of mangrove forest resources and the ability of ecosystems to provide environmental services is decreasing. The low knowledge of the local community for the potential of mangrove forests as an economic source, it is necessary to do an economic valuation of the magnitude and benefits of mangrove forests. The Methods used in this study is  Total Economic Value (TEV) based on direct benefits, indirect benefits and the optional benefits. The results showed that the direct benefits of economic value is IDR 318,360,000 / year (44%), indirect benefits is IDR 243,468,473 / year (34%), optional benefits is IDR 163586,356 / year (22%) while the TEV is IDR 725,414,829 / year.
Downloads
Download data is not yet available.
References
Anwar, C ., Gunawan, H. 2006. Peranan Ekologis dan Sosial Ekonomi Hutan Mangove dalam mendukung Pembangunan Wilah Pesisir Pada Kelti Konservasi Sumberdaya Alam Pusat Litbang Hutan dan Konservasi Alam Bogor. Bogor.

Alfian, M. 2004. Valuasi Ekonomi Konservasi Hutan Mangrove untuk Budidaya Tambak di Kecamatan Tinanggea Sulawesi Tenggara (Tesis). Bogor. Sekolah Pasca Sarjana Institut Pertanian Bogor.

Fadhlan, M. 2010. Pengaruh Aktivitas Penduduk Terhadap Tingkat Kerusakan Ekosistem Hutan Mangrove di Kelurahan Bagan Deli Kecamatan Medan Belawan (Skripsi). Jurusan Geografi, Fakultas Ilmu Sosial Universitas Negeri Medan.

Fahrudin, A. 1996. Analisis Ekonomi Pengelolan Pesisir Kabupaten Subang. Jawa Barat. Tesis. Sekolah Pasca Sarjana, Institut Pertanian Bogor.

Hiariey, S. L. 2009. Identifikasi Nilai Ekonomi Ekosistim Hutan Mangrove di Desa Tawiri, Uniersitas Terbuka.

Pattimahu, D. V. 2010. Kebijakan Pengelolaan Hutan Mangrove Berkelanjutan di Kabupaten Seram Bagian Barat, Maluku. Disertasi Sekolah Pascasarjana Institut Pertanian Bogor.

Pramudji, 1998. Telaah Ekologi Mangrove di daerah Tawiri, Teluk Ambon. Teluk Ambon II: Biologi, Perikanan, Oseanografi dan Geologi. Balai Penelitian dan Pengembangan Sumber daya Laut, Pusat Penelitian dan Pengembangan Oseanologi, Lembaga Ilmu Pengetahuan Indonesia . hal 45-52.

Ruitenbeek, H.J. 1991. Magrove management, An economic analysis of management option with a focus on Bituni Bay, Irian Jaya. Environmental Management Development in Indonesia (EMD) Project. EMDI Environmental. Reports No. 8. Jakarta.

Suib, L.R., Hutabarat, W. 2016. Analisis Aktivitas Ekonomi Penduduk Terhadap Kerusakan Ekosistim Hutan Mangrove di Desa Tanjung Rejo, Kecamatan Percut Sei Tuan, Kabupaten Deli Serdang, Laporan Penelitian, Universitas Negeri Medan.

Sathirathai, S. 1998. "Economic Valuation of Mangroves and the Roles of Local Communities in the Conservation of Natural Resources: Case Study of Surat Thani, South of Thailand," EEPSEA Research Report 1998061, Economy and Environment Program for Southeast Asia (EEPSEA), revised June 1998.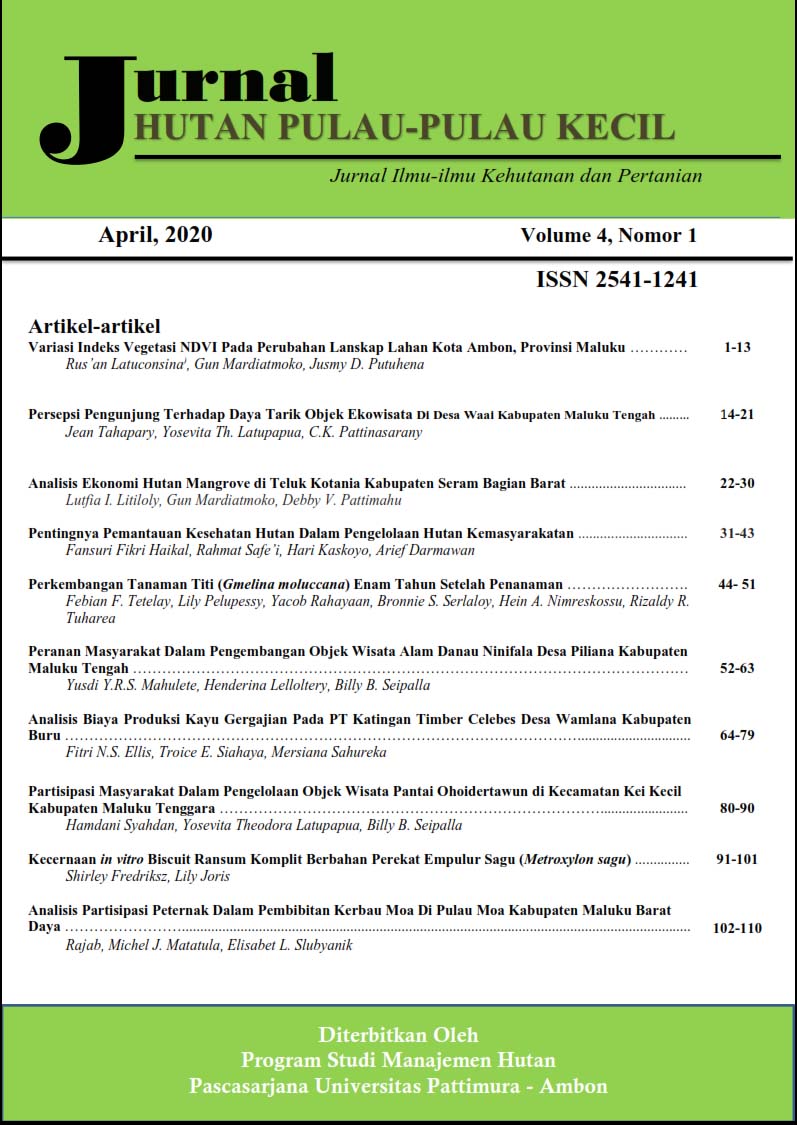 How to Cite
LitilolyL., MardiatmokoG., & PattimahuD. (2020). ANALYSIS OF MANGROVE FOREST ECONOMIC IN KOTANIA BAY, WEST SERAM DISTRICT. JURNAL HUTAN PULAU-PULAU KECIL, 4(1), 22-30. https://doi.org/10.30598/jhppk.2020.4.1.22