Pengaruh Komitmen Kerja terhadap Kreativitas Mengajar Guru di Kota Ambon
Yulian Hermanus Wenno

Universitas Pattimura

Cynthia Petra Haumahu

Universitas Pattimura
Keywords:
Komitmen kerja, Kreativitas mengajar, Guru SD
Abstract
Tujuan dari penelitian ini adalah untuk mengetahui pengaruh komitmen kerja terhadap kreativitas mengajar guru di kota Ambon, Provinsi Maluku. Responden dalam penelitian ini adalah 50 Guru di kota Ambon yang diambil dengan menggunakan teknik purposive sampling. Dimana yang masuk kriteria penelitian adalah lama bekerja  lebih dari 5 tahun. Pengukuran instrumen penelitian menggunakan skala likert. Hasil dari penelitian ini menunjukkan bahwa terdapat pengaruh positif antara komitmen kerja terhadap kreativitas mengajar (Y) guru di kota Ambon
Downloads
Download data is not yet available.
References
Batlolona, J. R., Diantoro, M., Wartono, & Latifah, E. (2019). Creative thinking skills students in physics on solid material elasticity. Journal of Turkish Science Education, 16(1), 48–61. https://doi.org/10.12973/tused.10265a.
Churiyah, M., Sholikhan, S., Filianti, F., & Sakdiyyah, D. A. (2020). Indonesia education readiness conducting distance learning in covid-19 pandemic situation. International Journal of Multicultural and Multireligious Understanding, 7(6), 491. https://doi.org/10.18415/ijmmu.v7i6.1833.
Hair, J. F., Sarstedt, M., Hopkins, L., & Kuppelwieser, V. G. (2014). Partial least squares structural equation modeling (PLS-SEM): An emerging tool in business research. European Business Review, 26(2), 106–121. https://doi.org/10.1108/EBR-10-2013-0128.
Kashdan, T. B., Stiksma, M. C., Disabato, D. D., McKnight, P. E., Bekier, J., Kaji, J., & Lazarus, R. (2018). The five-dimensional curiosity scale: Capturing the bandwidth of curiosity and identifying four unique subgroups of curious people. Journal of Research in Personality, 73, 130–149. https://doi.org/10.1016/j.jrp.2017.11.011.
Naro, W. (2017). Komitmen profesi dan pengaruhnya terhadap kompetensi profesional guru pada Madrasah Tsanawiyah di Kota Makassar. Inspiratif Pendidikan, 6(1), 35. https://doi.org/10.24252/ip.v6i1.3581.
Newton, L., Newton, D., Newton, L., & Newton, D. (2016). Creative Thinking and Teaching for Creativity in Elementary School Science. Gifted and Talented International, 25(2). 111-124. https://doi.org/10.1080/15332276.2010.11673575.
Riley, G. (2016). The role of self-determination theory and cognitive evaluation theory in home education. Cogent Education, 3(1), 1–7. https://doi.org/10.1080/2331186X.2016.1163651.
Spector, P. E., (2000). Industrial and organizational psychology research and practice (second edition). New York : Jhon Wily & Sons, Inc.
Suharnan. (2002). Skala C.O.R.E. Sebagai alternative mengukur kreativitas: suatu pendekatan kepriadian. Anima, Indonesia Psychological Journal, 18(1), 36-56.
Sugiyono. (2006). Metode penelitian kuantitatif kualitatif . Bandung: Alfabeta.
Weno, J. H., & Matulessy, A. (2016). Adversity quotient, komitmen kerja dan kreativitas guru sd kelas satu. Persona:Jurnal Psikologi Indonesia, 4(02), 162–174. https://doi.org/10.30996/persona.v4i02.558.
Yunita, E. I., Suneki, S., & Wakhyudin, H. (2019). Manajemen pendidikan inklusi dalam proses pembelajaran dan penanganan guru terhadap anak berkebutuhan khusus. International Journal of Elementary Education, 3(3), 267. https://doi.org/10.23887/ijee.v3i3.19407.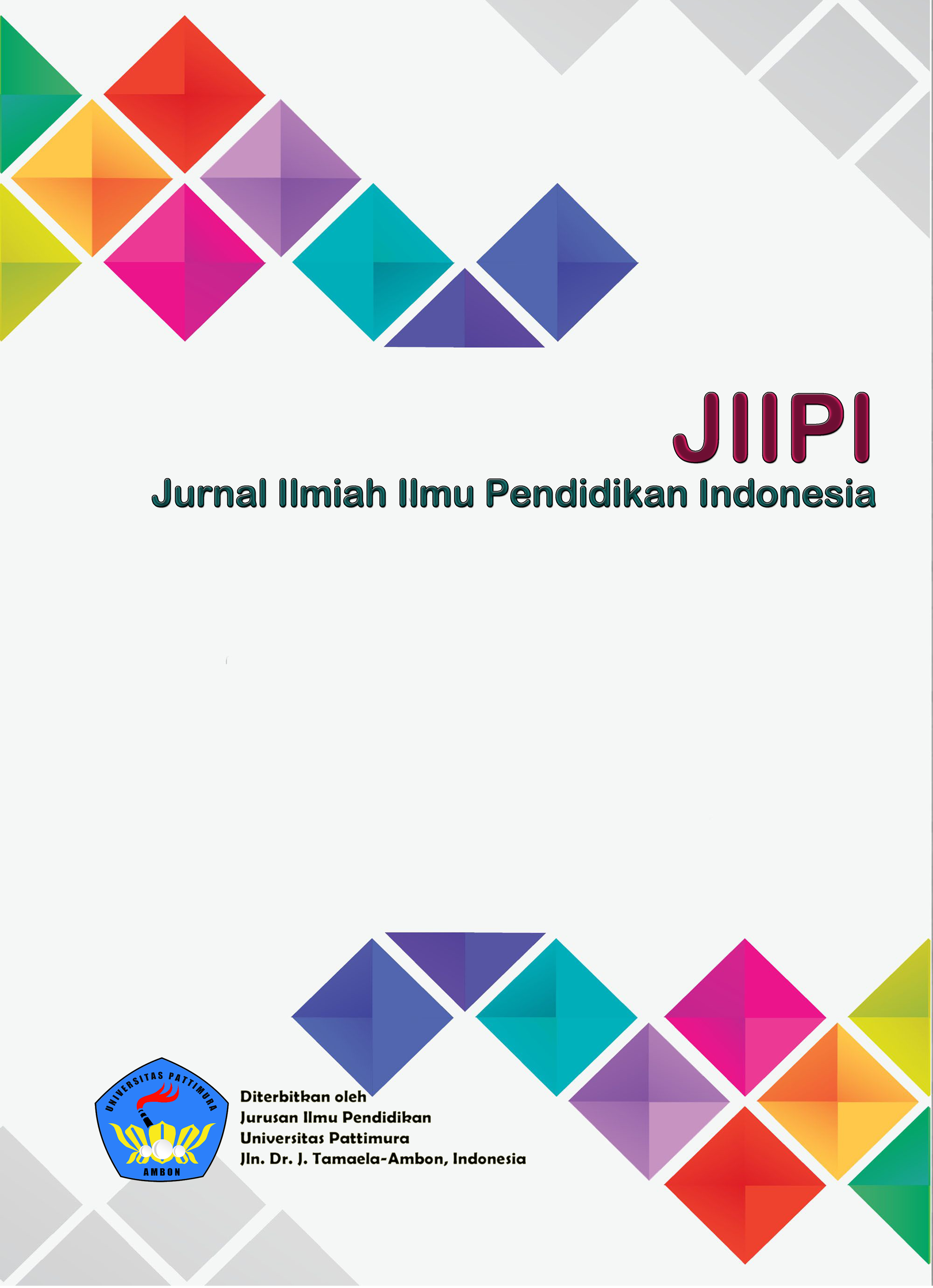 How to Cite
Wenno, Y., & Haumahu, C. (2021). Pengaruh Komitmen Kerja terhadap Kreativitas Mengajar Guru di Kota Ambon. JURNAL ILMIAH ILMU PENDIDIKAN INDONESIA (JIIPI), 1(1), 43-48. https://doi.org/10.30598/JIIPI.1.1.43-48
Copyright (c) 2021 JURNAL ILMIAH ILMU PENDIDIKAN INDONESIA (JIIPI)
This work is licensed under a Creative Commons Attribution-ShareAlike 4.0 International License.