Manajemen dan Penerapan Pembelajaran Sistem Revolusi Industri 4.0 dalam Pembelajaran pada Sekolah Menengah Pertama di Kota Ambon
Vando Kristi Makaruku

Universitas Pattimura

Izak Jakobis Makulua

Universitas Pattimura
Keywords:
Managemen, implementation of industrial revolution 4.0, learning
Abstract
The challenge of education in the era of the industrial revolution 4.0, especially in junior high schools, is no longer just talking about classic problems, namely equalization and fulfillment of access, infrastructure, but education that is able to compete with the demands of the times, even though the development of education has not been able to optimally keep up with the speed due to the industrial revolution However, one of the efforts that need to be made to face the challenges of the 4.0 industrial revolution is through improving the quality of teachers so that they are able to teach material with an approach to the use of Information Technology (IT) in the teaching and learning process. This research aims to determine the management and application of the 4.0 industrial revolution system in learning at junior high schools in Ambon City. The results show that in the current emergency period of the spread of the coronavirus disease (Covid-19), management and the application of learning have established policies for implementing online learning. The principal's policy in the online learning process is carried out through planning that is tailored to the situation, conditions, facilities, objectives and learning strategies. In the implementation of Online Learning, the principal provides policies in the delivery of information and communication to students through the industrial revolution system (Online Learning)
Downloads
Download data is not yet available.
References
Ahmadi, Rulam. (2014). Pengantar pendidikan: asas & filsafat pendidikan. Yogyakarta: ArRuzz.
Ahmadi, Ruslam. (2014). Metodologi penelitian kualitatif. Yogyakarta: Ar-Ruzz Media.
Anselm Strauss dan Juliet Corbin. (1997). Dasar-dasar penelitian kualitatif, prosedur, teknik dan teori grounded. Surabaya : PT. Bina Ilmu.
Arikunto, S. (2002). Metodologi penelitian suatu pendekatan proposal. Jakarta: PT. Rineka Cipta.
Basrowi dan Suwandi. (2008). Memahami penelitian kualitatif. Jakarta: Rineka Cipta.
Brown-Martin, G. (2017). Education and the fourth industrial revolution. Diakses 20 Oktober 2019, dari https://www.groupemediatfo.org/ wpcontent /uploads /2017/12/final-Education-and-the-Fourth-Industrial-Revolution1-1-1.pdf.
Creswell, J. W. (2012). Research design pendekatan kualitatif, kuantitatif, dan mixed. Yogyakarta: Pustaka Pelajar.
Denzin, Norman K., & Yvonna. S. L. (2009). Handbook of qualitative research. Yogyakarta: Pustaka Pelajar.
Gemnafle, M., & Batlolona, J. R. (2021). Manajemen pembelajaran. Jurnal Pendidikan Profesi Guru Indonesia, 1(1), 28-42.
Greenstein, L. (2012). Assessing 21st century skills: a guide to evaluating mastery and authenthic learning. California: Corwin A Sage Comany.
Iskandar. (2008). Metodologi penelitian pendidikan dan sosial (kuantitatif dan kualitatif). Jakarta: GP Press.
Jennifer Nichols (2013). 4 Essential Rules of 21st Century Learning. [Online]. Tersedia di: http://www.teachthought.com/learning/4-essential-rules-of-21stcentury-learning/. Diakses 15 Agustus 2020.
Keengwe, J., & Georgina, D. (2012). The digital course training workshop for online learning and teaching. Education and Information Technologies, 17 (4), 365–379.
Miarso, Y. (2007). Menyemai benih teknologi pendidikan. Jakarta : Kencana.
Moleong, L.J. (2011). Metodologi penelitian kualitatif edisi revisi. Bandung: PT. Remaja Rosdakarya.
Sukmadinata, N. S. (2002). Pengembangan kurikulum. Bandung: Remaja Rosda Karya.
Romney, Marshall B., & Steinbart, (2015), sistem informasi akuntansi. JakartaL Salemba Empat.
Satya, V. E. (2018). Strategi indonesia menghadapi industri 4.0. jakarta. Retrieved from https://bikinpabrik.id/wp-content/uploads/2019/01/Info-Singkat-X-9-I- P3DI-Mei-2018-249.pdf.
Sugiyono. (2010). metode penelitian pendidikan pendekatan kuantitatif, kualitatif, dan r&d. Bandung: Alfabeta.
Sujarweni, V. W. (2014). Metode penelitian: lengkap, praktis, dan mudah dipahami. Yogyakarta: Pustaka Baru Press.
Suyadi. (2013). Strategi pembelajaran pendidikan karakter. Bandung: Remaja Rosdakarya.
Wibawa, S. (2018). Pendidikan dalam era revolusi industri 4.0. Indonesia.
Wuryandari, G. (1997). Investasi negara -negara apec di indonesia, dalam: Irewati, A. indonesia dan apec dalam perkembangan ekonomi politik internasional. Jakarta, PPW LIPI.
Yamnoon, S. (2018). Education 4.0, teaching and learning in 21 th century. Lobbury. Thailand: Thepsatri Rhajabat University.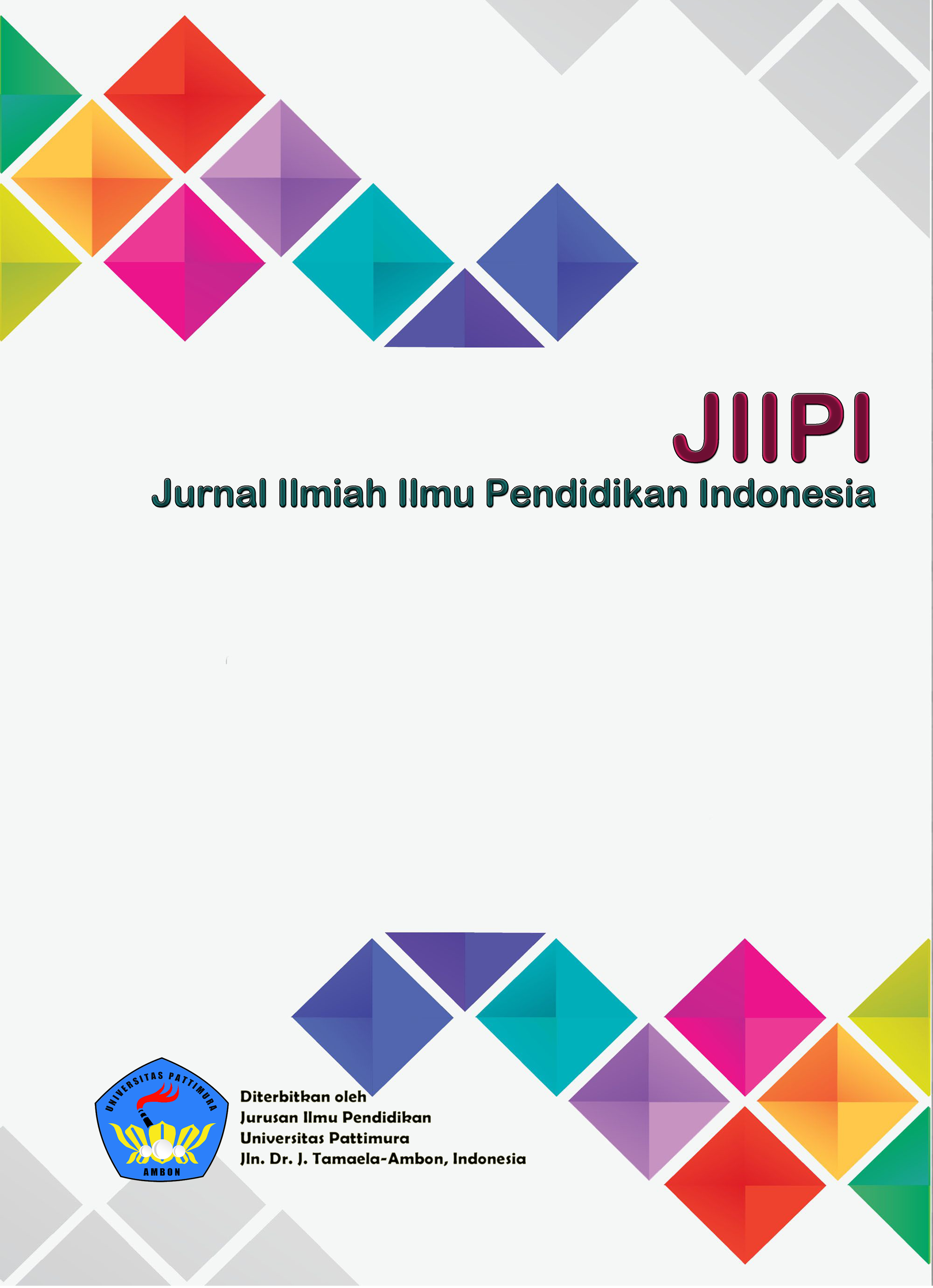 How to Cite
Makaruku, V., & Makulua, I. (2021). Manajemen dan Penerapan Pembelajaran Sistem Revolusi Industri 4.0 dalam Pembelajaran pada Sekolah Menengah Pertama di Kota Ambon. JURNAL ILMIAH ILMU PENDIDIKAN INDONESIA (JIIPI), 1(1), 49-56. https://doi.org/10.30598/JIIPI.1.1.49-56
Copyright (c) 2021 JURNAL ILMIAH ILMU PENDIDIKAN INDONESIA (JIIPI)
This work is licensed under a Creative Commons Attribution-ShareAlike 4.0 International License.