Analisis Peran Komite Sekolah Dalam Pelaksanaan Fungsi Manajemen Pendidikan di SD Negeri 1 Amahusu
Beatrix Tomasila

Universitas Pattimura

Fransheine Rumtutuly

Universitas Pattimura
Keywords:
Role of school committee, Education management function
Abstract
The committee has an important position in each educational unit, with the aim of being a place to channel the aspirations of the community so as obtain educational policies and programs. The purpose of this study was to determine the role of the school committee in the implementataion of the education management function at SD Negeri 1 Amahusu. The research method used in this research is descriptive method with a qualitative analysis approach. Collecting data through observation, interviews, and documentation. The research subjects of the principal, teachers and school committee. The result of the reseach is that the committee of SD Negeri 1 Amahusu has carried out its role well, namely as a provider of consideration, a controlling support and as a liaison body. Although not all school committee members play a good role because some are passive. From the result of the interview, information was obtained that the role of the school committee can be carried out properly depending on the active function and openness and leadership of the principal. The principal of SD Negeri 1 Amahusu is considered very active and open and synergizes  with the committee so that he always involves the committee in various matters
Downloads
Download data is not yet available.
References
Akareem, H. S., & Hossain, S. S. (2016). Determinants of education quality: what makes students' perception different? Open Review of Educational Research, 3(1), 52–67. https://doi.org/10.1080/23265507.2016.1155167.
Amoli, S. J., & Aghashahi, F. (2016). An Investigation on Strategic Management Success Factors in an Educational Complex. Procedia - Social and Behavioral Sciences, 230(May), 447–454. https://doi.org/10.1016/j.sbspro.2016.09.056.
BozkuÅŸ, K. (2014). School as a Social System. Sakarya University Journal of Education, 4(1), 49. https://doi.org/10.19126/suje.10732.
Bredeson, P. V., & Johansson, O. (2000). The school principal's role in teacher professional development. Journal of In-Service Education, 26(2), 385–401. https://doi.org/10.1080/13674580000200114.
Gemnafle, M., Waimuri, S. P., & Batlolona, J.R. (2018). Organizational Climate of the School and Teacher Performance Improvement in the 21st Century. International Journal of Science and Research (IJSR), 7(2), 119-126.
Johnes, J., Portela, M., & Thanassoulis, E. (2017). Efficiency in education. Journal of the Operational Research Society, 68(4), 331–338. https://doi.org/10.1057/s41274-016-0109-z.
Jong, M. S. Y. (2015). Does online game-based learning work in formal education at school? A case study of VISOLE. Curriculum Journal, 26(2), 249–267. https://doi.org/10.1080/09585176.2015.1018915.
Sumintono, B. (2018). School-Based Management Policy and Its Practices at District Level in the Post New order Indonesia. Journal of Indonesian Social Sciences and Humanities, 2(January 2009), 41–67. https://doi.org/10.14203/jissh.v2i0.20.
Sylva, K. (1994). School Influences on Children's Development. Journal of Child Psychology and Psychiatry, 35(1), 135–170. https://doi.org/10.1111/j.1469-7610.1994.tb01135.x.
Tanjung, B. N. (2020). Human Resources (HR) In Education Management. Budapest International Research and Critics in Linguistics and Education (BirLE) Journal, 3(2), 1240–1249. https://doi.org/10.33258/birle.v3i2.1056.
Weiner, S., Jordan, S. S., & Lande, M. (2020). What to "make†of school: Revealing the conflicting institutional logics of grassroots making and formal education. Journal of Research on Technology in Education, 0(0), 1–15. https://doi.org/10.1080/15391523.2020.1767526.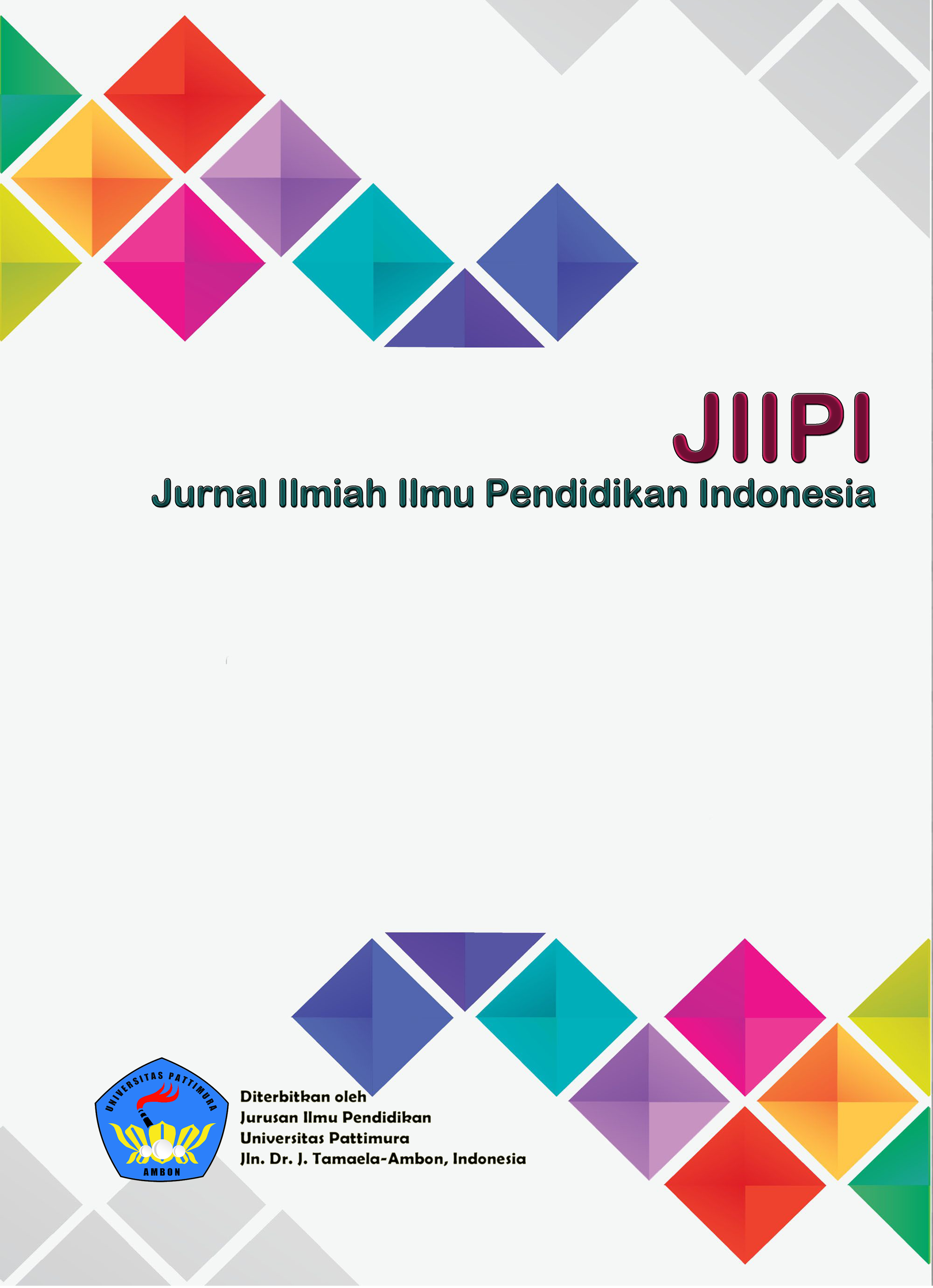 How to Cite
Tomasila, B., & Rumtutuly, F. (2021). Analisis Peran Komite Sekolah Dalam Pelaksanaan Fungsi Manajemen Pendidikan di SD Negeri 1 Amahusu. JURNAL ILMIAH ILMU PENDIDIKAN INDONESIA (JIIPI), 1(1), 57-62. https://doi.org/10.30598/JIIPI.1.1.57-62
Copyright (c) 2021 JURNAL ILMIAH ILMU PENDIDIKAN INDONESIA (JIIPI)
This work is licensed under a Creative Commons Attribution-ShareAlike 4.0 International License.