Pengaruh Dosis Pupuk Bokashi Gulma Air (Pistia stratiotes) dan Waktu Pemberian Terhadap Hasil Tanaman Pakcoy (Brassica rapa L.)
Marlta H Makaruku

Prodi Agroteknologi, Faperta Universitas Pattimura

Saverus Samangun

Prodi Agroteknologi, Faperta Universitas Pattimura

Fransin Polnaya

Prodi Agroteknologi, Faperta Universitas Pattimura
Keywords:
Bokashi, Pakcoy,, Weed Water (Pistia stratiotes)
Abstract
Bokashi is a composting method that can use both aerobic and anaerobic starters to compost organic matter. The purpose of this study is to determine the correct dosage and time of application of water weed bokashi fertilizer (Pistia stratiotes), as well as obtaining its interaction with the yield of pakcoy plants (Brassica rapa L.). The research method using a Randomized Group Design (RAK) with two factors, namely the dose of water weed bokashi fertilizer (Pistia stratiotes) consists of 4 levels, namely: D0 = Dose of bokashi fertilizer 0 tons / ha (control), D1
= 10 tons / ha, D2 = 20 tons / ha, D3 = 30 tons / ha, and the time of application (W) consists of 3 levels, namely: W1 = 14 days before planting, W2 = 7 days before planting, W3 = same time of planting. Each combination of treatments is repeated 3 times. The size of the plot is 1 m × 1 m and in 1 plot there are 12 plants. The results showed that the dose treatment of water weed bokashi (Pistia stratiotes) was 20 tons / ha (D2), fertilizer application time 7 days before planting (W2) and its interactions had a very noticeable influence on all growth observation variables including plant height, number of leaves, leaf area.
Downloads
Download data is not yet available.
References
Firdaus, S. (2019). "Isi Gulma Kayu Apu-Apu." http :// www.academica.edu/ISI Hayati, N. (2006). PERTUMBUHAN DAN HASIL JAGUNG MANIS PADA BERBAGAI WAKTU APLIKASI BOKASHI LIMBAH KULIT BUAH KAKAO
DAN PUPUK ANORGANIK. In J. Agroland (Vol. 13, Issue 3).
Mahmudah, L. H., Koesriharti, & Nawawi, M. (2017). Pengaruh Waktu Aplikasi dan Pemberian Berbagai Dosis Kompos Azolla (Azolla pinnata) Terhadap Pertumbuhan dan Produksi Tanaman Pakchoy (Brassica rapa var. chinensis). Jurnal Produksi Tanaman, 5(3), 390–396.
Mamonto, H. (2013). Uji Potensi Apu – Apu (Pistia stratiotes) Dalam Penurunan Kadar Sianida (CN) Pada Limbah Cair Penambangan Emas. http://webchace.googleusercontent.com/search=cache:NSU9iULWAIJ:kimu.ung.ac.i d/index.php/KIMFIKK/article/donload.
Nurcahya, A. O., Herlina, N., & Guritno, B. (2017). Pengaruh Macam Pupuk Organik dan Waktu Aplikasi Terhadap Pertumbuhan dan Hasil Jagung Manis (Zea mays saccharata Sturt). Jurnal Produksi Tanaman, 5(9).
Sarido, L., & Junia. (2017). Uji Pertumbuhan dan Hasil Tanaman Pakcoy (Brassica rapa L.) dengan Pemberian Pupuk Organik Cair pada Sistem Hidroponik. Jurnal AGRIFOR, 16(1).
Soplanit, M. C., & Soplanit, R. (2018). Pengaruh Bokashi Ela Sagu Pada Berbagai Tingkat Kematangan Dan Pupuk SP-36 Terhadap Serapan P Dan Pertumbuhan Jagung (Zea mays L.) Pada Tanah Ultisol. Agrologia, 1(1). https://doi.org/10.30598/a.v1i1.299
Sutanto, R. (2002). Penerapan Pertanian Organik, Permasyarakatan, dan Pengembangannya. Kanisius, Yogyakarta.
Tanaka, H., Kyaw, K. M., Toyota, K., & Motobayashi, T. (2006). Influence of application of rice straw, farmyard manure, and municipal biowastes on nitrogen fixation, soil microbial biomass N, and mineral N in a model paddy microcosm. Biology and Fertility of Soils, 42(6). https://doi.org/10.1007/s00374-005-0043-8
Tjunaedi, A. (2009). Pengaruh Jenis Dan Dosis Pupuk Bokashi Terhadap Pertumbuhan Dan Hasil Kacang Panjang (Vigna sinensis L.). Jurnal Agrovigor, 2(1), 42–46.
Vivonda, T., Armaini, & Yoseva, S. (2016). OPTIMALISASI PERTUMBUHAN DAN PRODUKSI TANAMAN PAKCOY (Brassicca rapa L) MELALUI APLIKASI BEBERAPA DOSIS PUPUK BOKASHI. JOM Faperta, 3(2).
Wang, S. X., Liang, X. Q., Luo, Q. X., Fan, F., Chen, Y. X., Li, Z. Z., Sun, H. X., Dai, T.
F., Wan, J. N., & Li, X. J. (2012). Fertilization increases paddy soil organic carbon density. Journal of Zhejiang University: Science B, 13(4). https://doi.org/10.1631/jzus.b1100145
Zupriadi, R., Chaniago, N., & Ningsih, S. S. (2018). EFFECT OF ORGANIC GRANULES COW MANURE FERTILIZER AND ORGANIC LIQUID FERTILIZER APPLICATION AGAINST GROWTH AND YIELD OF PAKCOY
(Brassica chinensis L.). Bernas: Jurnal Penelitian Pertanian, 14(1).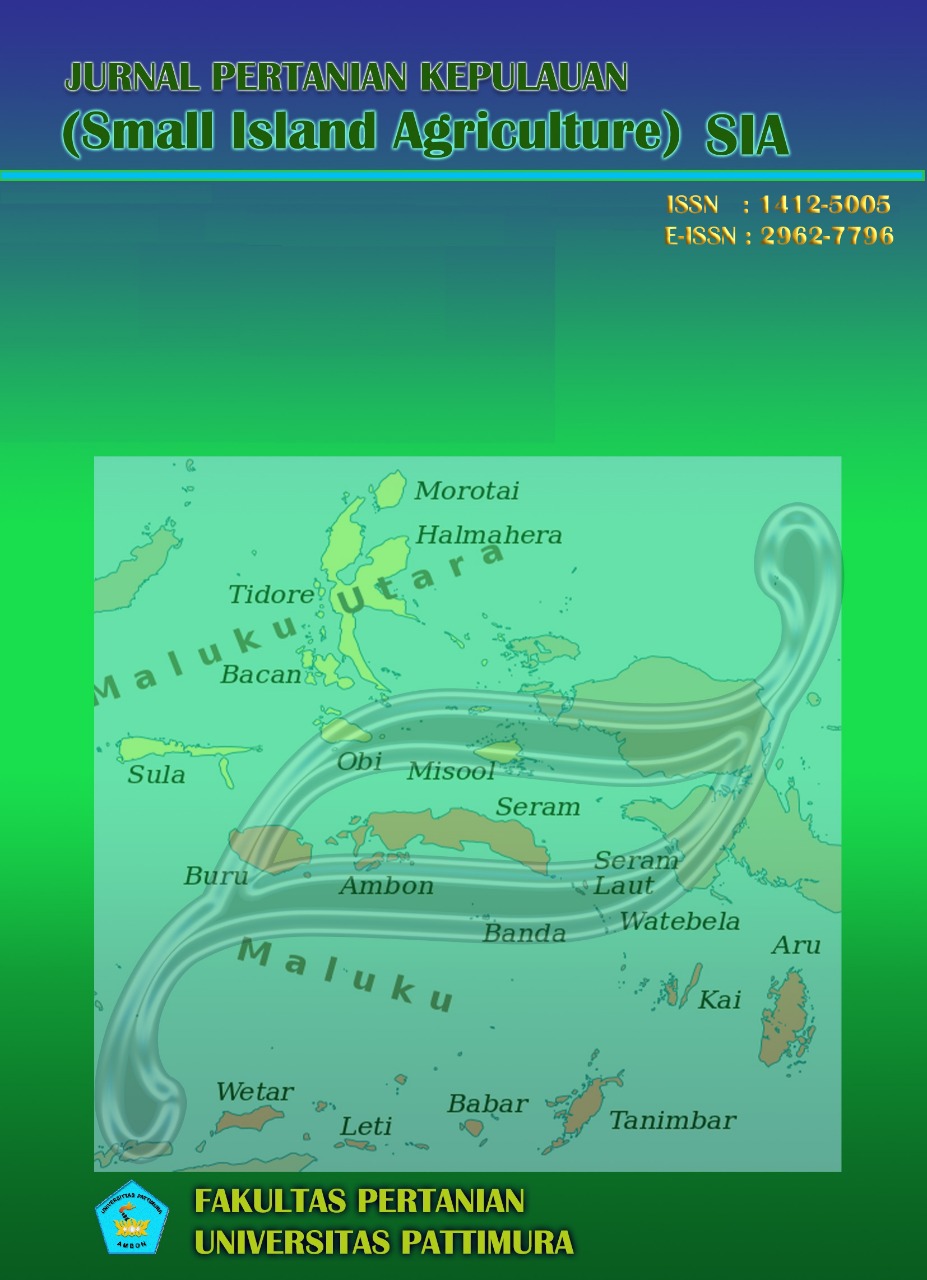 How to Cite
Makaruku, M., Samangun, S., & Polnaya, F. (2022). Pengaruh Dosis Pupuk Bokashi Gulma Air (Pistia stratiotes) dan Waktu Pemberian Terhadap Hasil Tanaman Pakcoy (Brassica rapa L.). JURNAL PERTANIAN KEPULAUAN, 6(1), 1-8. https://doi.org/10.30598/jpk.2022.6.1.1