Organizational Development and Change Along with the Reinventing in Education
Ribka Lemy Ririhena

Universitas Pattimura

Zainuddin Notanubun

Universitas Pattimura
Keywords:
Development, Change, Organization, Reinventing
Abstract
The purpose of organizational development, especially educational organizations, is the formation of an educational organization in the provincial and district/city governments, so that education units at all types and levels are open and generate trust for educators and their communities.  Organizational open and generate trust for educators and their communities. Organizational development interventions tend to emphasize the application of collaborative or interpersonal and group strategies in inter-organizational actions in a coordinative or vertical manner, in accordance with the spirit of reinvention. In restructuring educational organizations or reinventing education to increase the activities and programs of the Provincial, Regency and City Education Offices in carrying out routine activities, they must be changed, no longer using a bureaucratic approach with a participatory approach. The paradigm of education officials must be changed, so that in accordance with the spirit of the implementation of school-based management in schools. By giving a large role to schools in the spirit of change, the school has a high creativity to compete in improving the quality and quality of education in the school
Downloads
Download data is not yet available.
References
Bakker, R. M., DeFillippi, R. J., Schwab, A., & Sydow, J. (2016). Temporary Organizing: Promises, Processes, Problems. Organization Studies, 37(12), 1703–1719. https://doi.org/10.1177/0170840616655982
Griffith, J. A., Baur, J. E., & Buckley, M. R. (2019). Creating comprehensive leadership pipelines: Applying the real options approach to organizational leadership development. Human Resource Management Review, 29(3), 305–315. https://doi.org/10.1016/j.hrmr.2018.07.001
Hersey, P., & Blanchard, K. A. (1982). Management of Organizational Bahavior: Utilizing Human Resources. New Delhi: PrenticeHall of India
Kigume, R., & Maluka, S. (2019). Decentralisation and health services delivery in 4 districts in Tanzania: How and why does the use of decision space vary across districts? International Journal of Health Policy and Management, 8(2), 90–100. https://doi.org/10.15171/ijhpm.2018.97
Knein, E., Greven, A., Bendig, D., & Brettel, M. (2019). Culture and cross-functional coopetition: The interplay of organizational and national culture. Journal of International Management, (January), 100731. https://doi.org/10.1016/j.intman.2019.100731
Kunst, S., Kuhn, T., & van de Werfhorst, H. G. (2019). Does education decrease Euroscepticism? A regression discontinuity design using compulsory schooling reforms in four European countries. European Union Politics. https://doi.org/10.1177/1465116519877972
Macgilchrist, F., Allert, H., & Bruch, A. (2019). Students and society in the 2020s. Three future 'histories' of education and technology. Learning, Media and Technology, 0(0), 1–14. https://doi.org/10.1080/17439884.2019.1656235
Munro, J. (2016). The violence of inflated possibilities : education, transformation , andd iminishment in wamena , PAPUA. 95(95), 25–46.
Notanubun, Z., Ririhena, R. L., & Batlolona, J. R. (2019). The effect of organization restructuring on organization performance viewed from employee performance and leadership effectiveness at maluku provincial education office. Journal of Education and Learning (EduLearn), 13(1), 118. https://doi.org/10.11591/edulearn.v13i1.11222
Riany, Y. E., Meredith, P., & Cuskelly, M. (2016). Understanding the Influence of Traditional Cultural Values on Indonesian Parenting Understanding the Influence of Traditional Cultural Values on Indonesian Parenting. 4929(March). https://doi.org/10.1080/01494929.2016.1157561
Rizvi, F. (2004). Debating globalization and education after September 11. Comparative Education, 40(2), 157–171. https://doi.org/10.1080/0305006042000231338
Ruben, B. D. (2005). The Center for Organizational Development and Leadership at Rutgers University: A Case Study. Advances in Developing Human Resources, 7(3), 368–395. https://doi.org/10.1177/1523422305277177
Sagala, S. (2008). Budaya dan Reinventing Organisasi Pendidikan. Pemberdayaan Organisasi Pendidikan ke Arah yang Lebih Profesional dan Dinamis di Provinsi/Kota dan Satuan Pendidikan. Bandung: Penerbit Alfabeta
Smollan, R. K. (2017). Supporting staff through stressful organizational change. Human Resource Development International, 20(4), 1–23. https://doi.org/10.1080/13678868.2017.1288028
Speziale, G. (2015). Strategic management of a healthcare organization: Engagement, behavioural indicators, and clinical performance. European Heart Journal, Supplement, 17, A3–A7. https://doi.org/10.1093/eurheartj/suv003
Sutton, J., & Austin, Z. (2015). Qualitative research: Data collection, analysis, and management. Canadian Journal of Hospital Pharmacy, 68(3), 226–231. https://doi.org/10.4212/cjhp.v68i3.1456
Tometich, P., Fracasso, E., Zen, A., & Engelman, R. (2019). The decision to innovate and the movement of dynamic capabilities. Gestao e Producao, 26(2), 1–13. https://doi.org/10.1590/0104-530X-3627-19
Tsai, Y. (2011). Relationship between organizational culture, leadership behavior and job satisfaction. BMC Health Services Research, 11(1), 98. https://doi.org/10.1186/1472-6963-11-98
Turi, J. A., Sorooshian, S., & Javed, Y. (2019). Impact of the cognitive learning factors on sustainable organizational development. Heliyon, 5(9), e02398. https://doi.org/10.1016/j.heliyon.2019.e02398
Weiner, B. J. (2009). A theory of organizational readiness for change. Implementation Science, 4(1), 1–9. https://doi.org/10.1186/1748-5908-4-67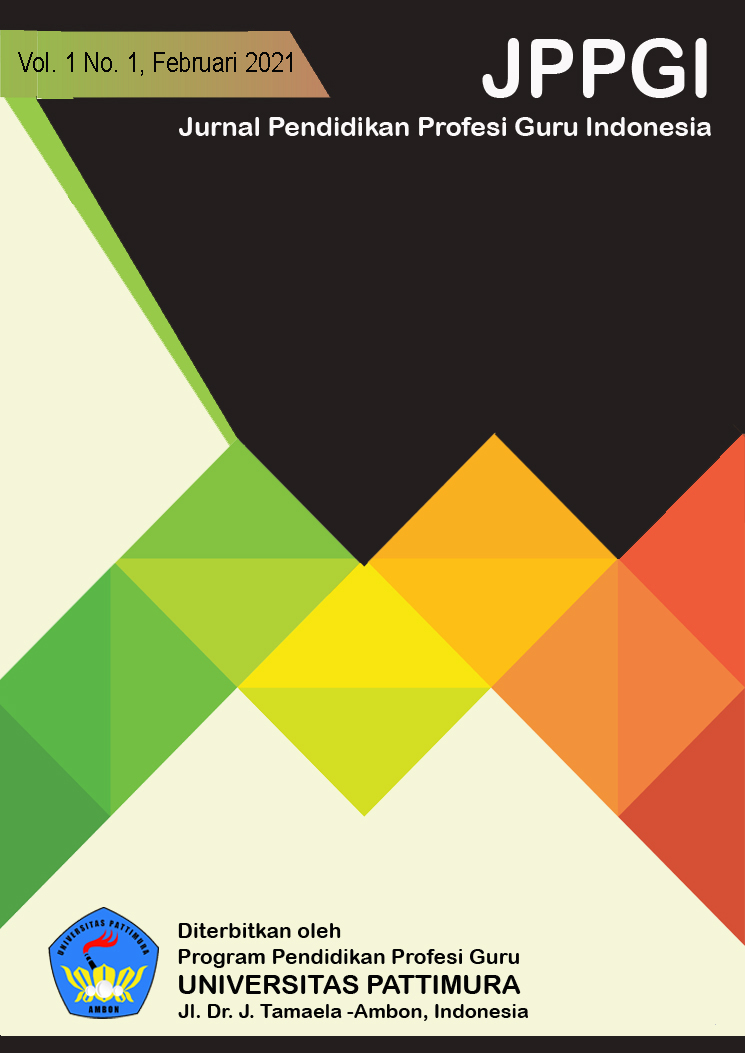 How to Cite
RirihenaR., & NotanubunZ. (2021). Organizational Development and Change Along with the Reinventing in Education. JURNAL PENDIDIKAN PROFESI GURU INDONESIA (JPPGI), 1(1), 21-27. https://doi.org/10.30598/jppgivol1issue1page21-27
Copyright (c) 2021 Ribka Lemy Ririhena, Zainuddin Notanubun
This work is licensed under a Creative Commons Attribution-ShareAlike 4.0 International License.