Analisis Strategi Pembelajaran Ekspositori pada Guru IPS
Stevie Sahusilawane

Universitas Pattimura
Keywords:
Strategi pembelajaran, Ekspositori, Guru IPS
Abstract
Tujuan dari penelitian ini adalah untuk mengetahui strategi pembelajaran ekspositori pada guru IPS di SMP Negeri 9 Leihiutu Satap. Penelitian dilakukan dengan menggunakan metode deskriptif untuk menggambarkan kejadian atau peristiwa pada saat pembelajaran berlangsung. Hasil penelitian menunjukan bahwa dalam proses pembelajaran ekspositori ada lima tahapan yang digunakan oleh guru dalam proses pembelajaran berupa persiapan, penyajian, korelasi, penyimpulan dan pengaplikasian. Di dalam tahapan tersebut pelaksanaan pembelajaran dengan strategi ekspositori pada guru sudah sesuai dengan perencanaan serta terlaksana dengan baik. Hal ini dapat terlihat bahwa siswa telah memahami materi dan mampu menjawab pertanyaan-pertanyaan guru dengan baik. Dapat disimpulkan bahwa penggunakan strategi ekspositori pada guru IPS sudah terlaksana dengan baik
Downloads
Download data is not yet available.
References
Cenoz, J. (2012). Bilingual educational policy in higher education in the Basque Country. Language, Culture and Curriculum, 25(1), 41–55. https://doi.org/10.1080/07908318.2011.653057.
Darling-hammond, L., Flook, L., Cook-harvey, C., Barron, B., Flook, L., Cook-harvey, C., … Barron, B. (2019). Implications for educational practice of the science of learning and development. Applied Developmental Science, 0(0), 1–44. https://doi.org/10.1080/10888691.2018.1537791.
Ellerani, P., & Gentile, M. (2013). The Role of Teachers as Facilitators to Develop Empowering Leadership and School Communities Supported by the Method of Cooperative Learning. Procedia - Social and Behavioral Sciences, 93, 12–17. https://doi.org/10.1016/j.sbspro.2013.09.144.
Ferguson, H. B., Bovaird, S., & Mueller, M. P. (2007). The impact of poverty on educational outcomes for children. Paediatrics and Child Health, 12(8), 701–706. https://doi.org/10.1093/pch/12.8.701.
Gbollie, C., & Keamu, H. P. (2017). Student Academic Performance: The Role of Motivation, Strategies, and Perceived Factors Hindering Liberian Junior and Senior High School Students Learning. Education Research International, 2017, 1–11. https://doi.org/10.1155/2017/1789084.
Genlott, A. A., & Grönlund, Å. (2013). Improving literacy skills through learning reading by writing: The iWTR method presented and tested. Computers and Education, 67, 98–104. https://doi.org/10.1016/j.compedu.2013.03.007.
Hammond, C. D. (2016). Internationalization, nationalism, and global competitiveness: a comparison of approaches to higher education in China and Japan. Asia Pacific Education Review, 17(4), 555–566. https://doi.org/10.1007/s12564-016-9459-0
Leung, M. Y., & Wang, Z. (2006). Impact of school facilities on working behavior of teachers. International Journal of Strategic Property Management, 10(2), 79–91. https://doi.org/10.1080/1648715X.2006.9637546.
Ploetzner, R., & Schlag, S. (2013). Strategic learning from expository animations: Short- and mid-term effects. Computers and Education, 69, 159–168. https://doi.org/10.1016/j.compedu.2013.07.013.
Post, L. S., Guo, P., Saab, N., & Admiraal, W. (2019). Effects of remote labs on cognitive, behavioral, and affective learning outcomes in higher education. Computers and Education, 140(May). https://doi.org/10.1016/j.compedu.2019.103596.
Ritter, S. M., & Mostert, N. (2017). Enhancement of Creative Thinking Skills Using a Cognitive-Based Creativity Training. Journal of Cognitive Enhancement, 1(3), 243–253. https://doi.org/10.1007/s41465-016-0002-3.
Schaap, H., Baartman, L., & de Bruijn, E. (2012). Students' Learning Processes during School-Based Learning and Workplace Learning in Vocational Education: A Review. Vocations and Learning, 5(2), 99–117. https://doi.org/10.1007/s12186-011-9069-2.
Schneider, R., & Sparfeldt, J. R. (2020). Academic competence and affect self-concepts in elementary school students: Social and dimensional comparisons. Social Psychology of Education, 23(1), 233–257. https://doi.org/10.1007/s11218-019-09532-3.
Sukanti, S., Sumarsih, S., Siswanto, S., & Widayati, A. (2008). Persepsi Mahasiswa Program Studi Pendidikan Akuntansi Fise Uny Terhadap Profesionalitas Guru Berdasarkan Undangundang Guru Dan Dosen No 14 Tahun 2005. Jurnal Pendidikan Akuntansi Indonesia, 6(2), 70–81. https://doi.org/10.21831/jpai.v6i2.935.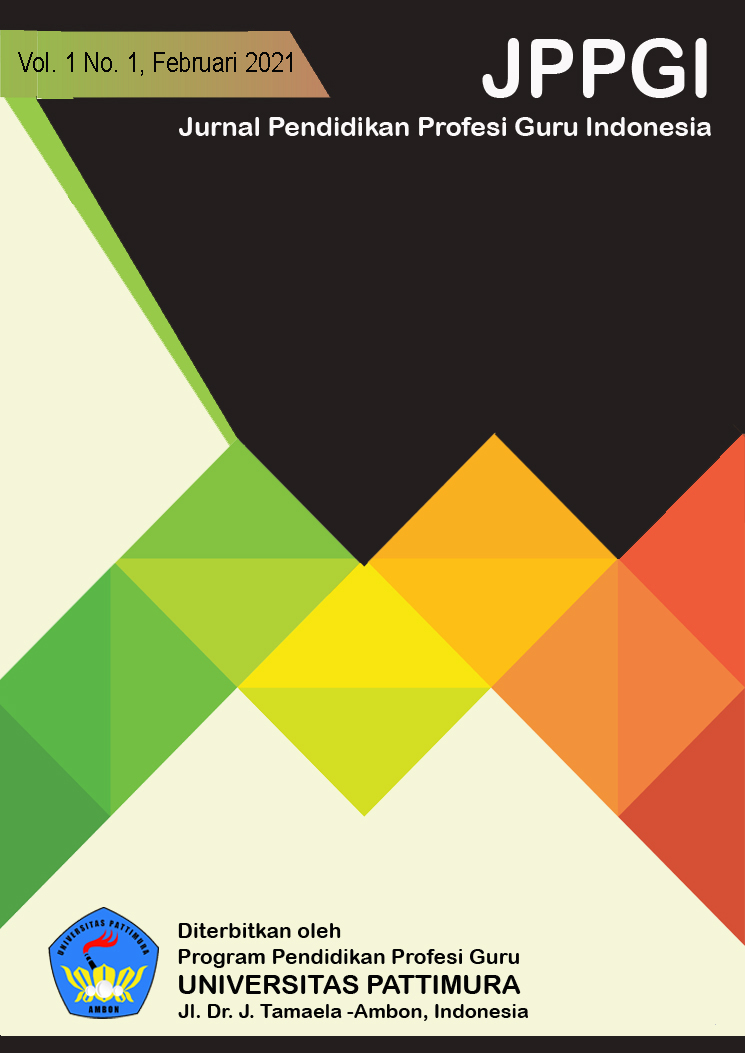 How to Cite
SahusilawaneS. (2021). Analisis Strategi Pembelajaran Ekspositori pada Guru IPS. JURNAL PENDIDIKAN PROFESI GURU INDONESIA (JPPGI), 1(1), 53-60. https://doi.org/10.30598/jppgivol1issue1page53-60
Copyright (c) 2021 Stevie Sahusilawane
This work is licensed under a Creative Commons Attribution-ShareAlike 4.0 International License.