Prinsip In Absensia Dalam Pemeriksaan Tindak Pidana Korupsi Ditinjau Dari Perspektif Due Process of Law
Adolf Erens Atapary

Fakultas Hukum Universitas Pattimura

John Dirk Pasalbessy

Fakultas Hukum Universitas Pattimura

Hadibah Zachra Wadjo

Fakultas Hukum Universitas Pattimura
Keywords:
In Absence Principle, Corruption Crime, Due Process Of Law
Abstract
Introduction: Courts in absentia in corruption have been pros and cons to date, there is an assumption that court in absentia is a violation of human rights because it is related to the human rights of the accused as a human being who has the right to defend himself in court, on the other hand The trial in absentia can be carried out as long as the whereabouts of the defendant are not known at all so that he cannot be presented at the trial trial due to running away (fugitive).
Purposes of the Research:  This writing aims to analyze and explain the existence of justice in absentia in the implementation of the criminal justice system in Indonesia in accordance with the principle of due process of law, to analyze and discuss the nature of the principle of due process of law in ensuring legal certainty and justice in the examination of criminal cases.
Methods of the Research: Normative research method with the type of research is qualitative analysis. The problem approach used is the statute approach, the conceptual approach and the case approach. The sources of legal materials used are Primary legal materials, Secondary legal materials, and Tertiary legal materials and are used as a technique for collecting legal materials, then processing and analyzing legal materials through methods of interpretation, harmonization, systematic and legal discovery.
Results of the Research: The results of the study indicate that the judiciary in absentia can be implemented and does not violate human rights as long as it is implemented through the correct procedure and based on the provisions of the law. The trial in absentia aims to break the deadlock in the examination of defendants who are not present at the trial and efforts to save state finances, both those that have been corrupted and those that are still suspected of being related to corruption cases, both those that have been confiscated and those that have not been confiscated to be confiscated for the State through a court decision.
Downloads
Download data is not yet available.
References
Andi Hamzah, Hukum Pidana Dalam Perspektif Pengembangan, disampaikan pada Seminar Kejahatan Korporasi, Kerjasama ASPEHUPIKI dengan Fakultas Hukum Universitas Diponegoro Semarang, 1989.
Barda Nawawi Arief, Beberapa Aspek Kebijakan Penegakan dan Pengembangan Hukum Pidana, Citra Aditya Bakti, Bandung, 1998.
Darwis Tirande, Salmon Eliazer Marthen Nirahua, and Elsa Rina Maya Toule. 2022. "Kriminologis Terhadap Tindak Pidana Korupsi Dana Desa". PATTIMURA Legal Journal 1 (2), 133-50. https://doi.org/10.47268/pela.v1i2.6435.
Erwin Ubwarin dan Alfian Reymon Makaruku, Bendahara Daerah dan Korupsi Pengelolaan Dana Daerah, Jurnal Belo, Vol 7, No 1, Agustus 2021.
Jimmly Assiddiqie, "Gagasan Negara Hukum Indonesia", trial::http://www. docudesk.com.
Mardjono Reksodiputro, Kriminologi dan Sistem Peradilan Pidana, Pusat Pelayanan Keadilan dan Pengabdian Hukum, Jakarta, 1994.
M. King, A Framework Of Criminal Justice, Croom Helm, London, 1981, hlm. 20 di dalam Eddy O. Hiarije, Beberapa Catatan RUU KUHAP Dalam Hubungannya Dengan Pemberantasan Tindak Pidana Korupsi, Crimnal Justice System In Indonesia, Between Theory And Reality, Asia Law Review Vol.2, No. 2 December 2005, Korean Legislation Research Institute.
Muladi, Hak Asasi Manusia, Politik dan Sistem Peradilan Pidana, Badan Penerbit Universitas Diponegoro, Semarang, 1997.
Rahmat Efendy Al Amin Siregar,"Due Process of Law Dalam Sistem Peradilan Pidana di Indonesia Kaitannya dengan Perlindungan HAM", Jurnal Ilmiah FITRAH, Volume I Tahun 2015.
Romli Atmasasmita (I), Korupsi Sebagai Kejahatan HAM, sumber : http// www.romliatmasamita.com.
Romli menjelaskan bahwa sebagai sarana (tool) dari kebijakan (policy) pemerintah, peraturan perundang-undangan tersebut harus mampu menjawab berbagai perubahan yang terjadi Romili Atmasasimita (II). Dijelaskan oleh Romli Atmasasmita (II) pada pengukuhan Guru Besar Madya Dalam Ulmu Hukum Pidana pada Fakultas Hukum Universitas Padjadjaran, Ban dung 25 September 1999, dengan judul Prospek Penanggulangan Korupsi di Indonesia Memasuki Abad XXI : Suatu Reorientasi atas Kebijakan Hukum Pidana di Indonesia.
Sophia Mailoa, Perilaku dan Budaya Korupsi Dalam Konteks Penegakan Hukum di Indonesia, Pidato Pengukuhan Guru Besar Dalam Bidang Ilmu Hukum Pidana dan Kriminologi pada Universitas Pattimura, Ambon 29 April 2006.
Sudarto, Hukum dan Hukum Pidana, Alumni, Bandung, 1981.
Syukri Akub dkk, Wawasan Due Process of Law Dalam Sistem Peradilan Pidana, Editor: Amir Ilyas, Ranckang Education, Yogjakarta, 2012.
Tanusurato S, Dasar – Dasar Hukum Acara Pidana, Americo, Bandung, 1983.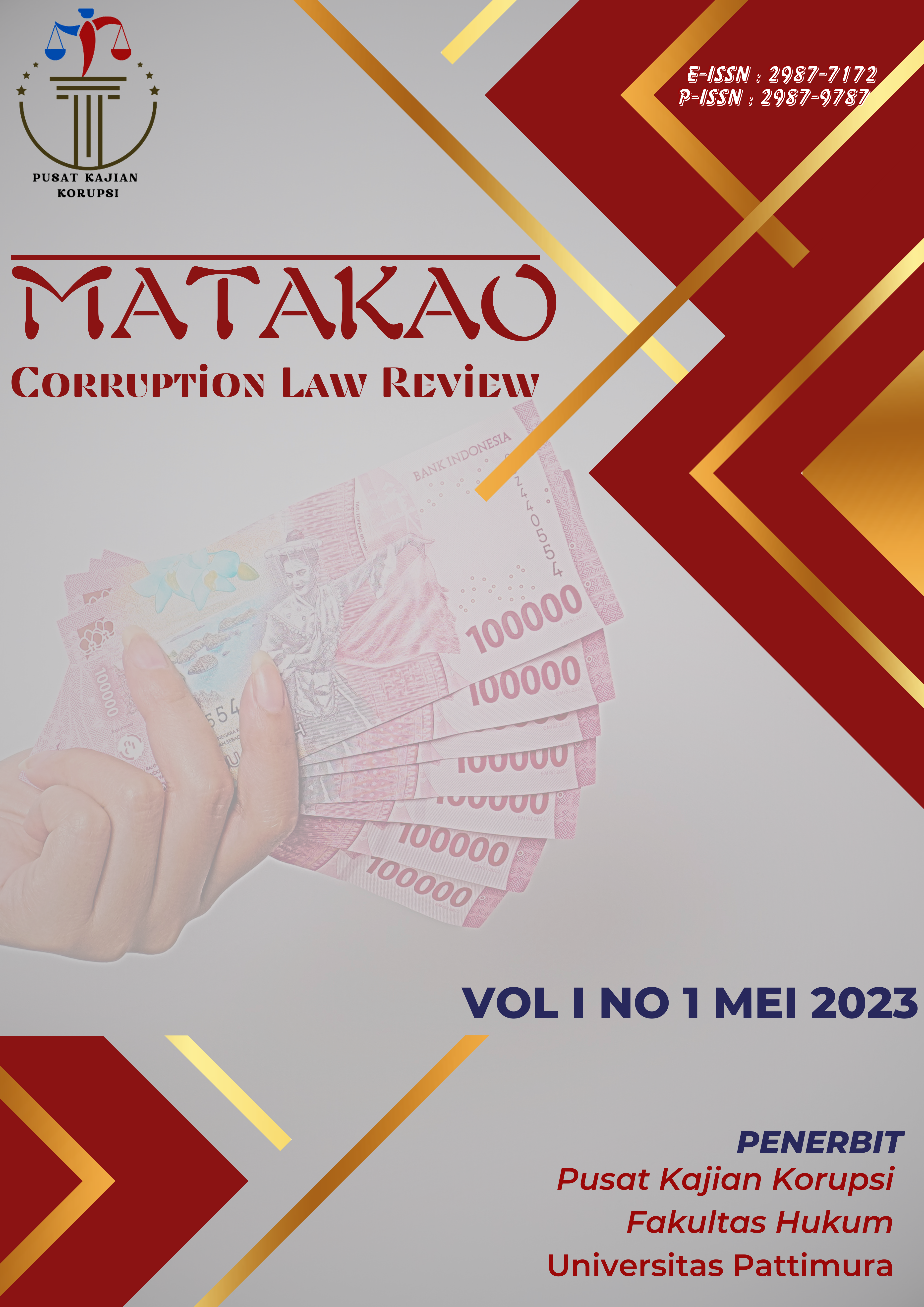 How to Cite
Atapary, A., Pasalbessy, J., & Wadjo, H. (2023). Prinsip In Absensia Dalam Pemeriksaan Tindak Pidana Korupsi Ditinjau Dari Perspektif Due Process of Law. MATAKAO Corruption Law Review, 1(1), 28-45. https://doi.org/10.47268/matakao.v1i1.9049
Copyright (c) 2023 Adolf Erens Atapary, John Dirk Pasalbessy, Hadibah Zachra Wadjo
This work is licensed under a Creative Commons Attribution-NonCommercial 4.0 International License.
Copyright:
Authors who publish their manuscripts in this Journal agree to the following conditions:
The copyright in each article belongs to the author, as well as the right to patent.
Authors are able to enter into separate, additional contractual arrangements for the non-exclusive distribution of the journal's published version of the work (e.g., post it to an institutional repository or publish it in a book), with an acknowledgment of its initial publication in this journal.
Authors are permitted and encouraged to post their work online (e.g., in institutional repositories or on their website) prior to and during the submission process, as it can lead to productive exchanges, as well as earlier and greater citation of published work.
Authors have the right to self-archiving of the article (Author Self-Archiving Policy)
Licence : This Journal is disseminated based on the Creative Commons Attribution-NonCommercial 4.0 International license terms. This license allows anyone to copy and redistribute this material in any form or format, compose, modify, and make derivatives of this material for any purpose. You cannot use this material for commercial purposes. You must specify an appropriate name, include a link to the license, and certify that any changes have been made. You can do this in a way that is appropriate, but does not imply that the licensor supports you or your use.

This work is licensed under a Creative Commons Attribution-NonCommercial 4.0 International License..