UJI ANTIBAKTERI EKSTRAK ETANOL DAGING BUAH PALA (Myristica Fragrans Houtt.) TERHADAP BAKTERI STAPHYLOCOCCUS AUREUS DAN ESCHERICHIA COLI
Barry Roseveld Joseph Siegers

Fakultas Kedokteran Universitas Pattimura

Eka Astuty

Yuniasih M.J. Taihuttu
Keywords:
antibacteria, ethanol extract, nutmeg
Abstract
Infectious diseases are still a serious problem in developing countries. Infectious diseases can be treated with antibacterial use. If the irrational use of antibacterials will lead to antibiotic resistance. Nutmeg is a plant that has antibacterial potential. The purpose of this study was to determine the inhibition of the ethanol extract of the nutmeg pulp. The concentrations of the ethanol extract used were 25%, 50%, 75% and 100%. Antibacterial activity test against Staphylococcus aureus and Escherichia coli using the disc diffusion method. The test results showed that all concentrations of ethanol extract had the ability to inhibit the growth of Staphylococcus aureus and Escherichia coli with concentrations of  25%,  50%,  75%  and  100%  with  each  inhibition  zone  for Staphylococcus aureus being 31.4 mm; 36.8 mm; 38.9 mm; 39.1 mm; 43.9 mm, meanwhile Escherichia coli bacteria have an inhibition zone of 14.3 mm; 19.8 mm; 28.9 mm; 32.1 mm; 36.9 mm.
Downloads
Download data is not yet available.
References
Amab Majumdar, Neha Pradhan, Jibin Sadasivan, Ananya Archarya, Nupur Ojha, Swathy Babu, Sutape Base. Kontaminasi Mikroba dan Degradasi Makanan. Food Degradation and Food Disease. 2018 Maret 27
Maria Manuela Comino Feltes, Adriana Povesi Arisseto Brogotto & Jane Mora Block. Food Quality, Foodborne Disease, and Food Safety in The Brazilian Food Industry. Food Quality and Safety in The Barzilian Food Industry. 2016 December 2017
Syahran Wael, Feryman Mahulette, Theopilus Wilhelmus Watuguly, Didik Wahyudi. Pengaruh Ekstrak Daun Cengkeh (Syzigium aromaticum) terhadap Limfosit dan Makrofag Mencit Balb/C Effect of Leaf Syzigium aromaticum on Lymphocyte and Machrophages Mice Balb/C. Traditional Medicine Journal. 2018 Februari 23.
I Wayan Redi Aryanta. Manfaat Jahe Untuk Kesehatan. E-Journal Widya Kesehatan, Volume 1, Nomor; 2. 2019 Oktober
Adelia Simamora, Adit Santoso, Kris Herawan Timotius. Bioactivities of Methanol and Ethyl Acetate Mace Extracts of Myristica fragrans houtt. Pharmacogn. Commn. 2018; 8 (13): 103-107. 2018 Juli-Sept 3
Iyekhoetin Mathew Omoruyi & Ogochukuw Theresa Emefo. In Vitro Evaluation of the Antibiogramic Properties Myristica fragrans on Food Borne Pathogens. Mal. J. Microbial. Vol 8 (4) 2012, PP253.2015
Nur Siyam Widyathany Cahyati. Peningkatan Kapasitas Penghuni Pondok Pesantren dalam Pencegahan Foodbormne disease dengan Metode Per Education. Jurnal Kesehatan Masyarakat. Visikes Vol. 17 No. 2 halaman (36-226) ISSN 1412-3746 Semarang. 2018 September
Risdia Reni Arisanti, Citra Indriani, Siswanto Agus Wilopo. Kontribusi Agen dan Faktor Penyebab Kejadian Luar Biasa Keracunan Pangan di Indonesia: Kajian Sistem. Berita Kedokteran Masyarakat (BKM Journal of Community Medicine andPublicHealth) Volume 34 Nomor 3 Halaman 99-106. 2018 Maret 2015.
Haiying Cui, Xuejing Zhang, HuiZhou, ChengtingZhao, ZhihongXiao, Lin Lin and Changzhu Li. Antibacterial Properties of Nutmeg Oil in Pork and Its Possible Mechanism. Journal of Food Safety ISSN 1745-4565. 2015 January21
Jumriani Ibrahim. Tingkat Cemaran Bakteri Staphylococcus Aureus pada Daging Ayam yang Dijual di Pasar Tradisional Makassar. 2017 Agustus15
Wahyuning Seryani, Hanny Setyawati, Dewi Ayuningtyas. Pemanfaatan Ekstrak Terstandarisasi Daun Somjawa (Talinum Paniculatum (Jacq) Gaertn) Dalam Sediaan Krim Antibakteri Staphylococcus Aureus. Jurnal Farmasi SAINS dan Komunitas. Mei 2016 hlm 44-51 vol 13No.1 ISSN:1693-5683. 2016 Mei 2712. Lies Indah Sutiknowati. Oseana, Volume XLI. Nomor 4 Tahun 2016: 63-71. 2016
RahayuAnggreini,Analisis Cemaran Bakteri Escherichia Coli (E.Coli) 0157: H7 pada Daging Sapi di Kota Makassar. 2015 Agustus 2015
Richa Dwi Lestari. Evy Ratnasari Ekawati, Imam Suryanto. Identifikasi Staphylococcus Aureus dan Hitung Total Jumlah Kuman pada Bakpia Kacang Hijau. Jurnal Sains Health Vol 2 No.2 Edisi. 2 September 2018 Fakultas Ilmu Kesehatan Universal Maarif Hasyim Latif Sidoarjo P-ISSN: 2548-8333 e-ISSN: 2549-2586. 2018 September
Lies Indah Sutiknowati. Oseana, Volume XLI. Nomor 4 Tahun 2016: 63-71. 2016
Kartika Ayu Panggabean. Pemanfaatan Ekstrak Biji Pala (Myristica Fragrans Hout) sebagai Antimikroba pada Produk Sosis Tempe. Universitas SumateraUtara Respiratori USU http://Respiratori.usu.ac.id. 2016 Februari 11
Ratna Wylis Arief, Firdausil A.B dan Robet Asnawi. Potensi Pengolahan Daging Buah Pala Menjadi Aneka Produk Olahan Bernilai Ekonomi Tinggi Potential of nutmeg fruit processing being various products with high value economic. Jurnal Bul. Littro, Volume 26, Nomor 2, Desember 2015. 2015 September 11
Alfisiane Gansareng, Widya Astuty Lolo, Nancy C.H. Pelealu. Aktivitas Antibakteri Ekstrak Kulit Buah Pala (Myristica fragrans Houtt) Terhadap Bakteri Escherichiacoli. PHARMACON Jurnal Ilmiah Farmasi–UNSRAT Vol. 7 No. 3 AGUSTUS 2018 ISSN 2302-2493. 2018 Agustus 3
Lisna Rosalia Agaus, Reski Vinalia Agaus. Manfaat Kesehatan Tanaman Pala (Myristica fragrans) (Health of nutmeg (Myrsitica fragrans)). Jurnal Medulla volume 6, suplemen Juli 2019 e-ISSN: 2443-0218 P-ISSN: 2339-1006. 2019 Juli
Tanendri Arrizqiyani, Novy Sanjaya, dan Ajeng Asty. Optimalisasi Potensi Tanaman Pala Sebagai Antibakteri Escherichia coli Menggunakan Metode Ekstraksi. Prosiding Seminar Nasional Publikasi Hasil-Hasil Penelitian dan Pengabdian Masyarakat, "Implementasi Penelitian dan Pengabdian Masyarakat Untuk Peningkatan Kekayaan Intelektual" Universitas Muhammadiyah Semarang. Jurnal Unimus.ac.id. 2017 September 30
Oksfriani Jufri Sumampouw. Uji Sensitivitas Antibiotik Terhadap Bakteri Escherichia coli Penyebab Diare Balita Di Kota Manado. Jurnal.UMBJM.ac.id/index.PHP/JCPS. Vol 2 No.1 ISSN 2598-2095. 2018 Agustus 30
Nurhasanah. Antimicrobial Of Nutmeg (Myristica fragrans houtt) Fruit Method Extract Againts Growth Staphylococcus aureus and Escherichia coli. Jurnal Bioedukasi Vol 3 No (1) 2014 November
Anita Nilawati dan Muhammad Ansory. Aktivitas Antibakteri Pada Senyawa Turunan Kalkon Hasil Sintesis Dari Buah Pala. Antibacterial Activity of Kalkon Derivate Compounds from Miristisin Nutmeg. Jurnal Farmasi Indonesia, hal 154-159, Vol 4 No 2, ISSN: 1693-8615 EISSN: 2302-4291. Online: http://setiabudi.ac.id/ejurnal/index.php/farmasi-indonesia. 2017 November
Theresia U Sapara, Olivia Woworuntu, Juliatri. Efektivitas Antibakteri Ekstrak Daun Pacar Air (Impatiens balsamina L). Terhadap pertumbuhan Perphyromonas gingivalis. Jurnal Ilmiah Farmasi-UNSRAT Vol.5. No.4.ISSN 2302-2493. 2016 Nov
Misba Anggriani, Erwin Abdul Rahim, Syamsudin. Uji Aktivitas Antibakterial Polieugenol Berat Molekul Tinggi Dengan Penambahan Ekstrak Daun Pala (Myristica fragrans houtt). Jurnal Riset Kimia Vol 4 No2. 2018 Agustus 8
Ashish Deep Gupta, Vipin Kumar Bansal, Vikash Babu, Nishi Maithil. Chemistry, Antioxidant and Antimicrobial Potential of Nutmeg (Myristica fragrans houtt). Journal of Genetics Engineering and Biotechnology. 2013 January 23
Pricilia T Kaawoan, Jemmy Abidjuluw, Krista V Siagian. Uji Daya Hambat Ekstrak Etanol Buah Pala (Myristica fragrans hout) Terhadap Bakteri Penyebab Periodontitis Porphyromonas gingivalis Secara In vitro. Jurnal e- GiGi (eG), Volume 4 Nomor 2.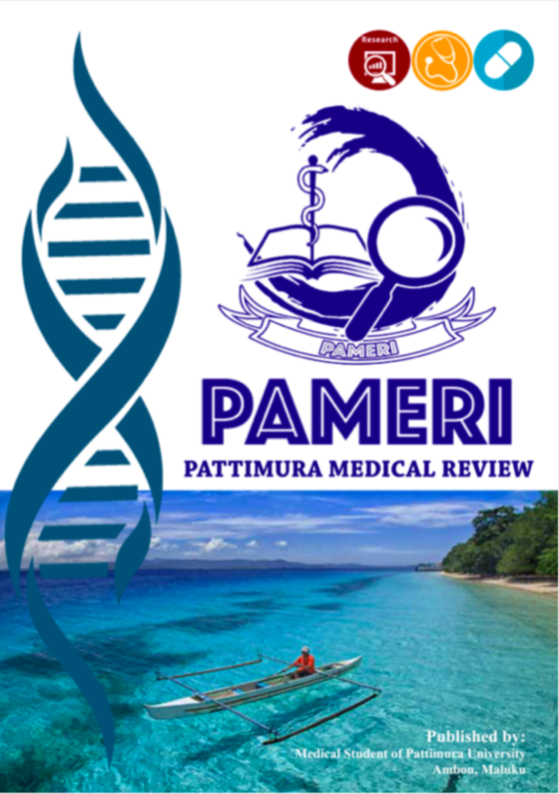 How to Cite
1.
Siegers B, Astuty E, Taihuttu Y. UJI ANTIBAKTERI EKSTRAK ETANOL DAGING BUAH PALA (Myristica Fragrans Houtt.) TERHADAP BAKTERI STAPHYLOCOCCUS AUREUS DAN ESCHERICHIA COLI. PAMERI [Internet]. 6Jun.2022 [cited 2Oct.2023];4(1):45-2. Available from: https://ojs3.unpatti.ac.id/index.php/pameri/article/view/6008
Copyright (c) 2022 PAMERI: Pattimura Medical Review
This work is licensed under a Creative Commons Attribution-NonCommercial-ShareAlike 4.0 International License.