KELAYAKAN USAHA PENANGKAPAN IKAN MENGGUNAKAN JARING INSANG (GILL NET) DI WADUK JATIGEDE KABUPATEN SUMEDANG
Wahyu Setiawan

Mahasiswa Fakultas Perikanan dan Ilmu Kelautan Universitas Padjadjaran

Atikah Nurhayati

Staff Dosen Fakultas Perikanan dan Ilmu Kelautan Universitas Padjadjaran

Titin Herawati

Staff Dosen Fakultas Perikanan dan Ilmu Kelautan Universitas Padjadjaran

Asep Agus Handaka

Staff Dosen Fakultas Perikanan dan Ilmu Kelautan Universitas Padjadjaran
Keywords:
gill net, feasibility business analysis, Jatigede Reservoir
Abstract
Gill net is one of the fishing gear used by Jatigede Reservoir fisherman. The purpose of this research is to analyzed the feasibility of fish catching business with gill net in Jatigede Reservoir. This research was conducted by used data collection method (observation, questioner, literature study) and method of data analysis (feasibility business analysis). The benefits of this research is expected to be informations and references for the research who will expand a fishing business with gill net at Jatigede Reservoir. The result of feasibility of fish catching business with gill net at Jatigede Reservoir is profit value Rp. 70.890.000, Break Event Point price and production (all species of fish) Rp. 4.154/kg and 2.136kg in a year, Benefit Cost Ratio 3,37, Payback Period           2 months and Net Present Value >1 Rp. 52.820.243, the fish catching business using gill net at Jatigede Reservoir is feasible to be developed.
Downloads
Download data is not yet available.
References
Berlia, M., I. Gumilar, L. Yuliadi, dan A. Nurhayati. 2017. Analisis Usaha dan Nilai Tambah Produk Kerupuk Berbahan Baku Ikan dan Udang. Jurnal Perikanan dan Kelautan. Vol. VIII No.2 (118-125). Universitas Padjadjaran.
Husnan S., dan Pudjiastuti E. 2004. Dasar-Dasar Manajemen Keuangan. Edisi ke-4. Yogyakarta: Unit Penerbit dan Pencetakan AMP YKPN.
Profil Daerah Kabupaten Sumedang Tahun 2013. Badan Perencanaan Pembangunan Daerah Kabupaten Sumedang. http://perpustakaan.bappenas.go.id/lontar/file?file=digital/141541-[_Konten_]-Konten%20C9923.pdf. Diakses tanggal 20 Maret 2017 pukul 19.40 WIB.
Riyanto. 2010. Dasar-dasar Pembelanjaan Perusahaan, Edisi 4. BPFE. Yogyakarta.
Rustijarno, S. 2007. Kelayakan Finansial Usaha Penangkapan Ikan di Pantai Trisik, Kecamatan Galur, Kabupaten Kulon Progo. Jurnal Perikanan (J. Fish. Sci.) IX (1): 161-166.
Singarimbun, M dan S. Effendi. 2008. Metode Penelitian Survey. LP3S. Jakarta.
Sugiarto et al. 2002. Ekonomi Mikro. Jakarta: PT Gramedia Pustaka Utama.
Umar, H. 2003. Studi Kelayakan Bisnis. Gramedia Pustaka Utama. Jakarta.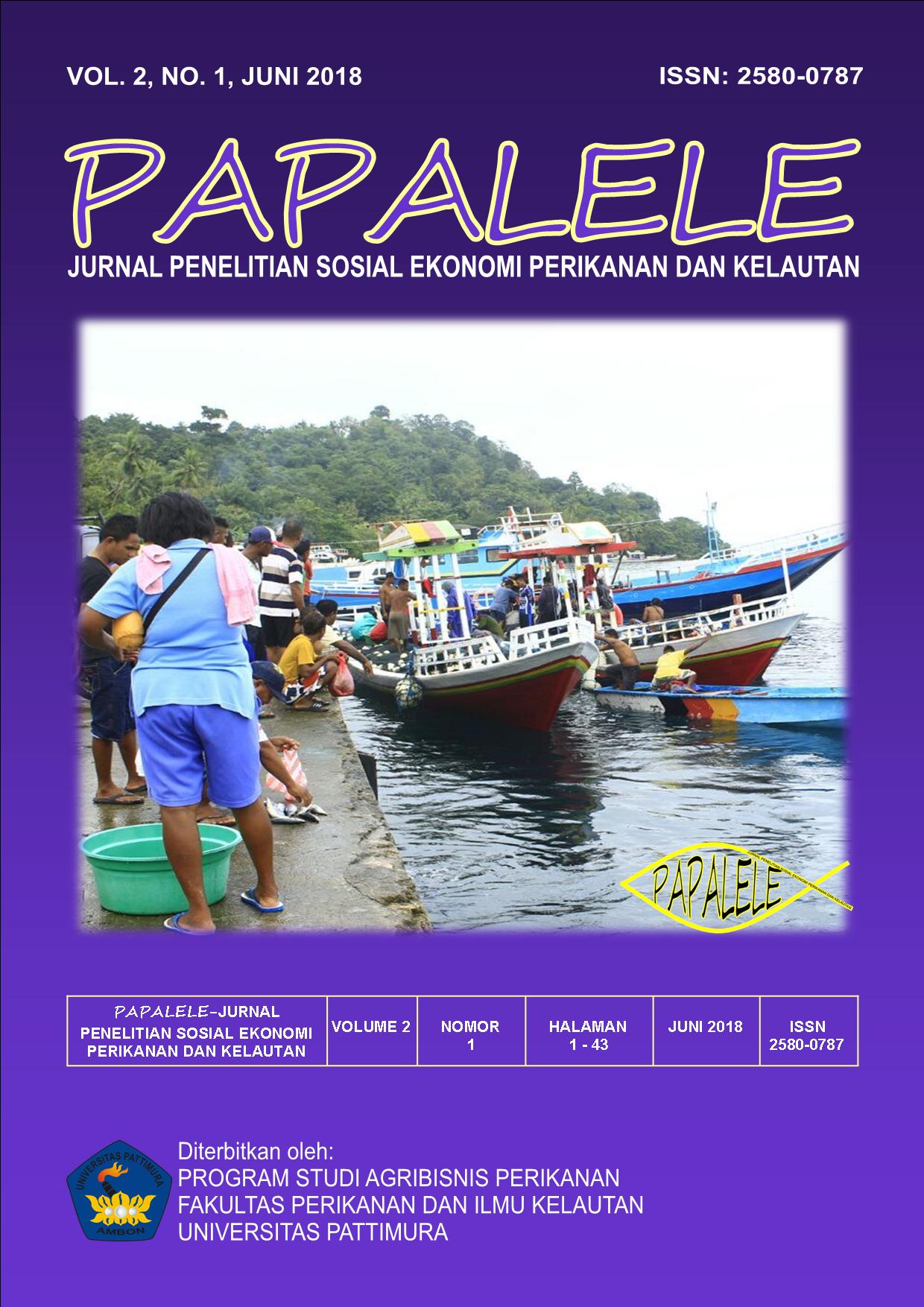 Copyright (c) 2018 Wahyu Setiawan, Atikah Nurhayati, Titin Herawati, Asep Agus Handaka
This work is licensed under a Creative Commons Attribution-NonCommercial 4.0 International License.