PERAN PEMUDA DALAM PENINGKATAN PENDAPATAN KELUARGA (STUDI KASUS PEMBUDIDAYA RUMPUT LAUT Eucheuma Cottoni DI DESA ALLANG ASAUDE KABUPATEN SERAM BAGIAN BARAT)
Michael Gilbert Duganata

Program Studi Magister Ilmu Kelautan Universitas Pattimura

Johanis Hiariey

Program Studi Magister Ilmu Kelautan Universitas Pattimura

Yoisye Lopulalan

Program Studi Magister Ilmu Kelautan Universitas Pattimura
Keywords:
Pemuda, Pendapatan, Kontribusi
Abstract
Development in the marine and fisheries sector is supported by opportunities for resource utilization and management that are distributed in three Fishery Management Areas (WPP), namely the Banda Sea (WPP 714), Seram Sea and Tomini Bay (WPP 715), Arafura Sea and Timor Sea (WPP 718). The fishery sector in Maluku creates opportunities for commercial businesses in the industrial sector, both in cultivation, fishing and processing, including small and large businesses. A fishery commodity that has good prospects and benefits fishing communities is seaweed cultivation. The West Seram District Government in its development policy has placed the Eucheuma cottonii seaweed commodity as a leading commodity to be developed. Youth roles are needed in cultivation activities, so it can be said that youth tend to place economic interests above other interests in determining how and where they should play a role in development. Share factor analysis is used to measure the contribution of youth income to family income and total family income is calculated by adding up youth income and family income.
Downloads
Download data is not yet available.
References
Assauri, 2008. Manajemen Produksi dan Operasi, LPFE-UI Edisi Revisi. Jakarta.
Bappeda SBB, 2010. Selayang Pandang Kabupaten Seram Bagian Barat Tahun 2010. Bappeda Kabupaten Seram Bagian Barat, Piru.
Dault A., 2007. Peningkatan Peran Pemuda Dalam Pembangunan Kelautan dan Perikanan di Kabupaten Sukabumi Jawa Barat. Pascasarjana IPB. Bogor.
Keputusan Menteri Kelautan dan Perikanan RI Nomor 5 tahun 2017. Tentang Estimasi Potensi, Jumlah Tangkapan Yang Diperbolehkan, dan Tingkat Pemanfaatan Sumber Daya Ikan di Wilayah Pengelolaan Perikanan Indonesia.
Maryunus R. P., 2012. Faktor Produksi Dan Perkembangan Produksi Usaha Budidaya Rumput Laut (Eucheuma cotonni) Di Kabupaten Seram Bagian Barat: Fakultas Perikanan dan Ilmu Kelautan Universitas Pattimura, Maluku.
Menpora. 2005. Rancangan Undang-Undang tentang Kepemudaan, Kementerian Pemuda dan Olahraga. Jakarta.
Natalia. 2014. Alokasi Waktu dan Kontribusi Pendapatan Ibu Rumah Tangga Terhadap Pendapatan Keluarga. Skripsi. Fakultas Pertanian. Universitas Hasanuddin.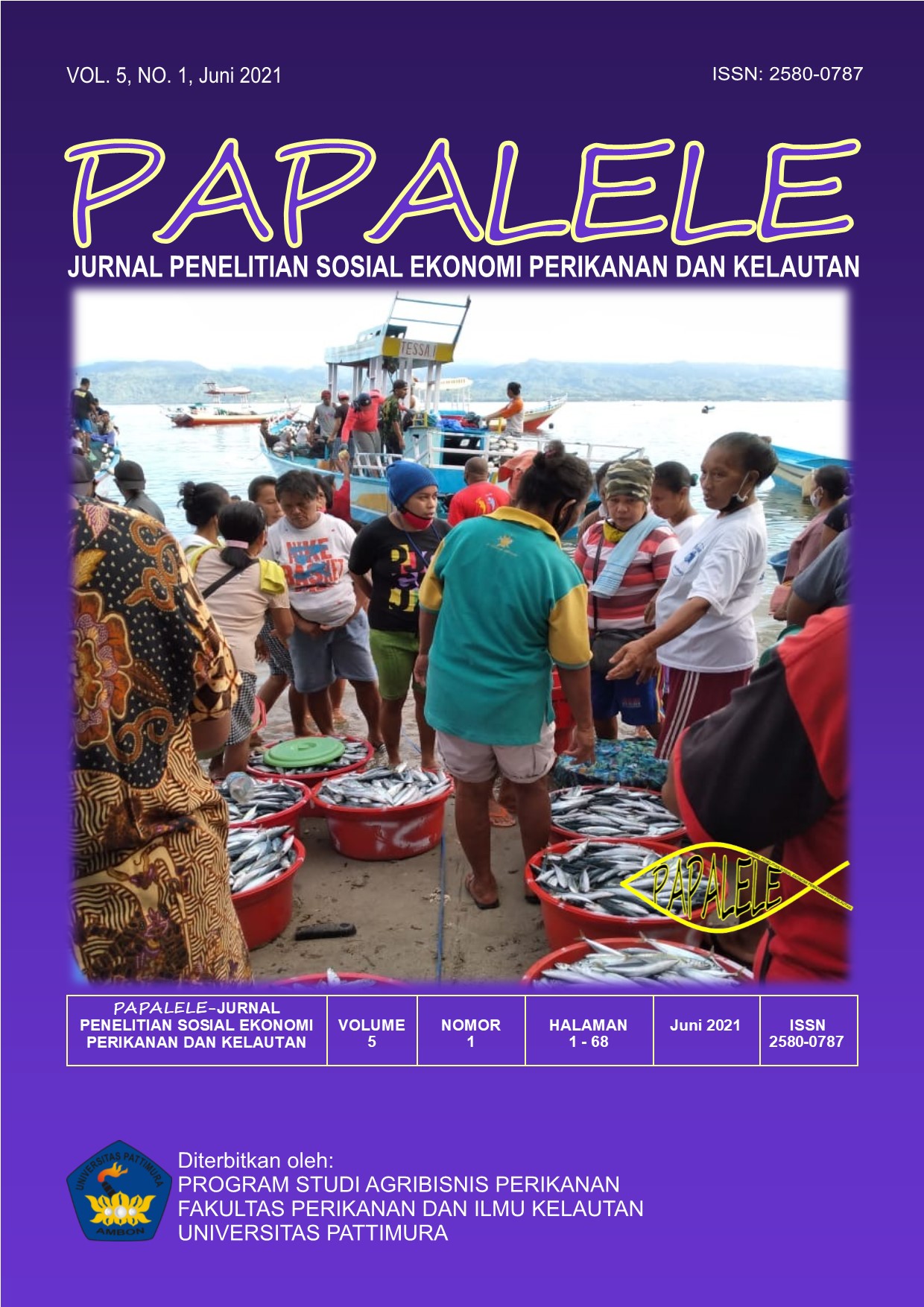 Copyright (c) 2021 Michael Gilbert Duganata, Johanis Hiariey, Yoisye Lopulalan
This work is licensed under a Creative Commons Attribution-NonCommercial 4.0 International License.