KAJIAN TEKNIS DAN FINANSIAL USAHA BUDIDAYA IKAN SISTEM KERAMBA JARING APUNG PADA PERAIRAN TELUK AMBON (KASUS KJA MILIK SUPM AMBON)
Stevanus M. Siahainenia

Program Studi Agrobisnis Perikanan Fakultas Perikanan dan Ilmu Kelautan Universitas Pattimura

Bawole Bawole

Program Studi Teknologi Hasil Perikanan Fakultas Perikanan dan Ilmu Kelautan Universitas Pattimura

Petrus D. Siahaya

Program Studi Teknologi Hasil Perikanan, Fakultas Perikanan dan Ilmu Kelautan Universitas Pattimura
Keywords:
Usaha budidaya sistem KJA, kajian teknis finansial, SUPM Ambon
Abstract
Ambon Bay is designated as a marine cultivation development area based on the allocation of RZWP3K space contained in the Maluku Regional Regulation Number 01 of 2018. The cultivation activities carried out by the Ambon SUPM (Maluku Fisheries Business School) institution uses a floating net-netting system, intended for training students as well as business facilities. The research objective, to describe the technical production of the KJA system; analyze business finances including expenses and income as well as financial ratios. The survey was conducted from March to May 2020, using a questionnaire approach to obtain primary data. Saturated sampling technique is used considering the number of samples is only 3 units of marine cage. The respondents used were key informants, namely the KJA managers. The results showed that the construction of the marine cage was made of HDPE with the same size for the three units. Production of grouper, pompano and snapper, respectively 700, 850, and 800 kg / cultivation period. Average expenditures reached Rp. 31,257,524 / cultivation period and an income of Rp. 56,242,476. ROI ratio for KJA units I, II, and III each of 29.50%; 30.80%, and 28.90%; the R / C ratios were 2.12, 2.99, and 2.93, respectively. BEP (unit) and BEP (price) for each KJA: unit I, 393 kg and Rp. 31,850; unit II, 443 kg and Rp. 24,306; while unit III, 419 kg and Rp. 24,450.
Downloads
Download data is not yet available.
References
[DKP Maluku] Dinas Kelautan Perikanan Maluku. 2017. Data Statistika Perikanan Propinsi Maluku
Basyarie, E. 2001. Teknologi Pembesaran Ikan Kerapu (Ephinephelus sp). Teknologi Budidaya Laut dan Pengembangan Sea Farming di Indonesia. Departemen Kelautan Dan Perikanan Bekerjasama Dengan Japan International Coorperation Agency. Jakarta.
Firdaus, M; M. P Hartria; dan H Rani. 2017. Usaha Budidaya Ikan Lele (Clarias sp) Pada Kawasan Minopolitan Kampung Lele. Kabupaten Boyolali. Buletin Ilmiah Marina, Sosial Ekonomi Kelautan dan Perikanan. Vol. 3 Tahun 2017. Hal. 78-82.
Novrianti, A. A. 2015. Strategi Peningkatan Pendapatan Asli Daerah (PAD) Sektor Kelautan dan Perikanan Kabupaten Tolitoli. e-Jurnal Katalogis. Vol. 3 No. 8. Hal. 176-187
Pello, F. S; E. M Adiwilaga; N. V Huliselan; dan A Damar. 2014. Pengaruh Musim Terhadap Beban Masukan Nutrien di Teluk Ambon Dalam. Jurnal Bumi Lestari. Vol. 14 No. 1. Hal. 63-73.
Pongasopan, S. D. R dan G. A Mangawe. 2001. Penelitian Budidaya Bandeng Intensif dalam Keramba Jaring Apung di Laut. Departemen Kelautan dan Perikanan.
Rochman, A; H Dewi; E Subekti. 2014. Analisis Usaha Budidaya Ikan Lele Dumbo (Clarias gariephinus) Di Desa Wonosari Kecamatan Bonang Kabupaten Demak. Jurnal Ilmu Pertanian. Vol. 10 No. 2. Hal 57-68.
Selaindong, G. F; N. Jusuf; dan K. R. 2019. Analisis Finansial Usaha Budidaya Ikan Nila (Oreochromis niloticus) Pada Keramba Jaring Apung Tancap Di Desa Eris Kecamatan Eris Kabupaten Minahasa Propinsi Sulawesi Utara. Jurnal Akulturasi. Vol. 7 No. 1. Hal. 1113-1119.
Siahainenia, St. M dan J Hiariey. 2017. Prospek Pengembangan UMKM Pengolahan Ikan di Kota Ambon. Papalele, Jurnal Penelitian Sosial Ekonomi Perikanan dan Kelautan. ISSN: 2580-0787. Vol. 1 No. 1 Juni 2017. Hal. 9-15.
Tanamal, F. H. 2019. Kelayakan Finansial Usaha Perikanan Huhate Di Kecamatan Saparua Kabupaten Maluku Tengah. Papalele, Jurnal Penelitian Sosial Ekonomi Perikanan dan Kelautan. ISSN: 2580-0787. Vol. 3 No. 2 Desember 2019. Hal. 87-95.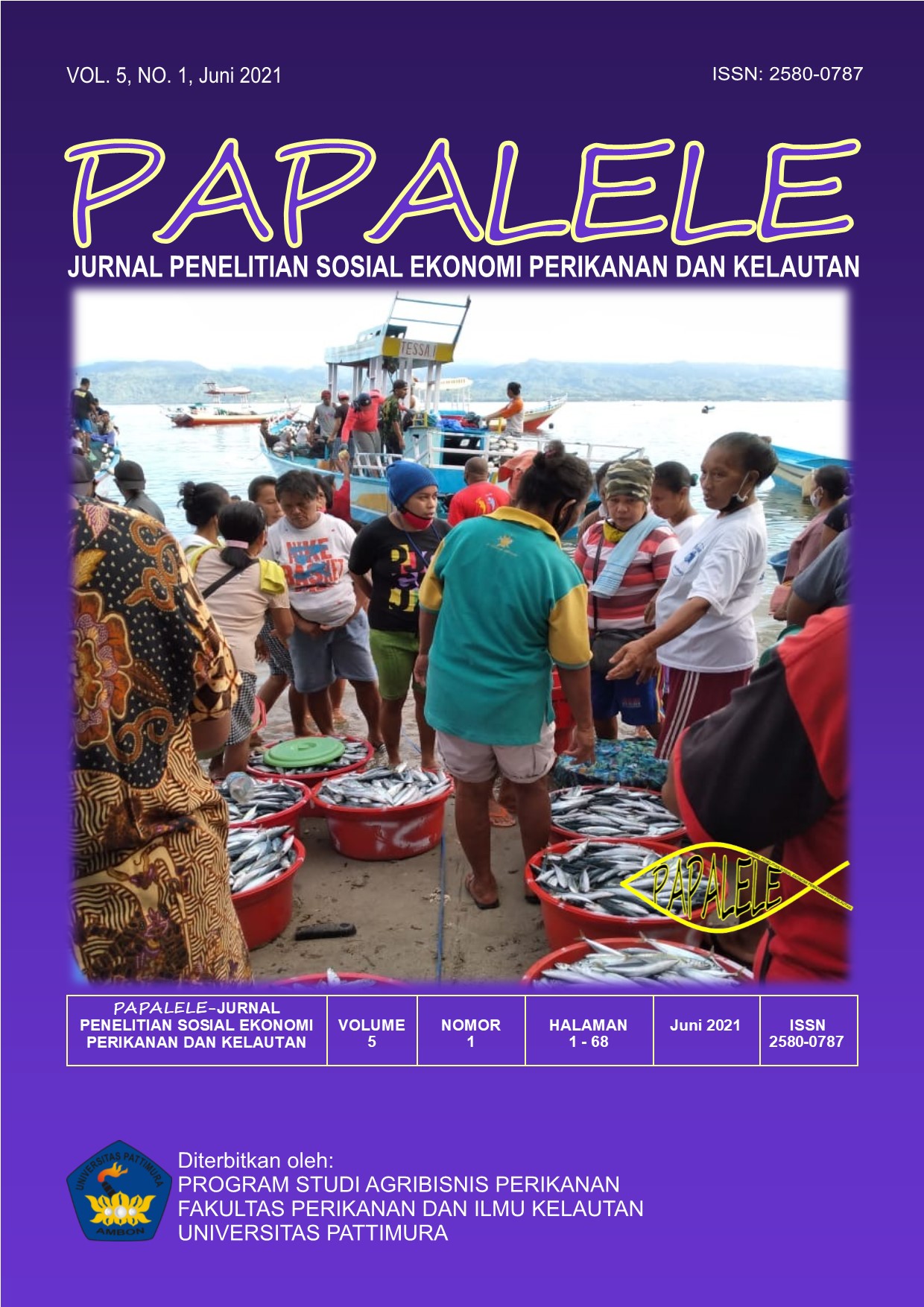 Copyright (c) 2021 Stevanus M. Siahainenia, Bawole Bawole, Petrus D. Siahaya
This work is licensed under a Creative Commons Attribution-NonCommercial 4.0 International License.