ALTERNATIF PENGELOLA WISATA PANTAI HALASSY NEGERI MORELLA KABUPATEN MALUKU TENGAH PADA FASE PRA DAN PASCA-KRISIS COVID-19
Eygner Gerald Talakua

Program Studi Agrobisnis Fakultas Perikanan dan Ilmu Kelautan Universitas Pattimura

Renoldy Lamberthy Papilaya

Program Studi Agrobisnis Fakultas Perikanan dan Ilmu Kelautan Universitas Pattimura

Willem Talakua

Program Studi Agrobisnis Perikanan Fakultas Perikanan dan Ilmu Kelautan Universitas Pattimura

Eli Serravallo Lewerissa

Universitas Pattimura
Keywords:
pengelola, wisata, pantai, Morella, Covid-19
Abstract
The involvement of related parties is needed in determining the right alternative to manage Halassy Beach Tourism, Morella Village, Central Maluku Regency. The purpose of this study was to determine the role of the government, private sector, and community in managing and determining the appropriate alternative managers in the pre and post crisis phases of covid-19. Through the purposive sampling method, 20 respondents were obtained from experts or stakeholders in the field of tourism and the economics of fisheries and marine resources. Primary data collection was conducted by interview using a google form questionnaire. Descriptive method is used to describe the general condition of the study area, the characteristics of the respondents, as well as the role of the government, private sector and community. Data analysis used analytical hierarchy process (AHP).The results show that in the pre covid-19 crisis phase, the government can build tourist areas that are environmentally and culturally aware; the community as managers are able to improve the information access for tourists; and the private sector contributes economic and social benefits to management capacity. In the post covid-19 crisis, the government needs to pay attention to tourism potential that can be developed; the community can apply the 4A concept; and the private sector can create more interesting ideas to bring in tourists. The right alternative for Halassy Beach Tourism management in the pre and post-covid-19 crisis phases is collaboration between the community, government and private sector, in the triple helix concept.
Downloads
Download data is not yet available.
References
Amin, D. Y. 2019. Kajian Pengembangan Obyek Wisata Bahari Pantai Hunimua Kabupaten Maluku Tengah. Jurnal Ekonomi Syariah, 1(1), 1-12.
Beritabeta. 2020. Imbas Corona di Maluku, 205 Karyawan di-PHK dan 1.793 Dirumahkan. https://beritabeta.com/news/ekonomi/205-karyawan-di-phk-dan-1-793-dirumahkan/
Engkus, Suparman N., Sakti, F. T., & Anwar, H. S. 2020. Covid-19: Kebijakan Mitigasi Penyebaran Dan Dampak Sosial Ekonomi di Indonesia. Digital Library UIN Sunan Gunung Djati, http://digilib.uinsgd.ac.id/id/eprint/30820.
Falatehan, A. F. 2016. Analytical Hierarchy Process (AHP) Teknik Pengambilan Keputusan Untuk Pembangunan Daerah. Yogyakarta, Indomedia Pustaka.
Imron, M. dan Anwar, M. S. 2019. Strategi Kolaborasi Pengembangan Wisata Berbasis Edukasi di Clungup Mangrove Conservation Desa Tambakrejo Kabupaten Malang. Journal of Governance Innovation, 1(1), 78-90.
Kurniati, D. 2020. Efek Virus Corona Sri Mulyani Sebut Skenario Terburuk Ekonomi RI Bisa Minus 0,4%. https://news.ddtc.co.id/sri-mulyani-sebut-skenario-terburuk-ekonomi-ri-bisa-minus-04--19942. Diakses 22 Februari 2021.
Resdiana, E. dan Sari, T. T. 2019. Penguatan Triple Helix Pada Sektor Pariwisata. Penerbit Universitas Wiraraja Sumenep, ISBN: 978-602-50605-9-5, Madura.
Muryani. 2013. Penerapan Proses Hirarki Analitik dan Valuasi Ekonomi Dalam Pengelolaan Sumber Daya Alam (Studi kasus: Taman Nasional Ujung Kulon, Banten). Jurnal ekonomi dan Bisnis, XXIII (1), 086-095.
Solemede, I., Tamaneha, T., Selfanay, R., Solemede, M., Walunaman, K., 2020. Strategi Pemulihan Potensi PariwisataBudaya di Provinsi Maluku (SuatuKajian Anaisis di Masa Transisi kenormalan Baru). Noumena: Jurnal Ilmu Sosial 1(1) pp 69-86.
Sugiyono. 2017. Statistika Untuk Penelitian. Alfabeta, Bandung.
Sugihamretha, I. D. G. 2020. Respon Kebijakan: Mitigasi Dampak Wabah Covid-19 Pada Sektor Pariwisata. The Indonesian Journal of Develompment Planning, IV (2), 191-206.
Tribunnews. 2020. Seluruh Destinasi Wisata di Maluku Ditutup Sementara, Wisatawan Asing Dipulangkan. https://www.tribunnews.com/corona/2020/03/23/seluruh-destinasi-wisata-di-maluku-ditutup-sementara-wisatawan-asing-dipulangkan. Diakses 23 Maret 2020.
Undang-Undang Nomor 10 Tahun 2009 tentang Kepariwisatawa. Lembaran negara Republik Indonesia Tahun 2009 Nomor 11.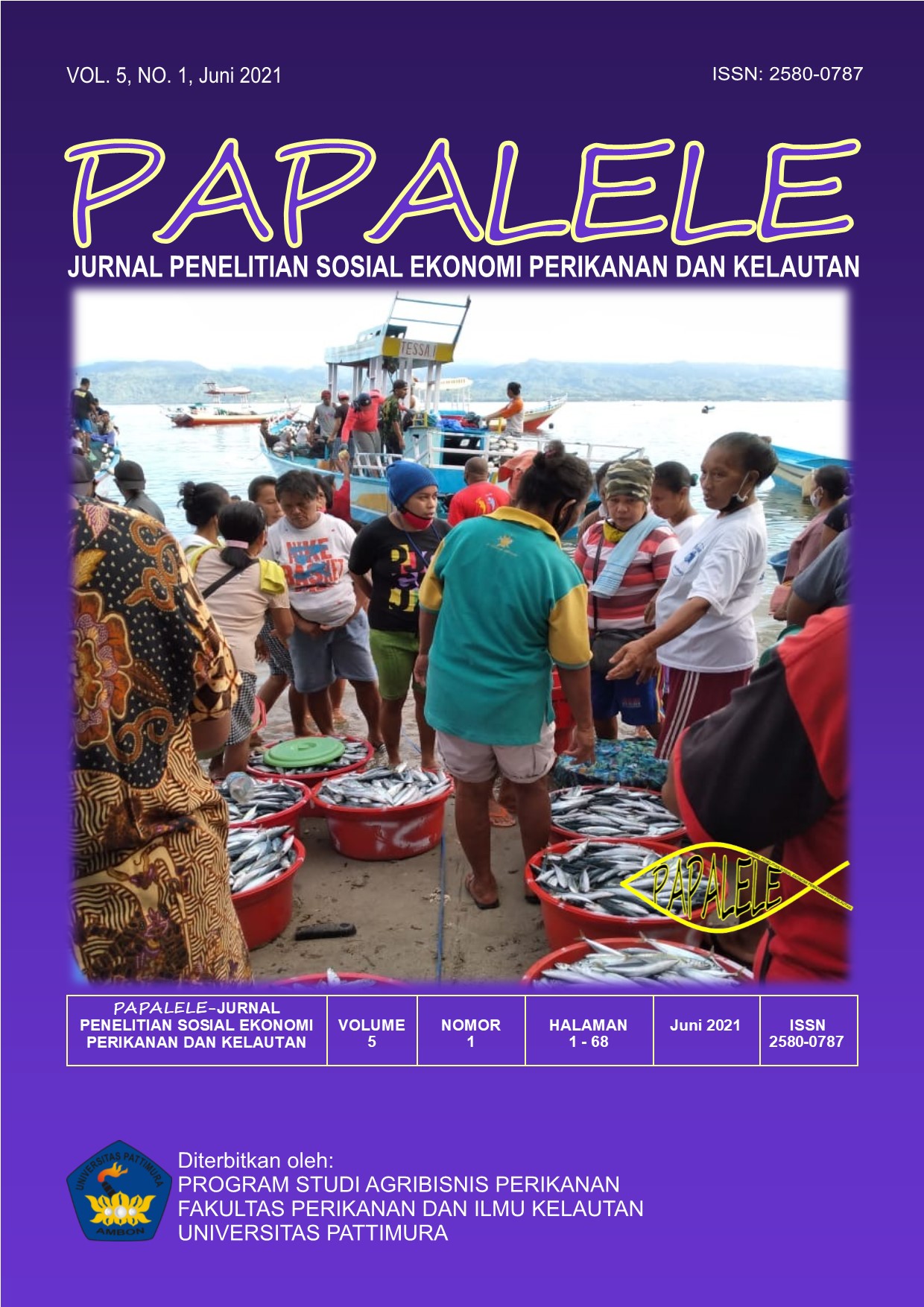 Copyright (c) 2021 Eygner Gerald Talakua, Renoldy Lamberthy Papilaya, Wellem Talakua, Eli Serravallo Lewerissa
This work is licensed under a Creative Commons Attribution-NonCommercial 4.0 International License.