KELAYAKAN USAHA BUDIDAYA KERAMBA JARING APUNG DI TELUK AMBON DALAM
S. R. M. Abukasim

Mahasiswa Program Studi Ilmu Kelautan Pascasarjana Universitas Pattimur

A. S. W. Retraubun

Dosen Program Studi Ilmu Kelautan Pascasarjana Universitas Pattimura

Dionisius Bawole

Dosen Program Studi Ilmu Kelautan Pascasarjana Universitas Pattimura
Keywords:
keramba jaring apung, kelayakan usaha, Teluk Ambon Dalam
Abstract
The waters of Inner Ambon Bay is potential for various fishery businesses, which if developed will provide high economic value. One of the fishery businesses in Inner Ambon Bay is aquaculture using floating net cages. The purpose of this study is to analyze the feasibility of aquaculture in Ambon Dalam Bay, Waiheru Village and Poka Village based on financial aspects with criteria such as Revenue Cost Ratio (R/C), Return on Investment (ROI), Payback Period (PP), and Break Event Point (BEP). The results show that the floating net cage cultivation business is feasible to develop, with an average R/C value in Waiheru Village and Poka Village >1, the average ROI value in Waiheru Village for HDPE cages is 48.64% and wooden cages is 109.70%, while in Poka Village is 44.25% for HDPE cages and 124.01% for wooden cages. The average payback period for HDPE cages in Waiheru Village is 2.12207 years or 2 years and 1 month and Poka Village is 2.26239 years or 2 years and 3 months, while for wooden cages in Waiheru Village 0.94529 years or 11 months and Poka Village 0.84094 years or 10 months. The production BEP benefits because the amount of production or fish sold is greater than the production BEP and the selling price for each type of fish cultivated has exceeded the BEP price.
Downloads
Download data is not yet available.
References
Mahyudin, K. 2008. Panduan Lengkap Agribisnis Lele. Penebar Swadaya, Jakarta.
Mamondol, M.R. 2016. Analisis Kelayakan Ekonomi Usaha Tani Padi Sawah di Kecamatan Pamona Puselemba. Jurnal Envira, 2(1), 1-10.
Mulyadi. 2009. Akuntansi Biaya. Yogyakarta: STIE YPKPN.
Nazir, M. 2003. Metode Penelitian. Penerbit Ghalia Indoesia, Jakarta
Sutisno, M. 2019. Analisis Kelayakan Finansial Usaha Keramba Jaring Apung Ganda (KJA-G) Di Danau Cirata Kabupaten Bandung Barat. Skripsi. Jakarta
Tandelilin, E. 2010. Portofolis dan Investasi Teori dan Aplikasi. Edisi Pertama. Yogyakarta: Kanisius.
Zakaria, I., Y. Konio., A. S. R. Baruadi. 2017. Analisis Kelayakan Usaha Budidaya Ikan Nila di Danau Limboto. Jurnal Ilmiah Perikanan dan Kelautan, 5(1).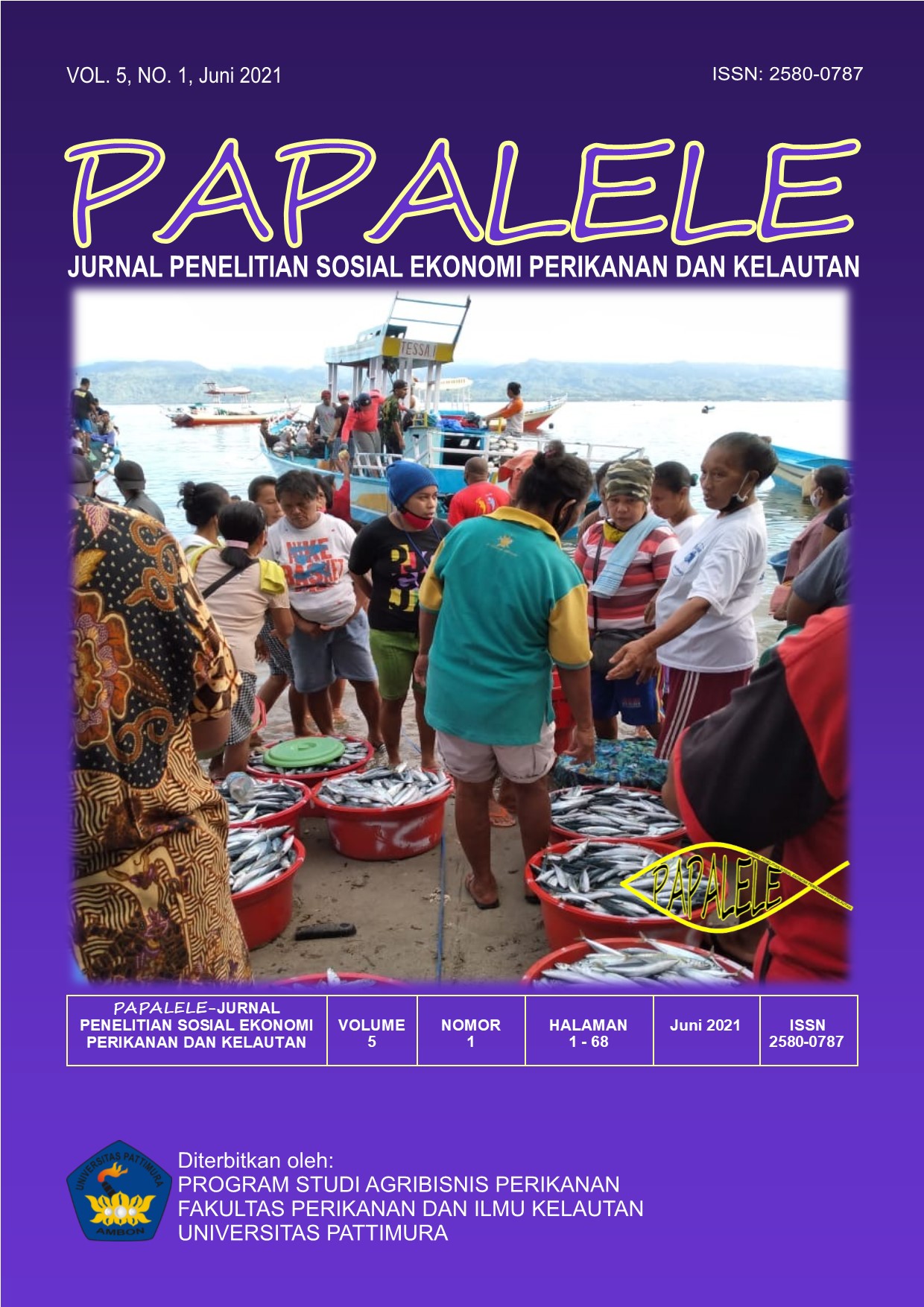 Copyright (c) 2021 S. R. M. Abukasim, Dionisius Bawole, A. S. W. Retraubun
This work is licensed under a Creative Commons Attribution-NonCommercial 4.0 International License.