ASOSIASI FAKTOR PEMELIHARAAN DAN STATUS INFEKSI NEWCASTLE DISEASE (ND) PADA PETERNAKAN AYAM BURAS DI KECAMATAN TELUK AMBON
Astri Dwiyanti Tagueha

Jurusan Peternakan Fakultas Pertanian Universitas Pattimura
Keywords:
Association, maintenance factor, infection status at farm level, ND, native chicken
Abstract
The objectives of this study were to determine the status of Newcastle Disease (ND) infection in native chicken at traditional farms, identifying risk factors, and knowing the association between these two. A total of 21 farms were purposively selected from three villages namely Hunuth, Rumah Tiga, and Hative Besar. Positive titre of ND was indicated if Hemaglutination Inhibition (HI) test is ≥ 24. The data were analyzed using descriptive statistics and risk ratio (RR) to describe association between variable and positive titre. The results showed from 93 chickens' blood sample there were 50.5% have ND antibodies. At the farm level, 66.67% of farms are positively infected , i.e : Hunuth 19.05%, Rumah Tiga 19.05%, and Hative Besar 28.57%. Factors that are positively associated with infection status at farm level are respectively : cage usage (1,88), manure treatment (1,46), water source (1,33), treatment of sick chicken (1,64), treatment of new chicken (1,54), treatment of dead chicken (1,64), and fence usage (1,5).
Downloads
Download data is not yet available.
References
Alexander, D. J. 2001. Newcastle Disease: The Gordon Memorial Lecture. British Poultry Science. 42(1): 5-22. DOI: 10.1080/713655022.
Alexander, D. J., & I. Capua. 2008. Avian Influenza in Poultry. World's Poultry Science Journal. 64(04): 513-532. DOI: 10.1017/S0043933908-000184.
Anamu, S., & O. K. Rohi. 2005. Studi Serologi dengan Uji Hambat Hemaglutinasi Terhadap Angsa yang dapat Bertindak sebagai Pembawa Newcastle Disease di D. I. Yogyakarta. J. Sain Veteriner. 23(1): 8-12. DOI: https://doi.org/ 10.22146/jsv.362.
Bernadeta, I., I. Yuanita, & L. Silitonga. 2015. Deteksi Antibodi Terhadap Avian Influenza pada Ayam Buras di Peternakan Rakyat Kota Palangka Raya. Jurnal Ilmu Hewan Tropika. 4 (1): 22-26.
[BPS] Badan Pusat Statistik. 2017. Kecamatan Teluk Ambon Dalam Angka. Ambon: Badan Pusat Statistik Kota Ambon.
[CFSPH] Center for Food Security and Public Health. 2008. Newcastle Disease. http://www.cfsph. iastate.edu. [08/04/2020].
Dam, A., P. Innes, & P. Bowers. 2012. Biosecurity Recommendation for Small Flock Poultry Owners [Factsheet]. Norhtern Ontario (CA): Ministry of Agriculture, Food and Rural Affairs.
Damron, W. S. 2006. Introduction to Animal Science. Global, Biological, Social and Industry Perspectives. Third Edition. New Jersey: Pearson Education Inc (Prentice Hall).
Darmawi, Fakhrurrazi, Wiliana, M. Dewi, M. Abrar, F. Jamin, & Z. H. Manaf. 2015. Deteksi Antibodi Serum Ayam Kampung (Gallus domesticus) terhadap Virus ND di Kota Banda Aceh. Jurnal Medika Veterinaria. 9(1): 5-8.
Hanson, J. G. 2008. Biosecurity for the Poultry Industry. http://www.wvu.edu/. [16/03/2020].
Kencana, G. A. Y., N. Suartha, M. P. Simbolon, A. N. Handayani, S. Ong, Syamsidan, & A. Kusumawati. 2015. Respons Antibodi Terhadap Penyakit Tetelo pada Ayam yang Divaksin Tetelo dan Flu Burung. Jurnal Veteriner. 16(2): 283-290.
Martin, S.W., A. H. Week, & P. Willenberg. 1987. Veterinary Epidemiology Principles and Methods. Ames: Iowa State University Press.
Nugraha, K. A. 2015. Studi Prevalensi Newcastle Disease Pada Unggas Peliharaan Masyarakat di Kecamatan Lore Utara Kabupaten Poso. [Skripsi]. Bogor: Institut Pertanian Bogor.
[OIE] Office International Epizootic. 2009. Newcastle Disease: Terrestrial Manual. http://www.oie.int. [31/3/2020].
Pertulla, L. 2009. Epidemiology and Charaterization of Newcastle Disease in Smallholder Poultry in Mozambique. [Thesis]. Uppsala: Sveriges lantbruksuniversitet.
Prasetyo, D. A. 2012. Faktor risiko terhadap infeksi virus ND (Newcastle Disease) pada peternakan unggas sektor IV di Kecamatan Cipunagara Kabupaten Subang. [Skripsi]. Bogor: Institut Pertanian Bogor.
Purnamawati, A., & E. Surdanika. 2008. Kajian Hasil Vaksinasi Avian Influenza pada Ayam Buras Rakyat di Kabupaten Tasikmalaya. Proceeding of AZWMC, p. 281-283. Bogor, 19-21 Agustus 2008.
Rajab, & B. J. Papilaya. 2012. Sifat Kuantitatif Ayam Kampung Lokal pada Pemeliharaan Tradisional. Agrinimal Jurnal Ilmu Ternak dan Tanaman. 2(2): 61-64.
Ryder, C. L. 2005. Agriculture Department Closes Live Bird Marke in philadelphia: No threat to human health of food safety. http://www.agriculture.state.pa.us/.[16/02/2020]
Santhia, K. 2003. Strategi Diagnosa dan Penanggulangan Newcastle Disease. Prosiding Seminar Regional Perunggasan. Universitas Udayana, Denpasar, 26 Oktober 2003.
Santosa, P. E., & R. Sutrisna. 2017. Titer Antibodi Avian Influenza dan Newcastle Disease dalam Serum Darah Itik Grower yang Diberi Ransum Berbeda Kadar Protein Kasar dan Divaksin dengan Vaksimune NDL AI. Jurnal Penelitian Pertanian Terapan. 17(1): 11-16.
Siahaan, S. J. 2007. Pengaruh Tingkat Biosekuriti Terhadap Pemaparan Avian Influenza Pada Unggas Air. [Tesis]. Bogor: Program Pasca Sarjana, Institut Pertanian Bogor.
Soeharsono. 2005. Zoonosis Penyakit Menular dari Hewan ke Manusia. Yogyakarta: Penerbit Kanisius.
Soejoedono, R. D, & E. Handharyani. 2005. Flu Burung. Jakarta: Penebar Swadaya.
Soejoedono, R. D., I. W. T. Wibawan, & Z. Hayati. 2005. Pemanfaatan Telur Ayam Sebagai Pabrik Biologis: Produksi "Yolk Immunoglobulin†(IgY) Anti Plaque dan Diare dengan Titik Berat pada Anti Streptococcus mutans, Escherichia coli dan Salmonella enterotidis. Laporan Riset Unggulan Terpadu. Kementerian Negara Riset dan Teknologi, Jakarta.
Suryani, L. 2015. Deteksi Titer Antibodi dan Identifikasi Faktor Penyebab Kegagalan Vaksinasi terhadap Newcastle Disease pada Ayam Petelur di Desa Bulo Kabupaten Sidenreng Rappang. [Skripsi]. Makasar: Program Studi Kedokteran Hewan, Fakultas Kedokteran, Universitas Hasanuddin.
Syukron, M. U., I. N. Suartha, & N. S. Dharmawan. 2013. Serodeteksi Penyakit Tetelo pada Ayam di Timor Leste. Indonesia Medicus Veterinus. 2(3): 360-368.
Tabbu, C. R. 2000. Penyakit Ayam dan Penanggulangannya: Penyakit Bakterial, Mikal, dan Viral. Volume 1. Yogyakarta: Penerbit Kanisius.
Wibowo, M. H., & S. Amanu. 2010. Perbandingan Beberapa Program Vaksinasi Penyakit Newcastle pada Ayam Buras. Jurnal Sain Veteriner. 28(1): 27-35. DOI: https://doi.org/ 10.22146/jsv.446.
Zainuddin, D., & W. T. Wibawan. 2007. Biosekuriti dan Manajemen Penanganan Penyakit Ayam Lokal. http://www.peternakan.litbang.deptan. go.id/. [04/04/2020].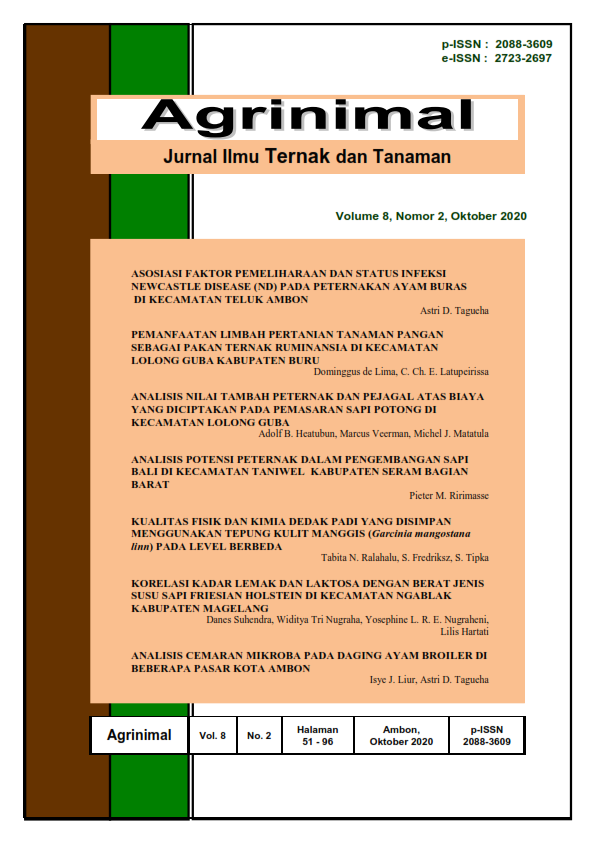 How to Cite
TaguehaA. (2020). ASOSIASI FAKTOR PEMELIHARAAN DAN STATUS INFEKSI NEWCASTLE DISEASE (ND) PADA PETERNAKAN AYAM BURAS DI KECAMATAN TELUK AMBON. Agrinimal Jurnal Ilmu Ternak Dan Tanaman, 8(2), 51-56. https://doi.org/10.30598/ajitt.2020.8.2.51-56