ANALISIS NILAI TAMBAH (VALUE ADDED) PETERNAK DAN PEJAGAL ATAS BIAYA YANG DICIPTAKAN PADA PEMASARAN SAPI POTONG DI KECAMATAN LOLONG GUBA, KABUPATEN BURU, PROVINSI MALUKU
Adolf Heatubun

Fakultas Ekonomi Universitas Kristen Indonesia

Marcus Veerman

Jurusan Peternakan Fakultas Pertanian Universitas Pattimura

Michel J. Matatula

Jurusan Peternakan Fakultas Pertanian Universitas Pattimura
Keywords:
Identification, value added activities, reward, value added, cattle
Abstract
The concept of added value in agriculture has an important role in development, both production, consumption and trade. Producers, consumers, and market players take advantage of this concept to create productivity in their respective environments. This study aims to analyze the added value of the products created by beef cattle breeders and cattle slaughterers in Lolong Guba District, Buru Regency. The study used a survey method, the sample was selected by purposive sampling for the districts, breeders and slaughterers. The study was conducted from April to May 2020. The analysis used identification, measurement and ratio techniques. The results showed that value-added activities of breeders included herding and fattening cattles. For the slaughterers includes buying and slaughtering cattles and selling meat. The cost of the breeders includes providing forage, caring for and grazing the livestock. The cost of slaughtering includes the purchase, transportation, retribution and slaughter of cattles at arbatoir. The added value at cattle breeders is higher in comparison to slaughterers. Productivity creates added value at cattle breeders higher than slaughterers. Breeders are superior in raising livestock, while slaughterers are superior in frequency of slaughtering time.
Downloads
Download data is not yet available.
References
Al-Awawdeh, H. A., S. A. K. Al-Sakini. 2018. The Impact of Economic Value Added, Market Value Added and Traditional Accounting Measures on Shareholders' Value: Evidence from Jordanian Commercial Banks. International Journal of Economics and Finance. 10(10): 40-51. DOI:10.5539/ijef.v10n10p40.
Amanor-Boadu, V. 2003. A Conversation about Value-Added Agriculture. Value-Added Business Development Program Department of Agricultural Economics. Kansas State University.
Aschea, F., S. C. Kumbhakarb, & R. Tvetera. 2007. Testing Cost vs Profit Function. Applied Economics Letters. 14: 715-718. DOI: https://doi.org/10.1080/13504850600592655.
[BPS] Badan Pusat Statistik Kabupaten Buru. 2019. Kabupaten Buru Dalam Angka Tahun 2019. Namlea: Badan Pusat Statistik Kabupaten Buru.
Bryan, B. A., D. King, & J. R. Ward. 2011. Modelling and Mapping Agricultural Opportunity Costs to Guide Landscape Planning for Natural Resource Management. Ecological Indicators. 11(1): 199-208.
Carraher, S. M., M. R. Buckley, & S. C. Carraher. 2008. Research Challenges in Sustainable Strategic Management: Change and Sustainable. International Journal Sustainable Strategic Management. 1(1): 1-14.
Hall, J. H. 2013. Toward Improved Use of Value Creation Measures In Financial Decision-Making. The Journal of Applied Business Research, Vol. 29 (4): pp. 1175–1188. DOI https://doi.org/10.19030/jabr.v29i4.7924.
Lu, R., & R. Dudensing. 2015. What Do We Mean by Value-Added Agriculture?. Choices. 30(316): 1–8.
Prasetyo, E., S. Sunarso, P. B. Santosa, & E. Rianto. 2012. The Influence of Agribusiness Subsystem on Beef Cattle Fattening Farm's Profit in Central Java. Journal of the Indonesian Tropical Animal Agriculture. 32(2): 121-126. DOI: https://doi.org/10.14710/jitaa.37.2.121-126.
Puspitaningtyas, Z., A. Toha, & A. Prakoso. 2018. Understanding the Concept of Profit as An Economic Information Instrument: Disclosure of Semantic Meanings. Accounting and Financial Control. , Vol. 1(1), pp. 27-36. DOI: http://dx.doi.org/10.21511/afc.02(1).2018.03.
Qureshi, M. I., K. Zaman, & I. A. Shah. 2010. Relationship Between Rewards and Employee's Performance in the Cement Industry in Pakistan. Journal of International Academic Research. 10(2): 19-29. DOI: 10.4236/ti.2013.43019.
Salvatore, D. 2005. Managerial Economics. Ekonomi Manajerial dalam Perekonomian Global. Edisi Kelima. Jakarta: Penerbit Salemba Empat.
Satka, E. 2019. The Impact of Remuneration on Employee Performance in The Trading Company. Human Resource Management Journal. 10(3): 46-62.
Widarti, Subiyanto, & J. Pramajaya. 2018. The Effect of Profit Management On Company Performance. International Journal of Academic Research in Economics and Management Sciences. 7 (4): 44–63.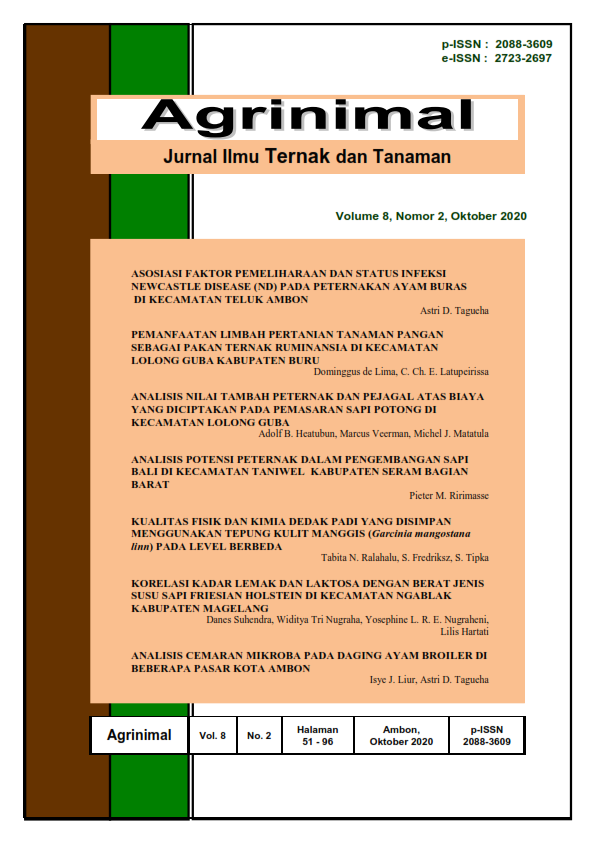 How to Cite
HeatubunA., VeermanM., & MatatulaM. (2020). ANALISIS NILAI TAMBAH (VALUE ADDED) PETERNAK DAN PEJAGAL ATAS BIAYA YANG DICIPTAKAN PADA PEMASARAN SAPI POTONG DI KECAMATAN LOLONG GUBA, KABUPATEN BURU, PROVINSI MALUKU. Agrinimal Jurnal Ilmu Ternak Dan Tanaman, 8(2), 65-73. https://doi.org/10.30598/ajitt.2020.8.2.65-73