KORELASI KADAR LEMAK DAN LAKTOSA DENGAN BERAT JENIS SUSU SAPI FRIESIAN HOLSTEIN DI KECAMATAN NGABLAK KABUPATEN MAGELANG
Danes Suhendra

Program Studi Peternakan Fakultas Pertanian Universitas Tidar

Widitya Tri Nugraha

Program Studi Peternakan Fakultas Pertanian Universitas Tidar

Yosephine L. R. E. Nugraheni

Program Studi Peternakan Fakultas Pertanian Universitas Tidar

Lilis Hartati

Program Studi Peternakan Fakultas Pertanian Universitas Tidar
Keywords:
FH cows, fat content, lactose content, milk density
Abstract
Milk density and fat content are used as indicators of milk production from dairy farmer by Milk Proccessing Industry (MPI). Some MPI determines the price of milk based on fat  and milk lactose content. This research was aimed to study the correlation of fat content, lactose content, and milk density. The material used were 90 of lactation FH cows in the II – III lactation periode and month of lactation are 2 – 3. The analysis method used was simple linear correlation regresion. The results showed that during increased milk fat and lactose contents, will increased milk density. Fat and lactose content are significantly correlated with milk density (P<0.01). The overall calculation shows that there was a relationship between fat content and lactose content to milk density, each 70.8 and 68.7%. Fat content with milk density, and lactose content with milk density showed a strong positive correlations. In conclusion, there was a correlation between fat content and lactose content with milk density. The correlation of fat content and lactose content with milk density were the higher fat and lactose content, higher milk density.
Downloads
Download data is not yet available.
References
Anindita, N. S., & D. S. Soyi. 2017. Studi Kasus: Pengawasan Kualitas Pangan Hewani Melalui Pengujian Kualitas Susu Sapi yang Beredar Di Kota Yogyakarta. Jurnal Peternakan Indonesia. 19(2): 96 – 105.
Badan Standarisasi Nasional. 2011. Standar Nasional Indonesia: Susu Segar Bagian-1: Sapi. Jakarta: Badan Standarisasi Nasional.
Christi, R. F., & T. Rohayati. 2017. Kadar Protein, Laktosa, dan Bahan Kering Tanpa Lemak Susu Kambing Peranakan Ettawa yang Diberi Konsentrat Terfermentasi. Jurnal Ilmu Peternakan (JANHUS). 1(2): 19-27.
Guetouache, M., G. Bettache, & M. Samir. 2014. Composition and Nutritional Value of Raw Milk-Review. Issues in Biological Sciences and Pharmaceutical Research. 2(10): 115 – 122.
Prasetya, H. 2012. Beternak Sapi Perah. Yogyakarta: Pustaka Baru Press.
Saputra, F.T. 2018. Evaluation of The Total Solid Fresh Milk of Tawang Argo Farmers Based On Indonesian National Standards. Journal of Tropical Livestock. 19(1): 22-26.
Siregar, S. B. 1993. Sapi Perah, Jenis, Teknik Pemeliharaan dan Analisis Usaha. Jakarta: Penebar Swadaya.
Sugiyono. 2006. Metode Penelitian Kuantitatif Kualitatif dan R&D. Bandung: Alfabeta.
Suhendra, D., G. T. Anggiati, S. Sarah, A. F. Nasrullah, A. Thimoty, & D. W. C. Utama. 2015. Tampilan Kualitas Susu Sapi Perah Akibat Imbangan Konsentrat dan Hijauan yang Berbeda. Jurnal Ilmu Ilmu Peternakan. 25(1): 42-46.
Suhendra, D., Sudjatmogo, & Widiyanto. 2017. Pengimbuhan Minyak Jagung Terproteksi dengan Berbagai Level Protein Ransum Sapi Friesian Holstein Meningkatkan Kadar Asam Lemak Tidak Jenuh Susu. Jurnal Veteriner. 19(1): 100-108.
Syafri, A., D. W. Harjanti, & S. A. B. Santoso. 2014. Hubungan Antara Konsumsi Protein Pakan dengan Produksi, Kandungan Protein dan Laktosa Susu Sapi Perah Di Kota Salatiga. Animal Agriculture Journal. 3(3): 450-456.
Syarief, M. Z., & C. D. A. Sumoprastowo. 1990. Ternak Perah. Jakarta: CV. Yasaguna.
Utari, F. D., B. W. H. E. Prasetyono, & A. Muktiani. 2012. Kualitas Susu Kambing Perah Peranakan Ettawa yang Diberi Suplementasi Protein Terproteksi Dalam Wafer Pakan Komplit Berbasis Limbah Agroindustri. Animal Agriculture Journal. 1(1): 427-441.
Vidiyanto, T., Sudjatmogo, & S. M. Sayuthi. 2015. Tampilan Produksi, Berat Jenis, Kandungan Laktosa dan Air Pada Susu Sapi Perah Akibat Interval Pemerahan yang Berbeda. Animal Agriculture Journal. 4(2): 200-203.
Zurriyati, Y., R. R. Noor, & R. R. A. Maheswari. 2011. Analisis Molekuler Genotipe Kappa (k-Kasein) dan Komposisi Susu Kambing Peranakan Etawah, Saanen dan Persilangannya. Jurnal Ilmu Ternak dan Veteriner. 16(1): 61-70.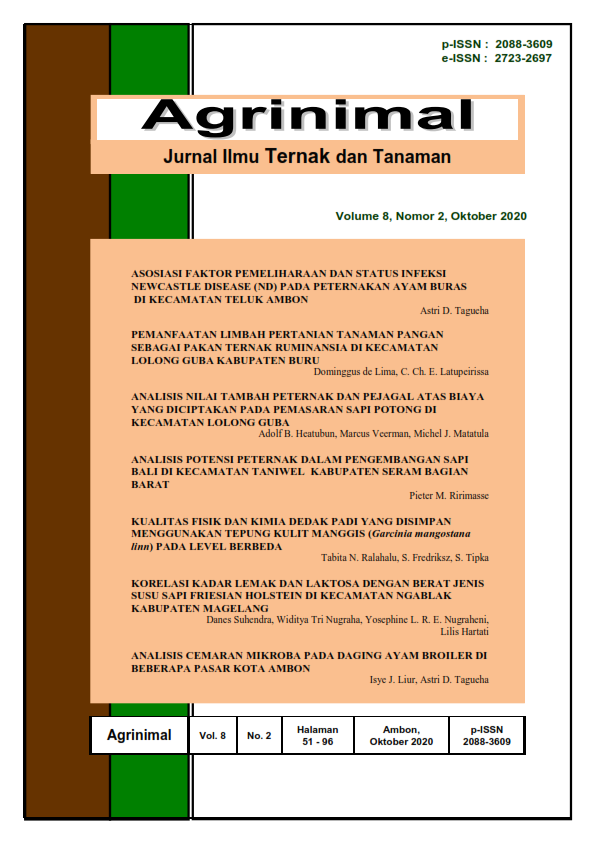 How to Cite
SuhendraD., NugrahaW., NugraheniY., & HartatiL. (2020). KORELASI KADAR LEMAK DAN LAKTOSA DENGAN BERAT JENIS SUSU SAPI FRIESIAN HOLSTEIN DI KECAMATAN NGABLAK KABUPATEN MAGELANG. Agrinimal Jurnal Ilmu Ternak Dan Tanaman, 8(2), 88-91. https://doi.org/10.30598/ajitt.2020.8.2.88-91