ANALISIS CEMARAN MIKROBA PADA DAGING AYAM BROILER DI BEBERAPA PASAR KOTA AMBON
Isye Jean Liur

Jurusan Peternakan Fakultas Pertanian Universitas Pattimura

Astri D. Tagueha

Jurusan Peternakan Fakultas Pertanian Universitas Pattimura
Keywords:
Broiler meat, microbial contamination, Ambon market
Abstract
Chicken meat is one of the foods favored by the public because it has high nutritional content, delicious taste, affordable prices, and a soft fiber texture that makes it easy to digest. The high nutritional content can make chicken meat a good medium for the growth and development of microorganisms.The research was conducted to determine the amount of bacterial contamination in broiler meat sold in several markets in Ambon city. This study used an experimental method, namely the analysis of microbial contamination in the famous chicken meat sample in Ambon City. The research was started by taking samples of chicken breasts and thighs from various markets in Ambon city. The sample used was chicken meat that had been stored for 2 days. Furthermore, the bacterial isolation stage is carried out. The results showed that the microbial contamination in the sample of chicken breasts and thighs was still below the maximum limit (less than 1 x 106 cfu/g) determined by the National Standardization Agency. Broiler chicken meat in Ambon City is safe for consumption by the public.
Downloads
Download data is not yet available.
References
Aerita, A. N., E. T. Pawenang, & Mardiana. 2014. Hubungan Higiene Pedagang dan Sanitasi dengan Kontaminasi Salmonella pada Daging Ayam Potong. Unnes Journal of Public Health. 3(4): 9-16.
Afrianti,M., B. Dwiloka, & B. E. Setiani. 2013. Total Bakteri, PH dan Kadar Air Daging Ayam Broiler Setelah Direndam dengan Ekstrak Daun Senduduk (Melastomamala Bathricum L.). Jurnal Pangan dan Gizi. 4(1): 49–56.
Afshari, A., A. Baratpour, S. Khanzade, & A. Jamshidi. 2018. Salmonella enteritidis and Salmonella typhimorium Identification in Poultry Carcasses. Iran J. Microbiol. 10(1): 45-50.
Badan Standarisasi Nasional. 2009. SNI 3924 2009: Mutu Karkas dan Daging Ayam. Jakarta: Badan Standardisasi Nasional.
Bakara, V.F.S., M. Tahsin, & Hasnudi. (2014). Analisis Bakteri Salmonella sp. pada Daging Ayam Potong yang Dipasarkan Pada Pasar Tradisional dan Pasar Modern Di Kota Medan. J. Peternakan Intergratif. 3(1): 71-83.
[Ditjen PKH] Direktorat Jenderal Peternakan dan Kesehatan Hewan. 2018. Statistik Peternakan dan Kesehatan Hewan. Jakarta: Kementerian Pertanian RI.
Gibson, B., D J. Wilson, E. Feil, & A. Eyre-Walker. 2018. The Distribution of Bacterial Doubling Times In The Wild. Proc. of the Royal Society B: Biological Sciences. 285(1880):20180789. DOI: https://dx.doi.org/ 10.6084 /m9.
Ginting, C., S. Ginting, & I. Suhaidi. 2014. Pengaruh Jumlah Bubuk Kunyit Terhadap Mutu Tahu Segar Selama Penyimpanan Pada Suhu Ruang. Jurnal Rekayasa Pangan dan Pertanian. 2(4) : 52-60.
Hajrawati, M. Fadliah, Wahyuni, & I. I. Arief. 2016. Kualitas Fisik, Mikrobiologis dan Organoleptik Daging Ayam Broiler Pada Pasar Tradisional Di Bogor. Jurnal Ilmu Produksi dan Teknologi Hasil Peternakan. 04(3): 386-389.
Irmayani, Rasbawati, I. D. Novieta, & Nurliyani. 2019. Analisis Cemaran Mikroba dan Nilai pH Daging Ayam Broiler di Pasar Tradisional Lakessi Kota Pare-Pare. Jurnal Galung Tropika. 8(1): 1-8. DOI: http://dx.doi.org/10.31850/jgt.v8i1.431.
Kurniadi, Y., Z. Saam, & D. Afandi. 2013. Faktor Kontaminasi Bakteri E. coli pada Makanan Jajanan di Lingkungan Kantin Sekolah Dasar Wilayah Kecamatan Bangkinang. Jurnal Ilmu Lingkungan. 7(1): 28-37.
Lawrie. 2003. Ilmu Daging (Penerjemah: A. Parakkasi dan Yudha A). Jakarta: Universitas Indonesia Press.
Manning, D. S. 2010. Escherichia coli Infection. New York: Chelsea House Pub.
Matulessy, N. D., E. Suryanto, & Rusman. 2010. Evaluasi Karakteristik Fisik, Komposisi Kimia dan Kualitas Mikrobia Karkas Broiler Beku yang Beredar Di Pasar Tradisional Kabupaten Halmahera Utara, Maluku Utara. Jurnal Peternakan. 34(3): 178–185.
Ramadhani, W. M., I. Rukmi, & S. N. Jannah. 2020. Kualitas Mikrobiologis Daging Ayam Broiler di Pasar Tradisional Banyumanik Semarang. Jurnal Biologi Tropika. 3(1): 8-16.
Ristanti, E.W., S. Kismiati, & D. W. Harjanti. 2017. Pengaruh Lama Pemaparan pada Suhu Ruang Terhadap Total Bakteri, pH dan Kandungan Protein Daging Ayam Di Pasar Tradisional Kabupaten Semarang. Agromedia. 35(1): 50-57.
Rouger, A., O. Tresse, & M. Zagorec. 2017. Bacterial Contaminants of Poultry Meat: Sources, Species, and Dynamics. Microorganisms. 5(50): 1-16. DOI: doi:10.3390/microorganisms5030050.
Sangadji, I., Jurianto, & M. Rijal. 2019. Lama Penyimpanan Daging Ayam Broiler Terhadap Kualitasnya Ditinjau Dari Kadar Protein dan Angka Lempeng Total Bakteri. Jurnal Biology Science & Education. 8(1): 47-58.
Sartika, D., Susilawati, & G. Arfani. 2016. Identifikasi Cemaran Salmonella sp. pada Ayam Potong dengan Metode Kuantifikasi di Tiga Pasar Tradisional dan Dua Pasar Modern di Kota Bandar Lampung. Jurnal Teknologi Industri dan Hasil Pertanian. 21(2): 89-96.
SNI. 2009. Batas Maksimum Cemaran Mikroba dalam Pangan. SNI 7388:2009.
Soeparno. 2009. Ilmu dan Teknologi Daging. Cetakan Kelima. Yogyakarta: Gadjah Mada University Press.
Suardana, I. W., & Swacita. 2009. Higiene Makanan. Bali: Udayana University Press.
Sukmawati. 2017. Identify of floc-forming bacteria in shrimp pond in Pangkep District. J. Bio Science. 1(2): 22–28.
Sukmawati, R., & A. Fahrizal. 2018. Analisis Cemaran Mikroba pada Daging Ayam Broiler di Kota Makassar. Scripta Biologica. 5(1): 51-53. DOI: https://doi.org/10.20884/1.SB.2018.5.1.799.
Utari, L. K., R. Riyanti, & P. E. Santosa. 2016. Status Mikrobiologis Daging Broiler Di Pasar Tradisional Kabupaten Pringsewu. Jurnal Ilmiah Peternakan Terpadu. 4(1): 63-66.
Zakour, P. 2009. Good Manufacturing Practices. Dalam Heredia N, Wesley I, Garcia S, editor. Microbiologically Safe Foods. Mexico: Wiley.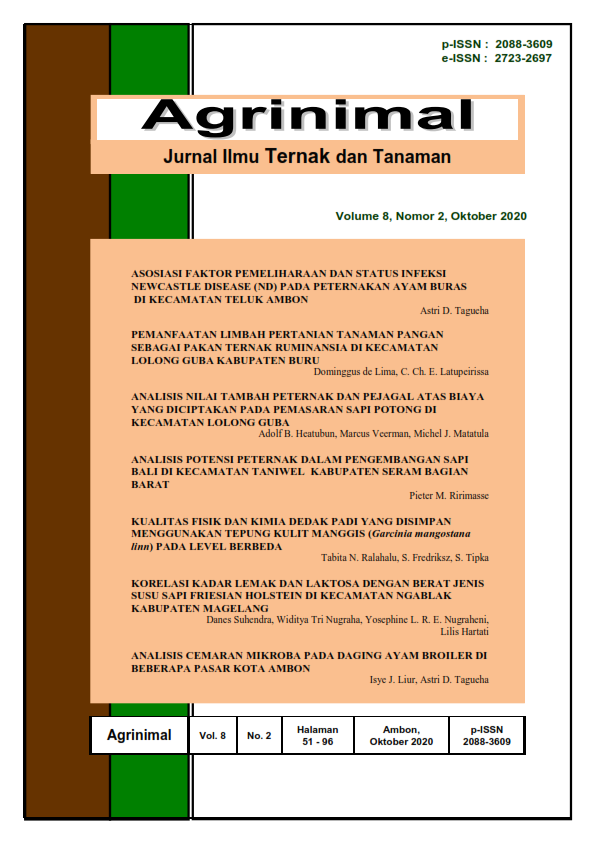 How to Cite
LiurI., & TaguehaA. (2020). ANALISIS CEMARAN MIKROBA PADA DAGING AYAM BROILER DI BEBERAPA PASAR KOTA AMBON. Agrinimal Jurnal Ilmu Ternak Dan Tanaman, 8(2), 92-96. https://doi.org/10.30598/ajitt.2020.8.2.92-96