PERCEPTION OF THE ROLE OF ANIMAL HUSBANDRY IN THE DEVELOPMENT OF GERDARSI BEACH AS A TOURIST ATTRACTION
Fredrik M. Manaha

Dinas Pariwisata Kabupaten Maluku Barat Daya

Michel J. Matatula

Jurusan Peternakan Fakultas Pertanian Universitas Pattimura

Heriyanus Jesayas

Jurusan Peternakan Fakultas Pertanian Universitas Pattimura
Keywords:
Community participation of breeders, development, tourist attractions
Abstract
This study aims to describe the perception and participation of farmers, farmers community of Klis Village - Nyama Hamlet in the development of gerdarsi beach attractions. Research method is descriptive qualitative. Using interview data collection techniques, observation and documentation. The results of this study showed the form of participation of farmers community in the development of gerdarsi beach tourism attraction is 1). Donate picket. 2). Keep the location security. 3). Maintaining the beauty of the location. 4). Art. The participation rate of the community of farmers in supporting the development, implementation and utilization. Thus it can be said that the community of farmers has participated well in the process of development and development of gerdarsi beach attractions.
Downloads
Download data is not yet available.
References
[BPS] Badan Pusat Statistik Kabupaten Maluku Barat Daya (MBD). 2020. Kabupaten Maluku Barat Daya Dalam Angka. Tiakur: BPS Kabupaten Maluku Barat Daya.
[Dispar] Dinas Pariwisata Provinsi Maluku. 2020. Pantai Gerdasi. https://dispar.malukuprov.go.id/portfolio/pantai-gerdasi/. [21/04/2020].
Hamid, H. 2018. Manajemen Pemberdayaan Masyarakat. Makassar: Penerbit De La Macca.
Haryadi, S., & Muslikah. 2012. Perkembangan Individu. Semarang: Unnes Press.
Haumahu, N., G. S. J. Tomatala, & P. M. Ririmase. 2020. Motivasi Peternak Sapi Terhadap Usaha Ternak Sapi Potong Di Pulau Moa Kabupaten Maluku Barat Daya. Jurnal Pertanian Kepulauan. 4(2): 1-14.
Heryati, Y. 2019. Potensi Pengembangan Obyek Wisata Pantai Tapandullu Di Kabupaten Mamuju. GROWTH Jurnal Ilmiah Ekonomi Pembangunan. 1(1): 56-74.
Hidayah, N., C. A. Artdita, & F. B. Lestari. 2019. Pengaruh Karakteristik Peternak Terhadap Adopsi Teknologi Pemeliharaan Pada Peternak Kambing Peranakan Ettawa Di Desa Hargotirto Kabupaten Kulon Progo. Jurnal Bisnis & Manajemen. 19(1): 1 – 10.
Irfan, D., & L. O. Ode Nursalam. 2018. Persepsi Masyarakat Pengunjung Terhadap Objek Wisata Pantai Nambo Di Kelurahan Nambo Kecamatan Nambo. Jurnal Penelitian Pendidikan Geografi. 3(3): 335-349.
Kristiawan, M., D. Safitri, & R. Lestari. 2017. Manajemen Pandidikan. Cetakan Pertama. Sleman: Penerbit Deepublish.
Kurnia, E., B. Riyanto, & N. D. Kristanti. 2019. Pengaruh Umur, Pendidikan, Kepemilikan Ternak Dan Lama Beternak Terhadap Perilaku Pembuatan Mol Isi Rumen Sapi Di KUT Lembu Sura. Jurnal Penyuluhan Pembangunan. 1(2): 40-12.
Mardikanto & Subianto. 2013. Pemberdayaan Masyarakat Dalam Prespektif Kebijakan Publik. Edisi Revisi. Bandung: Alfabeta.
Marta, Y. 2015. Sistem Penggembalaan Sebagai Alternatif Peternakan Sapi Potong Yang Efektif Dan Efisien. Pastura. 5(1): 51 – 55.
Martin, G. 2007. Beauty is in the eye of the beholder: The Phrase Finder. https://www.phrases.org.uk/meanings/ beauty-is-in-the-eye-of-the-beholder.html. [21/11/2020].
Nurdiyansah, I., D. Suherman, & H. D. Putranto. 2020. Hubungan Karakteristik Peternak dengan Skala Kepemilikan Sapi Perah di Kecamatan Kabawetan Kabupaten Kepahiang. Buletin Peternakan Tropis. 1(2): 64-72.
Nurmalasari, I. 2011. Kampung Wisata Ternak Di Desa Sinar Sari Kabupaten Bogor Dengan Penekanan Rancangan Ekologi. [Tugas Akhir]. Surakarta: Program Studi Arsitektur Universitas Sebelas Maret.
Rouf, A. A., & S. Munawaroh. 2016. Analisis Efisiensi Teknis Dan Faktor Penentu Inefisiensi Usaha Penggemukan Sapi Potong Di Kabupaten Gorontalo. Jurnal Pengkajian dan Pengembangan Teknologi Pertanian. 19(2): 103-118.
Suwena, I. K., & I. G. N. Widyatmaja. 2017. Pengetahuan Dasar Ilmu Pariwisata. Cetakan Edisi Revisi. Denpasar: Pustaka Larasan.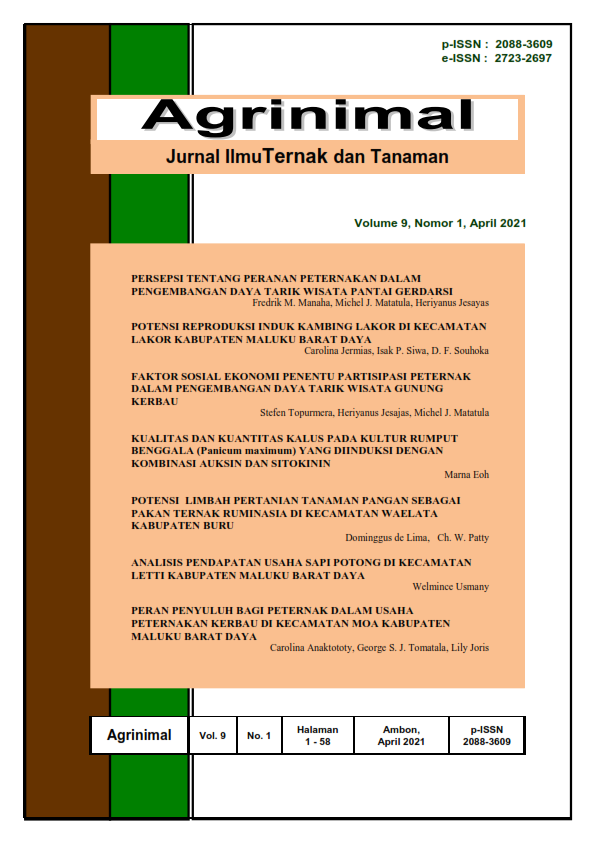 How to Cite
Manaha, F., Matatula, M., & Jesayas, H. (2021). PERCEPTION OF THE ROLE OF ANIMAL HUSBANDRY IN THE DEVELOPMENT OF GERDARSI BEACH AS A TOURIST ATTRACTION. Agrinimal Jurnal Ilmu Ternak Dan Tanaman, 9(1), 1-8. https://doi.org/10.30598/ajitt.2021.9.1.1-8