PENGAMBILAN KEPUTUSAN MANAJEMEN PRODUKSI DAN ANALISIS RISIKO PETERNAK SAPI POTONG DI KECAMATAN LOLONG GUBA KABUPATEN BURU
Adolf Heatubun

Marcus Veerman

Jurusan Peternakan Fakultas Pertanian Universitas Pattimura

Michel J. Matatula

Jurusan Peternakan Fakultas Pertanian Universitas Pattimura
Keywords:
Decision making, profit, simulation, risk and mitigation, beef cattle
Abstract
ABSTRAK
Pengambilan keputusan dalam usaha peternakan merupakan tanggung jawab utama para peternak. Keberhasilan usaha peternak sapi potong mencapai laba tertinggi adalah tujuan pokok. Bagaimana mengambil keputusan tepat untuk mencapai tujuan tersebut dan mengetahui berbagai risiko dalam ketidakpastian, merupakan masukan yang penting. Penelitian ini dilakukan pada peternak sapi potong di Kecamatan Lolong Guba, Kabupaten Buru, Provinsi Maluku, dengan tujuan untuk mengetahui dampak berbagai perubahan variabel penentu laba peternak sapi dan risiko yang ditimbulkan oleh perubahan tersebut dalam rangka pengambilan keputusan manajer peternak. Data yang dikumpukan adalah data primer yang dicatat dalam nilai-nilai nominal. Analisis menggunakan model regresi linear berganda, dilanjutkan analisis simulasi, dan diakhiri analisis risiko. Hasil penelitian memenuhi hipotesis yang ditetapkan dan teruji signifikan secara statistik. Elastisitas nilai tambah ternak adalah terbesar. Dampak peningkatan laba terbesar dihasilkan melalui peningkatan nilai tambah ternak dan jumlah penjualan, meskipun keduanya bukan sebagai pilihan terbaik. Opsi manajer peternak menghadapi risiko dan ketidakpastian ke depan adalah meningkatkan biaya pemberian makanan, nilai tambah ternak, dan penjualan sapi. Diperlukan mitigasi untuk opsi ini yaitu manajer peternak meningkatkan waktu penggembalaan ternak, memberikan makanan suplemen, mengawasi kesehatan ternak,  menghindari  ternak  dari  gangguan  lingkungan  dan  kecelakaan.  Manajer  peternak  perlu dibekali pengetahuan teknis penaksiran bobot dan karkas ternak. 
ABSTRACT
Decision-making in livestock business activities is the main responsibility of farmers. The success of the beef cattle farmer's business to achieve the highest profit is the main goal. How to take the right decision to achieve these goals and know the various risks in uncertainty, is an important input. This research was conducted on beef cattle breeders in Lolong Guba District, Buru Regency, Maluku Province which aims to determine the impact of various changes in the determinants of cattle breeders' profits and the risks posed by these changes in order to make decisions for farmer managers. The data collected is primary data recorded in nominal values. Data were analyzed by multiple linear regression model, followed by simulation analysis, and ended with risk analysis. The results of the study met the established hypothesis and were tested statistically significantly. The elasticity of value-added livestock is the largest compared to total sales. The biggest impact of increasing profit is through the increase in the value-added of livestock and the number of sales, although neither is the best choice. Farmer managers' options for dealing with risks and uncertainties in the future are to increase the cost of feeding, add value to livestock, and sell cattle. Mitigation is needed for options, namely farmer managers increasing livestock grazing time, providing supplementary food, monitoring livestock health,  and avoiding livestock from environmental disturbances and accidents. Farmer managers need to be equipped with technical knowledge of body weight and carcass estimation of livestock.
Downloads
Download data is not yet available.
References
Abebe, T. H. 2019. The Derivation and Choice of Appropriate Test Statistic (Z, t, F and Chi-Square Test) in Research Metho- dology. Journal of Mathematics Letters.
5 (3): 33-40. doi: 10.11648/j.ml.2019
0503.11

Al-Taha'at, E., Al-Afeef, M., Al-Tahat, S. and Ahmad, M.A., 2017. The impact of the general level of prices and operating profit on Economic Value Added (EVA)



pp.142-151. https://doi.org/ 10.5539/ass. v13n11p142

Andretta, M., 2014. Some considerations on the definition of risk based on concepts of systems theory and probability. Risk Analysis, 34(7), pp.1184-1195. https:// doi.org/10.1111/risa.12092

Arifudin, O., Wahrudin, U. and Rusmana, F.D., 2020. Manajemen Risiko. Penerbit Widina.

Aven, T., 2012. The risk concept-historical and recent development trends. Reliability Engineering & System Safety, 99, pp.33-44. doi:10.1016/j.ress.
2011.11.006

Bedoya, S., 2020. Mitigation. In Humanita- rianism: Keywords (pp. 140-142). Brill. DOI: https://doi.org/10.1163/978900443
1140_066

Das, P., 2019. Linear Regression Model: Relaxing the Classical Assumptions. In Econometrics in Theory and Prac- tice (pp. 109-135). Springer, Singapore. DOI: https://doi.org/10.1007/978-981-
32-9019-8_4

Feng, L. and Chan, Y.L., 2019. Joint pricing and production decisions for new products with learning curve effects under upstream and downstream trade credits. European Journal of Operatio- nal Research, 272(3), pp.905-913. DOI: 10.1016/j.ejor.2018.07.003

Gedikoglu, H. and Parcell, J.L., 2009.
Forecasting Future Sales and Profit for Value-Added Agriculture. Journal of Food Distribution Research, 40(856-
2016-57820), pp.31-38. doi:10.22004/
ag.econ.99489

Hayudityas, B., 2020. Pentingnya penerapan pendidikan mitigasi bencana di Sekolah untuk mengetahui kesiapsiagaan peserta didik. Jurnal Edukasi Nonformal, 1(1), pp.94-102.

Heatubun, A.B., Veerman, M., dan Matatula, M.J. 2020. Analisis Nilai Tambah Peternak dan Pejagal atas Biaya yang Diciptakan pada Pemasaran Sapi Potong di Kecamatan Lolong Guba. Agrinimal,
8(2), pp. 65-73.

Kothari, S.P., Mizik, N. and Roychowdhury, S., 2016. Managing for the moment: The role of earnings management via real activities versus accruals in SEO valuation. The Accounting Review,
91(2), pp.559-586. https://doi.org/
10.2308/accr-51153

Kumar, A., Dimitrakopoulos, R. and Maulen, M., 2020. Adaptive self-learning mechanisms for updating short-term production decisions in an industrial mining complex. Journal of Intelligent Manufacturing, 31(7), pp.1795-1811. https://doi.org/10.1007/s10845-020-
01562-5
Latan, H., dan T. Selva. 2013. Analisis Multivariate. Teknik dan Aplikasi Menggunakan Program IBM SPSS 20.0. Bandung: Alfabeta.

Remenova, K. and Jankelova, N., 2019.
Decision-making style of agribusiness managers. Agricultural Economics,
65(7), pp.322-330. https://doi.org/
10.17221/289/2018-AGRICECON

Sirajuddin, S.N., Mappangaja, A.R., Darma, R. and Sudirman, I., 2015. Value added analysis of beef cattle supply chain actors micro-scale community farm based. American-Eurasian Journal of Sustainable Agriculture, 9(7), pp.7-12. http://creativecommons.org/licenses/by/4
.0/

Zinn, J.O., 2016. 'In-between' and other reasonable ways to deal with risk and uncertainty: A review article. Health, risk & society, 18(7-8), pp.348-366. https://doi.org/10.1080/13698575.2016.1
269879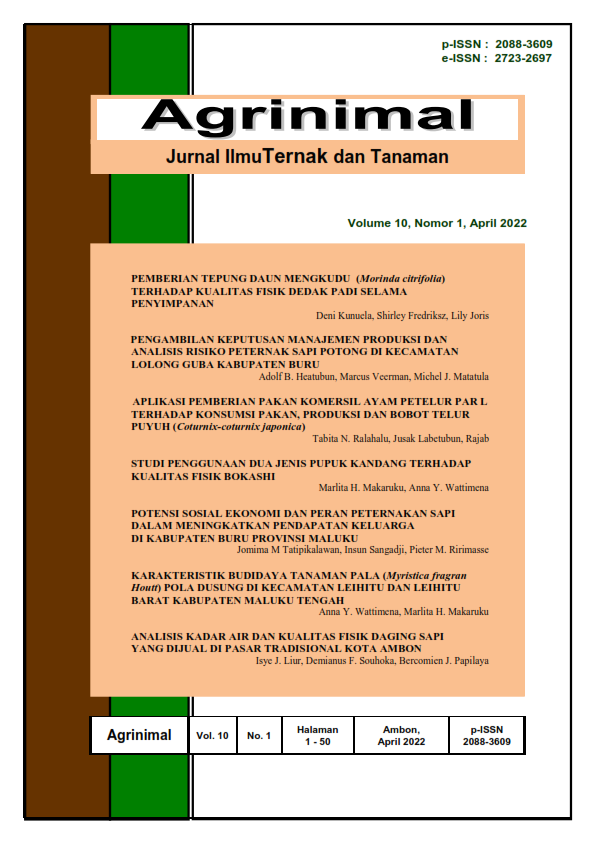 How to Cite
Heatubun, A., Veerman, M., & Matatula, M. (2022). PENGAMBILAN KEPUTUSAN MANAJEMEN PRODUKSI DAN ANALISIS RISIKO PETERNAK SAPI POTONG DI KECAMATAN LOLONG GUBA KABUPATEN BURU. Agrinimal Jurnal Ilmu Ternak Dan Tanaman, 10(1), 9-16. https://doi.org/10.30598/ajitt.2022.10.1.9-16