POTENSI SOSIAL EKONOMI DAN PERAN PETERNAKAN SAPI TRADISONAL DALAM MENINGKATKAN PENDAPATAN KELUARGA DI KABUPATEN BURU PROVINSI MALUKU
Jomima M Tatipikalawan

Jurusan Peternakan Fakultas Pertanian Universitas Pattimura

Insun Sangadji

Jurusan Peternakan Fakultas Pertanian Universitas Pattimura

Pieter M. Ririmasse

Jurusan Peternakan Fakultas Pertanian Universitas Pattimura
Keywords:
Socio-economic, contribution, beef cattle
Abstract
ABSTRAK 
Tujuan penelitian ini mengkaji potensi sosial ekonomi peternak sapi, kontribusi usaha peternak sapi terhadap pendapatan keluarga dan faktor-faktor yang mempengaruhi kontribusi pendapatan. Materi penelitian adalah 70 peternak peternak sapi poting pada 2 kecamatan  di Kabupaten Buru yang diambil secara purposive sampling. Data yang digunakan adalah data primer dan diambil dengan metode survey melalui wawancara mendalam (in-depth interview) kepada peternakan menggunakan kuisioner. Analisis data secara deskriptif, perhitungan ekonomi, kontribusi pendapatan dan analisis regresi untuk melihat faktor-faktor yang mempengaruhi kontribusi pendapatan usaha sapi potong. Hasil penelitian menunjukkan bahwa potensi yang dimiliki peternak sapi potong di Kabupaten Buru berusia produktif, tingkat pendidikan masuk kategori baik dari menengah sampai atas, memiliki motif ekonomi dengan tujuan sebagai sumber pedapatan dan tabungan. Rataan jumlah kepemilikan 4-6 UT/peternak, dipelihara secara tradisional dengan lama pemeliharaan >4 tahun. Kontribusi pendapatan 49,89% (cabang usaha). Hasil analisis regresi linier berganda menunjukkan kontribusi usaha ternak sapi secara sangat signifikan (P≤0,01) dipengaruhi oleh kepemilikan sapi, pendapatan lainnya (P≤0,05)  dan lama usaha (P≤0,1). Peternak dengan lama usaha yang semakin besar cenderung memiliki skala usaha yang lebih besar yang selanjutnya mempengaruhi jumlah sapi yang dipasarkan. Peternak memiliki motif ekonomi yang kuat sehingga usaha peternakan sapi dan pertanian dijalankan dengan optimal untuk mendatangkan pendapatan. 
ABSTRACT 
The purpose of this study is to examine the socio-economic potential of cattle breeders, the contribution of cattle farmers' businesses to family income, and the factors that influence the contribution of income. The research material is 70 farmers of beef cattle breeders in 2 Districts in Buru Regency taken by purposive sampling. The data used are primary and taken by survey method through in-depth interviews with farmers using questionnaires. Descriptive data analysis, economic calculations, income contribution, and regression analysis to see the factors that affect the contribution of beef cattle business income. The results show that the potential of beef cattle breeders in Buru Regency is productive age, education level is in the middle to the upper category, has an economic motive, and the purpose of maintenance as a source of income and savings. The average number of ownership is 4-6 au/farmers, traditionally maintained with a maintenance period of >4 years. Revenue contribution 49.89% (business branch). The results of multiple linear regression analysis showed that the contribution of cattle business was very significantly (P≤0.01) influenced by cattle ownership, other income (P≤0.05), and length of business (P≤0.1). Farmers with a longer length of business tend to have a larger scale of business which in turn affects the number of cattle marketed. Farmers have an economic motive so that farming is carried out optimally to bring in income.
Downloads
Download data is not yet available.
References
Alam, A., S. Dwijatmiko, & W. Sumekar. 2014. Faktor-Faktor yang Mempengaruhi Aktivitas Budidaya Ternak Sapi Potong di Kabupaten Buru. Agrinimal. 4(1): 28 – 37.
Al-Zahrani, K. H., F.O. Aldosari, M.B. Baig, M.Y. Shalaby, & G. Straquadine. 2016. Role of agricultural extension service in creating decision-making environment for the farmers to realize sustainable agriculture in Al-Qassim and Al-kharj-Saudi Arabia. The Journal of Animal and Plant Sciences, 26(4), 1063-1071.
Ansah, I.G.K., D. Eib, & R. Amoako. 2015. Socioeconomic Determinants of Livestock Production Technology Adoption in Northern Ghana. AJAEES. 5(3): 166-182.
Bettencourt, E M V., M. Tilman, V. Narciso, M.L.S. Carvalho, & P.D.S. Henriques. 2014. The Role of Livestock Functions in The Well Being and Development of Timor-Leste Rural Communities. LRRD. 26(4). http://lrrd.org/lrrd26/4/bett26069.htm.
Baloch, M.A, & G.B. Thapa. 2018. The effect of agricultural extension services: Date farmers' case in Balochistan, Pakistan. Journal of the Saudi Society of Agricultural Sciences. 17(3): 282-289.
Fawole, O.P & R. Olajide. 2012. Awareness and Use of Information Communication Technologies by Farmers in Oyo State, Nigeria. Journal of Agriculture and Food Information 13(4): 326 – 337.
Enwelu, I. A., S.O. Enwereuzor, A.N. Asadu, H.U. Nwalieji, & B.C. Ugwuoke. 2017. Access and use of information and communication technologies by extension workers in Anambra State Agricultural Development Programme, Nigeria. Journal of Agricultural Extension, 21 (2): 152-162.
Food and Agriculture Organization. 2014. Communication for rural development sourcebook. Food and Agriculture Organization, Rome
Gujarati D. N. 1978. Basic Econometrics. Mc Grow Hill, Singapura.
Hartono, B, & E.S. Rohaeni.2014. Contribution to Income of Traditional Beef Cattle Farmer Households in Tanah Laut Regency, South Kalimantan, Indonesia. LRRD. Vol 26, Article #141. Retrieved March 4, 2022, from http://www.lrrd.org/lrrd26/8/hart26141.htm
Idowu, A.C., A.K. Aromolaran, O.E. Fapojuwo, A.F.O, Ayinde, T Masunaga, & T. Wakatsuki. 2020. Effect of Information Sources on Farmers' Adoption of Sawah Eco-technology in Nigeria. Journal of Agricultural Extension. 24(1): 64-74.
Igwe, P.A. 2013. Rural Non-farm livelihood diversification and poverty reduction in Nigeria. A Ph.D thesis submitted to the School of Management (Plymouth Business School), University of Plymouth, Plymouth, United Kingdom.
Jan,I .2021. Socio-Economic Characteristics Influencing Farmers Willingness-to-Adopt Domestic Biogas Technology in Rural. Pakistan Environmental Science and Pollution Research 28:20690–20699
Makatita, J. 2021. Pengaruh Karakteristik Peternak Terhadap Perilaku dalam Usaha Peternakan Sapi Potong di Kabupaten Buru. Jogo Tolis. 1(3): 51-54.
Paltasingh, K. R, & P. Goyari, P. 2018. Impact of Farmer Education on Farm Productivity Under Varying Technologies: Case of Paddy Growers in India. Agricultural and Food Economics. 6(1): 1-19.
Rusdiana, S., B. Wibowo, & L. Praharani. 2010. Penyerapan Sumberdaya Manusia dalam Analisis Fungsi Usaha Penggemukan Sapi Potong Rakyat di Pedesaan. Prosiding Seminar Nasional Peternakan dan Veteriner Puslitbangnak Bogor Oktober 2010. Hal. 453-460.
Saleh, I. M., S. Nurlaelah & Indrawirawan. 2018. Analysis of Potential Carrying Capacity of Feed for Beef Cattle in Barru Regency, South Sulawesi Province, Indonesia. Advan. Environ Biol. 12: 12-16.
Serey, M., S. Mom, T. Kouch & C. Bunna. 2014: Cattle Production Systems in NW Cambodia. Livestock Research for Rural Development. Volume 26, Article #42. Retrieved March 15, 2022, from http://www.lrrd.org/lrrd26/3/sere26042.htm.
Situngkir, S., L. Pulina, & Erida. 2007. Peranan Ibu Rumah Tangga dalam Meningkatkan Pendapatan Keluarga (Kasus: Pedagang Sayur di Kota Madya Jambi). J. Manaj. Pembang. Ed. 7 Juli 2007:52-60
Uddin, W., W. Bokelmann, & W.J.S. Entsminger. 2014. Factors Affecting Farmers' Adaptation Strategies to Environmental Degradation and Climate Change Effects: A Farm Level Study in Bangladesh. Climate 2014. 2(4): 223-241. https://doi.org/10.3390/cli2040223.
Wiyono, S., M. Sangadji, M.U. Ahsan, and S. Abdulah. 2015. Farmer generation research on household farmers of paddy and holticulture. Oxfarm Indonesia, 1 - 41. http://images.agriprofocus.nl/upload/2015KRKPLaporan Kajian Regenerasi Petani1466659556.pdf. (Diakses tanggal, 5 Maret, 2022).
Wulandari, W.A., J Firison, Z. Efendi, H. Kusnadi, & E. Ramon. 2021. The use of Family Labor in Beef Cattle Cultivation (Case in Women Farmer Groups Receiving Beef Cattle Assistance in Bengkulu). E3S Web of Conferences 306,1st ICADAI 2021.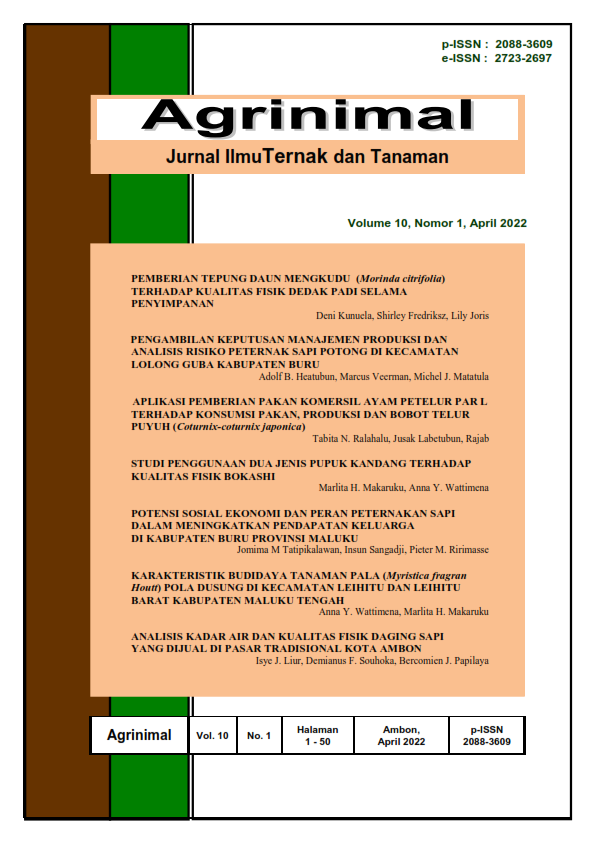 How to Cite
Tatipikalawan, J., Sangadji, I., & Ririmasse, P. (2022). POTENSI SOSIAL EKONOMI DAN PERAN PETERNAKAN SAPI TRADISONAL DALAM MENINGKATKAN PENDAPATAN KELUARGA DI KABUPATEN BURU PROVINSI MALUKU. Agrinimal Jurnal Ilmu Ternak Dan Tanaman, 10(1), 29-37. https://doi.org/10.30598/ajitt.2022.10.1.29-37